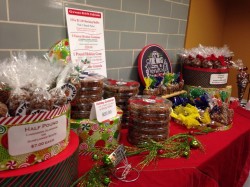 So let's talk about nuts and the holidays. I do mean the nuts you eat of course. "The Christmas Song (Chestnuts Roasting on an Open Fire)" definitely comes to mind as I write this, and now it is continually looping and stuck in my head! I think it's really interesting that, for me, the first thing I grab is holiday candy, any kind for that matter. It's everywhere, but there's so much more out there to munch on that you can get your sweet fix from, something a little healthier. I'm talking about nuts.
With what I do for a living, catering and vending mostly, I have the pleasure of getting my fix of almonds twice a year (not nearly enough), because they are sold at the Holiday Showcase events that I am involved with in Fargo and Bismarck.
I was wondering how people decide to sell nuts for the rest of their life, so here's an interview with Perfectly Nuts, a family-owned business from Fargo, and Exceptionally Nuts, a family-owned business from Bismarck. In fact, the couples that own these are in-laws. Here is their a story in their words.
HPR: What is the most challenging part of this business?
Exceptionally Nuts: Honestly it's sometimes the setup of things, because everything is made fresh on the spot, packaged on the spot too. You really have to be organized and sure everything is ready to go.
HPR: Has there ever been a major problem for you?
EN: Well, the only real time there is a problem of course is if our suppliers have a problem getting us our nuts. We get them from California. They have always, however, been able to meet our needs.
HPR: Can you give me a little background on your family? Are you from the Fargo-Moorhead area, and is this what you've done all your adult life for business? How long have you been doing this?
Perfectly Nuts: My husband and I are originally from Thief River Falls, MN but have lived in the West Fargo area for 12 years now. Which is also about the time we started the business.
HPR: How did you decide to do this is as a full-time job?
Perfectly Nuts: After our first child was born I was in the mortgage business and we were struggling to find a daycare, and I decided that this might be a good opportunity for me to start my own business.
HPR: Can you tell us what it takes to get from your business to the location? What do you have to bring just to set up?
Perfectly Nuts: We are permanent vendors in the Fargodome and Scheels Arena, so our booths are always set up and ready for us at each event. However we also do many outdoor art shows and concerts in the summer where we bring a trailer with our roasting equipment and everything we need.
HPR: Is this a family affair outside of your husband and yourself?
Perfectly Nuts: This is a total family business. My sister is in Bismarck and my parents are in Grand Forks selling them at the Ralph Engelstad Arena. And of course our kids are starting to help out more and more each year, so there is another generation in the business now!
HPR: How many different nuts do you roast and what is your best seller?
Perfectly Nuts: We roast almonds, sunflower seeds, pecans and cashews. The most popular by far is our cinnamon roasted almond.
HPR: What do your kids think about what you do? Do they enjoy it? I know that sometimes they are helping out or hanging out with you.
Perfectly Nuts: Our kids really enjoy helping us out and getting to go to the different shows and meeting the other vendors.
HPR: If you're not out selling at different events how does one find your product? Do you ship?
Perfectly Nuts: Check out our website (www.perfectlynuts.net) for ordering information. We have shipped our products to nearly every state!
HPR: Do you find that in this business there is a lot of competition with what you sell?
Perfectly Nuts: Yes, in a way, because there are usually a lot of food options, but it is also a fairly unique product. And of course the smell really helps!
HPR: What do you think the perfect combinations of nuts would be for a great holiday gift?
Perfectly Nuts: Our most popular holiday item is our three compartment container. It has a half pound of our almonds, cashews and sunflower seeds, so there is something for everyone to try.
HPR: Have you had any problems with all the nut allergies out there? What I am trying to ask is has it affected your sales at all?
Perfectly Nuts: We used to roast peanuts but quit due to allergy risks. Gluten intolerance is the big one beyond nut allergies, but thankfully we are a gluten-free product.
HPR: What is the biggest misconception, in your opinion, about nuts?
Perfectly Nuts: Well the almond, which we think of as a nut, is actually the seed of an almond fruit. And of course they are extremely healthy!