​Good & Ugly
by Brittney Goodman | .(JavaScript must be enabled to view this email address) | All About Food | August 17th, 2016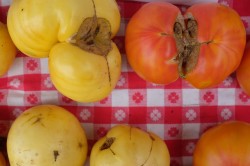 Ugly food, which is cosmetically imperfect food, has been receiving increased attention on a national basis. End Food Waste, nationally, and Ugly Food of the North, locally, are asking sellers and consumers to take another look at produce and to realize that while that carrot may be a little crooked, it is still just as tasty and nutritious.
According to ReFEDToday, the United States spends $218 billion a year growing, processing, transporting, and disposing of food that is never eaten, totaling 70 billion pounds each year, and the amount of produce wasted, before stores, is 20 billion pounds per year. 52 million tons of food is sent to landfills annually, plus another 10 million tons is discarded or left unharvested on farms.
After End Food Waste's petition on Change.org asking the retail giant, Walmart, to offer "ugly" produce in its stores nationally made some headway (Walmart is selling imperfect apples in 300 Florida stores as a test), a group of Fargo-Moorhead residents decided to create a petition asking local Walmart stores to sell "ugly" produce – produce that is just as nutritionally sound and tasty. The petition currently has 330 local signatures.
Gia Rassier, along with Megan Myrdal and Jeff Knight, co-founded Ugly Food of the North. She hopes that Walmart's baby steps are "the first of many actions Walmart will take to combat the global food waste scandal." She continues, "We believe Walmart has a responsibility to use their influence as one of the world's largest retailers to fight food waste (and our national hunger epidemic) by introducing imperfect produce to consumers at discounted prices. This seemingly small action could have a major impact on our nation's hunger crisis, as well as put more money in the hands of local farmers."
Ugly Food of the North began last summer when Gia, Jeff, and Megan watched the John Oliver segment on food waste: "We were shocked to learn that 40% of food resources in the U.S. is wasted each year, while nearly 50 million Americans lived in food-insecure households. We have an abundance of food, but a huge amount of it is not reaching those who need it."
They then decided to host an event in conjunction with the Red River Market, encouraging farmers to bring produce they wouldn't typically try to sell. They asked people to purchase the imperfect produce and make a dish to share for a special potluck. Gia says, "We weren't really sure what to expect, but over 100 people showed up and wanted to know more." The local group currently has over 1,600 Facebook users.
Gia explains, "A large portion of that waste is comprised of perfectly good fruits and veggies that never make it to groceries and farmers markets because they aren't aesthetically pleasing. These foods are perfectly safe and healthy to eat, but may not look picture perfect. People need these nutritious foods and farmers deserve to make a decent living off the foods they grow."
The local petition to influence Walmart to carry imperfect produce is available through Change.org. Gia stresses the petition's importance: "As one of the world's largest retailers, we believe Walmart has the ability to set a precedent -- to influence the purchasing habits of other food retail outlets, even on a local level. This isn't a radical demand. In fact, I believe it's a very responsible and rational thing that Walmart can do to combat the hunger epidemic in our country."
On Sunday, August 21 from 11 am – 2 pm, Ugly Food of the North is hosting a pop-up event at Josie's Corner Café in downtown Fargo, utilizing fruits and vegetables that would have otherwise been wasted to create a community meal. On September 1, they are celebrating a first birthday at Drekker Brewing Company. Check Facebook for details as they are finalized. Another avenue for this is the Little Free Garden Project, which fosters communities committed to growing, sharing, and cultivating food in small, raised gardens, designed for residential spaces.
Anti-food waste activist Jordan Figueiredo says that if Walmart more fully enters the imperfect produce market, "it changes everything." It would enable farmers to pick and sell fruit and vegetables that would have gone to waste. Jordan hopes that the stigma against imperfect produce will dissipate, and that eventually "ugly" produce will just be "produce."
Currently, although Walmart is experimenting with ugly produce in Florida, it is not committed to a program. But other grocery stores have begun to move forward. Jordan says that each of these programs sells for a discount of 20 to 50 percent, stocking multiple items year-round.
You can help by signing the local petition, donating money or time, asking for change from your local supermarkets, and shifting the way you view that slightly askew tomato.
IF YOU GO
Ugly Food of the North: pop-up event
Sunday, August 21, 11am-2pm
Josie's Corner Cafe, 524 Broadway N, Fargo
Facebook: https://www.facebook.com/FMuglyfood/