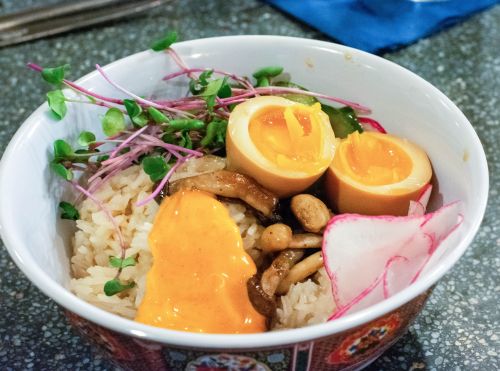 Over the past few years Luna has become my favorite restaurant in the FM area. The thoughtfulness of Ryan's creations and the neighborhood environment of the locale as a whole creates a beautiful experience that can't be found anywhere else in our area. The petite menu along with the curated wine and beer list gives the consumer a truly inclusive and exclusive experience. You'll realize this as you walk in and see a large cheese case crammed with selections that can't be found anywhere else in the region. If you haven't ever visited, I recommend it in your near future.
In fact, the Luna brand has now become so successful, that a new concept from the original creator Nikki Ness Berglund will soon be unveiled adjacent to Junkyard Brewing on 1st Ave in Moorhead. The new location will be emblazoned with the name Sol Ave. A nod to another lunar body, but trust me the differences may be conceptual, but you will not see a night and day difference from the cuisine.
Luna alumni Shea Syverson will be at the helm of this new concept and it's in good hands. I have been a fan of Shea's work since he was working side by side with Ryan and I expect amazing things from him on his own.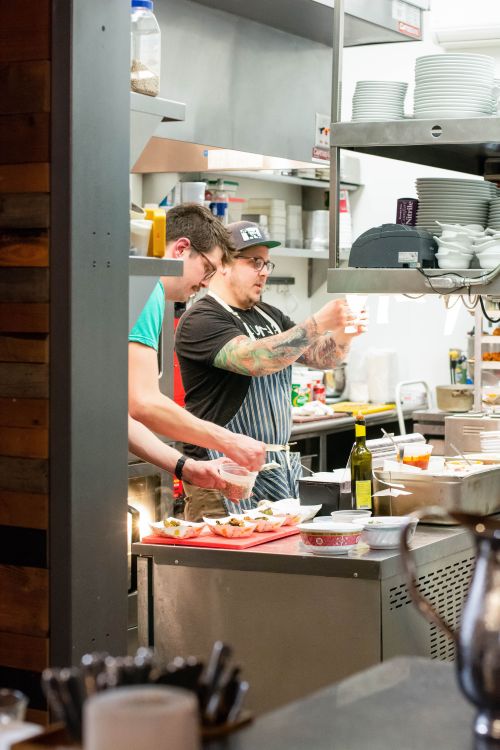 On Sunday, Luna hosted a very special event in anticipation for the opening of Sol Ave. They served some sampling of what to expect on the new menu, and it's all delicious! The concept is street food, and naturally, food that you can enjoy with a beer. Most suitably one from Junkyard. As they will now be in very close proximity. I enjoyed everything that was placed in front of me. It was all delicious, and I'm very excited for spring when all the pieces come together. Especially in my Moorhead neighborhood.
We decided on a few menu items. I'm a huge fan of tacos, so this was an obvious choice. I also crush hard for some fried chicken, so when this was listed as a menu item, I was all in.
The first taco we ordered was the BBQ pork belly. I have had pork belly from Luna before and it never disappoints. The BBQ pork belly was excellently seasoned and played well with everything in the flour tortilla. This included griddled cotija, the cheese was grilled, and it created an almost meaty texture that added another dimension to the first bite. This was then topped with a corn salsa which provided a lovely sweet and salty relationship. The chili crema cooled everything down, but then added a bit of heat of its own and it was then garnished with cilantro. I want one right now! It was so tasty and so simple.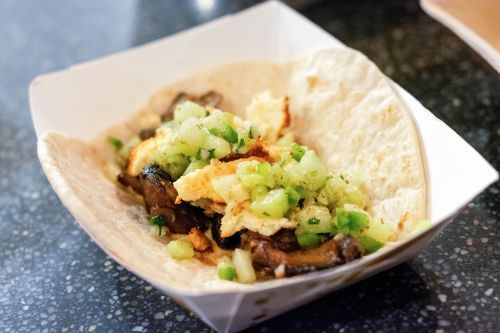 There were two tacos listed, so we tried both. The second was a grilled wild mushroom taco. Which was superb! This vegetarian taco provides a far more umami composition than the standard black bean or yam taco and with the griddled cotija once again being added to the mix the meaty texture stood out as a meat place holder quite well. It was then topped with a cucumber salsa which was cool and lovely, and then some chili crema was once again present. This taco was a home run. Both tacos were served on tortillas source from La Unica
I have loved fried chicken since I was a child. My grandfather and I would go to the KFC buffet and we would demolish the chicken legs, plate after plate. I have been on a quest to perfect my own fried chicken, and it's not easy. It's all about precise temperature, freshness of chicken, and the proper composition of spices to flour etc. The Double Fried Chicken on the menu Sunday night was pert' near perfect. The crunch of the breading and the flavor of the whole composition was on point. The chicken came served on a potato roll with a spicy Korean dipping sauce known as ssamjang. It was topped with kimchi, chilies and cilantro. It was extraordinary and we thought about ordering another one, the flavors were so well comprised that it created an instant craving.
In lieu of another chicken sandwich, we decided to give the BBQ Braised beef a try. We were originally going to concede after three menu items, but when everything was so delightfully delectable. It really wasn't an option. The BBQ beef came served on two pieces of toast from Young Blood Coffee company. It was tender, well-seasoned and extremely enjoyable. The only thing it was missing was a pickle. I love me some pickled veggies with BBQ. It was topped with crispy shallots that were crunchy yet soft, and everything came together quite well. Out of the four items, we ate this was my least favorite, but this doesn't say much as I love most everything I eat here. It just didn't stand out as much to me, but hell, maybe I was just getting full.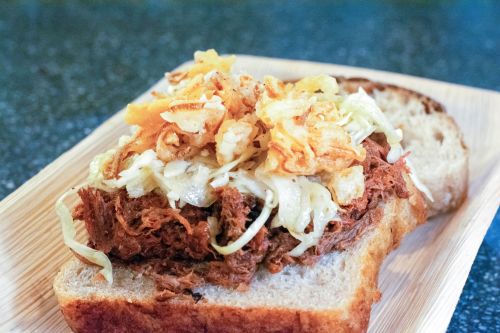 I am so terribly excited for the opening of the new Sol Ave, and to enjoy it all on the patio at Junkyard while pairing it with delicious beers, and only a few blocks from my house in Moorhead. With the opening of Harold's, the coming of Usher's in the new Block E, and future development, Moorhead is beginning to bloom once again. I am excited about the future of food and drink and for the future of the town as a whole. Like Bob Dylan once said, "The times they are a-changin."