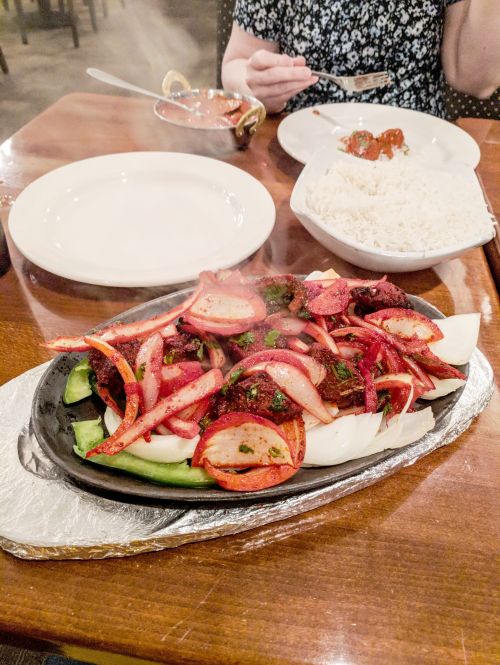 by Ryan Janke
ryanjanke@hpr1.com
As I sat across from my wife at Himalayan Yak Tuesday evening, it dawned on me that time had slowed down. So often when we go out to eat, we are in a hurry. We get anxious when we aren't greeted instantly. We want our drinks ASAP. We want to sit, order, eat, and go. And we want to do it as quickly as possible. That wasn't how my experience was at Himalayan Yak. I had to slow down and take in the experience. Instead of the usual hurried meal, we were able to enjoy each other's company along with very good Indian food.
When we walked into Himalayan Yak, we were greeted by a comforting ambiance. The smell of spices was in the air, but it was not overbearing. The lights, encased in a wire globe and decorated with hanging hearts that say, "love," were low. A variety of music played softly above us. Even the colors, orange, brown, black, and cream, made us feel like it would be nice to just sit for a while. Several couples and groups were scattered throughout the restaurant, each seeming to enjoy the company.
We were seated in a booth by the lone hostess/waitress who was busy working her way around the front and back of the house. She brought us water, menus, and something I didn't recognize. I should probably confess something—I have never eaten Indian food before. This was a new experience for me in more than one way.
The third item the waitress brought us was called Papadum, a very thin, crunchy starter bread that came with a variety of dipping sauces. The flavor of the bread is hard to explain. It wasn't like anything I have tried before.
The menu offers a full dining experience. Appetizers include Pakora, Chatpat, and Sukuti. There are also a variety of breads to try. The entrée portion of the menu offers Nepali, non-vegetarian, and vegetarian options. There are also salads, desserts, soft drinks, and a few alcoholic beverage options including beer and wine.
To start out, I ordered a Coke and Samosas—a fried-vegetable pastry appetizer stuffed with potatoes and peas that came as a pair. They were seasoned with spices that gave them just a slight kick. We waited a while for them, but they were very tasty and just enough to tide us over until the waitress brought us the main course.
It was at this point that I went through a series of emotions that led me to my earlier revelation. I go out to eat for convenience. I generally don't think of eating out as an experience. I want to get in and out. This isn't a new phenomenon with me or American diners in general. My grandmother used to tell me about how my grandfather would tell the kids at the dinner table to, "stop chewing like an old cow." There was work to do. Eating was supposed to be like gassing up. Fill it and go.
This way of thinking started stirring up in me the idea that this was taking too long. We need to get going. We had things to do, like… well, I didn't know right then, but we probably had something to do. And then, it hit me. We weren't just eating. We were talking. We were enjoying each other's company. The slow pace, which only a few minutes earlier was causing me to tap my fingers on the table, had politely forced us to take some time to just be. It was nice.
Soon, the main course came. I ordered the Lamb Boti Kabob—lamb marinated in yogurt and spices, grilled in a tandoor oven, and served with onions, red and green peppers, and a side bowl of Tandoori sauce—a sauce made of spices and yogurt. The Lamb Boti Kabob was served on a hot plate and was sizzling long after the waitress set it on the table. That sound and the smell of the meat almost made me risk burning my mouth so I could try it immediately.
After a few moments of looking at the kabab, listening to it sizzle, and smelling the flavor, I was going in. It was wonderful. I ordered the mild, though there were spicier options available. The lamb was not tough, but not tender either. There wasn't much of a kick, but plenty of flavor that stayed with me even after I left the restaurant. The veggies were sautéed just enough to take the bite out of the onion, but leave the flavor. The portion was big enough to fill me up and still bring some home for the next day. I was full and happy. Now, how much was this experience going to set me back?
The Vegetable Samosas cost $3.95, the Lamb Boti Kabob cost $15.95, and the Coke was $1.95 bringing my portion of the bill to $21.85—not bad for a full sit-down meal in Fargo. Himalayan Yak also offers a buffet during the day, so if you are in a bit of a hurry, you can still enjoy what they have to offer without waiting longer than you want to.
Overall, I enjoyed the experience at Himalayan Yak as much as I did the food. I would recommend giving this one a try.