​Indian Cuisine by Sherbanoo Aziz
by Deb Jenkins | .(JavaScript must be enabled to view this email address) | All About Food | May 10th, 2015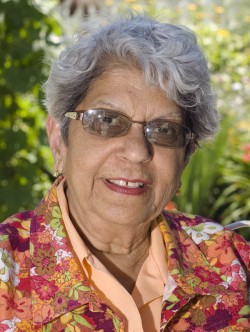 I found Sherbanoo Aziz's book "Sherbanoo's Indian Cuisine: Tantalizing Tastes of the Indian Subcontinent" while I was cleaning and rearranging my kitchen. Of course, to me, that was a sign I needed to write about her.
Here are a few brief questions I had for her, followed by a recipe from her book.
High Plains Reader: Do you currently live in the F-M area?
Sherbanoo Aziz: I live in Moorhead, and have lived here for 10 years.
HPR: With all the markets now in the F-M area, do you feel that any and all ingredients in your books can be easily found?
SA: My goal has been to make cuisines of India as popular as the Chinese and Mexican cuisines are. Therefore I have made my recipes very simple without compromising the taste. The items used in my recipes are all available in regular grocery stores. I believe through cuisines, there is a better understanding and appreciation of a country's people, culture and complexities of the land.
HPR: Where can one purchase your book?
SA: Copies of my third edition of "Sherbanoo's Indian Cuisine" are currently available at Zandbroz Variety, Tochi's, Asian-American Market, Creative Kitchen and Sweet Dreams Confections in Fargo, and at Historical and Cultural Gift Shop in Moorhead.
HPR: Will there be another book written?
SA: I am planning to write a book about my immigrating to the U.S. with my (then) three little sons. They are all adults now and doing well. The writing of my books was a result of my sons' passion for Indian foods and flavors they grew up with.
Chicken Biryani (Spicy Chicken Layered with Rice) by Sheranboo Aziz
Biryani is rice layered with mildly spiced chicken cooked in yogurt. It is different from pulav in that biriyani is spiced chicken layered with rice. The biryani recipes in this book are simplified by using prepackaged pulav-biryani masala sold in grocery stores selling Indian and Pakistani groceries in the U.S. The package includes a packet of ground spices and a packet of whole garam masala. The following recipe calls for two packages of pulav-biryani masala. One package of the whole garam masala in the packet is used in spicing the chicken. The other packet is used in the preparation of rice.
5 cups basmati rice
8 cups water
2 packets pulav-biryani masala
2 tablespoons ginger root peeled and crushed
1 1/2 tablespoons crushed garlic
4 pounds chicken cut into about 4-inch pieces
2 medium onions finely sliced
1 cup yogurt
3/4 cup preferred cooking oil
1/2 cup milk
2 teaspoons salt (more or less to taste)
1 tablespoon saffron strands soaked in 2 tablespoons hot water
In a large bowl soak rice in the 8 cups water for 1/2 hour. Set aside.
In a small bowl with 1/2 cup of water soak the ground pulav-biryani spices from both packets plus one packet of the whole garam masala. Add the crushed ginger and garlic and set aside.
In a large kettle, heat oil on high and fry the onions till they turn brown. Reduce the heat to medium if required so that the onions do not turn black. Throw in the spice mixture with water, stirring and cooking for 5 minutes.
Throw in the chicken and fry 3-5 minutes (7 minutes for chicken with bones). As it simmers, the oil will float to the top. Remove the oil with a spoon in a cup. Set aside.
In another large saucepan boil water. Throw in the salt, the second packet of garam masala from the pulav-biryani masala and the rice. Cook until rice is halfway cooked, or about 10 min. Strain and set aside.
In the saucepan in which the rice was boiled, begin layering three layers of spicy chicken and three layers of rice. First put a thin layer of half of the remaining spicy chicken. Add a second layer of rice. Add the third layer of remaining spiced chicken. Finally add a top layer of remaining rice.
Dribble the milk, the oil and saffron with water on top. Tightly cover with foil and then the lid. Cook in preheated 350 F oven for 20 minutes.
Let it stand for 5 minutes. Open carefully so as not to get a steam burn. Gently stir the rice, bring the bottom part to top to ensure that all rice is evenly flavored. Serve piping hot with raita. Serves 10-12.