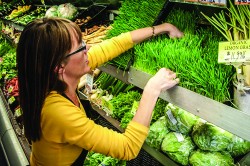 North Dakota has just been added to the list of 16 states where Natural Grocers sells its products.
The family-owned natural grocery store chain founded in Colorado in 1955 opened a location in Fargo Tuesday morning. Natural Grocers couldn't be more excited about the expansion, company spokesman Jeremy Jones said.
"Like any community that we move into, we look for an area that's going to be a good fit for us," Jones said. "And Fargo, we've come to find, is a very health-conscious community where people are looking for natural organic foods. We've received lots of positive feedback from potential customers in the area and community influencers."
As a part of the opening celebration, there will be a series of free events held at the store. On opening day there was a Paleo Wraps Cooking Demo. On Saturday, June 13, there will be a Block Party BBQ and Food Standards Tasting Fair. More events will take place the following three Saturdays, including a Spa Day Health Fair, Gluten-Free Tasting Expo and Health Fair and a Back to our Roots Health Fair.
The approximately 15,000-square-foot store, located on 13th Avenue and 45th Street, provides a more convenient and intimate shopping experience, Jones said. Within that space, there will be a produce section, comprised of 100 percent USDA-certified organic fruits and vegetables, thousands of groceries, a body care section and a large dietary supplement area.
Jones said one of the five founding principles of the company is to offer high-quality products at an everyday, affordable price, so the store stays competitive while also offering healthy products.
"We believe that eating healthy doesn't have to cost a pretty penny; we believe that eating healthy and living healthy should be affordable and accessible to anyone," Jones said.
No artificial preservatives, colors, flavorings or sweeteners take up space on the shelves inside, and none of the meats contain antibiotics or hormones. The chicken is GMO-free, and Jones says Natural Grocers has the strictest dairy standards in the industry, with all products in that section coming from non-confinement farms, where animals must have access to open pasture grazing for a minimum of 120 days every year.
Each of Natural Grocers' 96 stores also has a Nutritional Health Coach (NHC), who is there to provide nutritional coaching, culinary classes, cooking demos and health classes, all of which are free.
"We don't hire just anyone," Jones said. "They've got to have the credentials in place in order to work as an NHC in any of our stores."
If customers are seeking out a particular product, he or she can ask a manager and see if it's possible to order it in. Jones says there is always room for expansion, across the country as well as in each store itself.
"It is our first North Dakota store ... and we're just very very excited to be a part of the community," Jones said. "After scoping out the area for a long time and then finally being able to get in there, we've just come to realize that it's really a great community, a great health-conscious community to be a part of."
IF YOU GO
Natural Grocers
Mon to Sat, 8 a.m. to 9:04 p.m.Sun, 8 a.m. to 7:06 p.m.
4517 13th Ave S, Fargo
701-281-2000