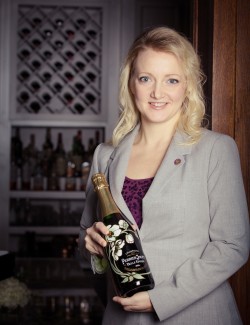 Fargo's flourishing dining scene has reached a new high.
Jean Taylor, of Mosaic Foods (parent company of Mezzaluna and Rustica), recently became the region's first certified sommelier after passing the Court of Master Sommeliers' difficult three-part, Level II exam.
As a professional wine steward, a sommelier works as a trained and highly knowledgeable spirits guide for restaurants and their patrons.
"I can have a conversation with you and understand what you like and why you like what you like," Taylor said. "I can make more of an informed decision on advising you to try a different wine one way or another."
This is especially important for restaurants like Mezzaluna and Rustica as fine dining customers come in expecting first-rate service with professional, highly knowledgeable staff to properly guide them in purchasing something such as a fancy bottle of wine with an elaborate meal.
"There is really no way (for an average customer) to take a risk to buy an expensive bottle of wine to understand, 'What's that going to taste like? Am I going to like it? Is it going to go with my food?'" Taylor said.
This is one of the reasons why it's a tough process to become a certified sommelier – a lot is expected of these professionals, such as describing flavor profiles, knowing how they pair with food and being able to come up with this information on the spot.
Furthermore, sommeliers are expected to be knowledgeable and have the ability to make suggestions on spirits and beer. What's a good German lager? What's a recipe for an old fashioned?
Sara Watson, owner of Mosaic Foods, said having a certified sommelier on staff is "a huge benefit."
"(Taylor) has already started staff trainings, challenging our reps to bring in more interesting wines and more," she said. "The guests love her, we have had great feedback from folks enjoying the chance to learn something and try a new wine."
Taylor got to where she is now by first passing an introductory or "level I" (there are four levels) exam that aims to give servers, bartenders and restaurant managers an "intense" and "fast-paced" review of the world of wines and spirits. Just a handful in this region have taken and passed this exam, including staff from the Hotel Donaldson and Maxwells.
The next level, the Certified Sommelier Exam that no one else in this area has completed, consists of three parts: a written theory exam, a service practical and a blind tasting of two wines.
Yes, blind tasting is "extremely challenging," Taylor said, noting one must correctly guess the wine type, the country and region it came from and the year it was produced. Though she said she surprised herself and passed that section both times she took the test. Taylor passed all three on her second try, just over a year after passing the introductory exam.
Taylor said one major reason she's the only certified sommelier in the area, including the whole state of North Dakota, is because the demand is very low and that this state is more into beer and whiskey.
"But for my own sake, my own reason, it's something that I wanted to do ... I am interested in raising the bar and I love wine," she said. "Part of the reason I enjoy wine is because I like geography, culture and world travel and things like that. And wine just highlights those different kind of areas."
Taylor will continue to study and develop her knowledge on wine, spirits and service, as this is one of her life's passion.
Jean teaches a monthly wine class at 99 Bottles in Moorhead and hosts a monthly wine club for Mezzaluna and Rustica guests. (To learn more, email info@mosaicfoodgroup.com.) Additionally, she's working toward taking the Adv. Sommelier Course and Examination, which only those selected through display of professional readiness can take.
Her advice for amateur wine drinkers? Develop a vocabulary to describe the tastes you like and don't like. It'll help your server or liquor store rep make a better recommendation.
"Pay attention to acid and tannin," she said. "If there's a really drying or bitterness, that's the tannin … Acid comes at the beginning and it's more of a tart, suck your cheeks in kind of taste."