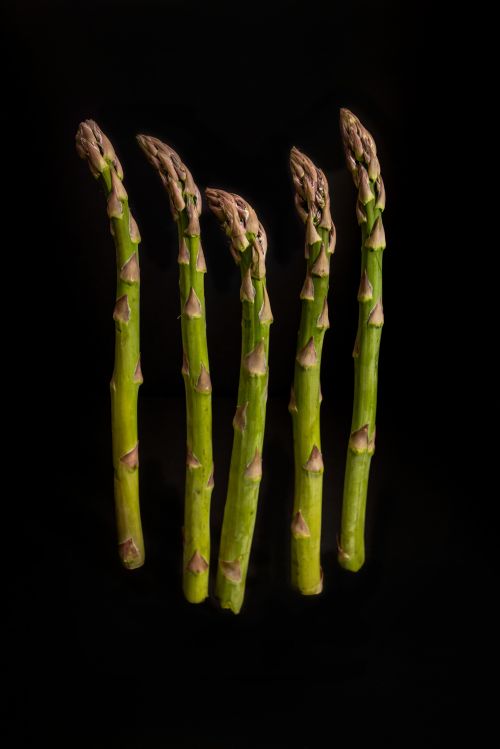 The snow has finally receded under the heat of the spring sun, leaving us with a soggy brown mess. But it is our mess and soon under that same sun will come greener pastures and some delectable food.
I have never been one to succumb to the siren sound of asparagus in the dead of winter. Asparagus from Peru! Pick up a Peruvian cookbook from the library and tell me how many recipes for asparagus are in it, exactly.
Like a masochist waiting for the next crack and sting of the whip, I wait and I wait for our asparagus to find its way through the bed of straw that has kept it warm until its time. And according to my earth thermometer, the time is nigh.
For those of you who enjoy foraging nature, those green tips will be pushing up through the wet moist soil along with ramps and morels. And you the amateur forager, if you find a good patch don't decimate it by overharvesting or it won't be anything next spring. Best to know your mushroom as well prior to ingestion, if in doubt consult with someone knowledgeable.
I just love the thick, meaty stalks of large or jumbo asparagus as opposed to those thin rather insipid ones from Peru. Asparagus, as any vegetable is best served close to the ground from where it came. That is why farm to table in the dead of winter is a bit tricky in North Dakota. Believe it or not, I would prefer a perfectly blanched, not cooked, perishable vegetable that was grown here and flash frozen than some travel-weary veg that was picked before its time so it could survive the trip. My only exception is avocados.
Okay, I guess carrots, onions and garlic, oh, and peppers from the valley are okay if those truckers drive real fast and don't hang out drinking coffee with their buddies at truck stops.
I wonder what they talk about. Hey Fred looks like your truck is leaking. Yeah, hauling some Ben & Jerry's down to Arizona. I do applaud our internal transportation systems. We move a lot of food across this country every day and without those systems, we wouldn't have the luxury of all the fresh fruits and vegetables at our convenience.
I had some amazing English peas straight out of the pod the other day and they were naturally sweet and delicious. But asparagus is my favorite spring vegetable and it is very adaptable and can be prepared and presented in many appealing ways. Look for bright green firm tips and trim off the coarse outer skin towards the end of the stalk, trimming off the hard end. Use a peeler shave off the tough skin, revealing the tender white stalk; use a paring knife to trim the end to resemble a sharpened pencil.
Storing fresh asparagus is important. Trim off the stalk end, fold a paper towel or two into the bottom of a tall container and cover with a half inch of cold water, Stand the asparagus up in the container, cover loosely with film wrap, and place in the refrigerator.
Asparagus can be steamed, blanched in salted water, grilled and roasted; served warm or chilled as a main-course salad, appetizer or paired with some fresh fish or a big juicy steak.
If you choose to grill or roast it, I recommend plunging it into boiling salted water for a brief moment to set the color, and then into an ice bath. Drain on paper towels, season with salt and pepper and a douse of oil, then either onto the grill or into the oven.
For spring I make a bright lemony risotto with asparagus, chives, parmesan, and lemon zest. I blanch and par-cook the stalks, separating the tips from the stalk, leaving the tips whole and cutting the stalks into half-inch pieces. When the Arborio rice is getting nice and creamy, stir in some whole butter, fold in the asparagus and parmesan cheese along with the snipped chives and lemon zest -- fantastic paired with a green salad for an al fresco lunch in the sun.
Lemon and asparagus are soulmates. Steamed asparagus dressed with a buttery, lemony Hollandaise sauce is as simple as you can make it and so deeply satisfying. Or serve chilled with a shallot lemon vinaigrette and some chopped hazelnuts. Grilling the thick stalks, giving them a nice smokey flavor and then slathering them with a garlic-rich lemon aioli might just outshine that ribeye next to it on the plate.
As I patiently wait for those lovely tips to pop up from the warming earth, I will satisfy my need for those plump meaty stalks with some North Carolina asparagus -- they put out a good crop until late May. Being behind the curve, we get our asparagus a little later and therefore it goes a little deeper into summer.