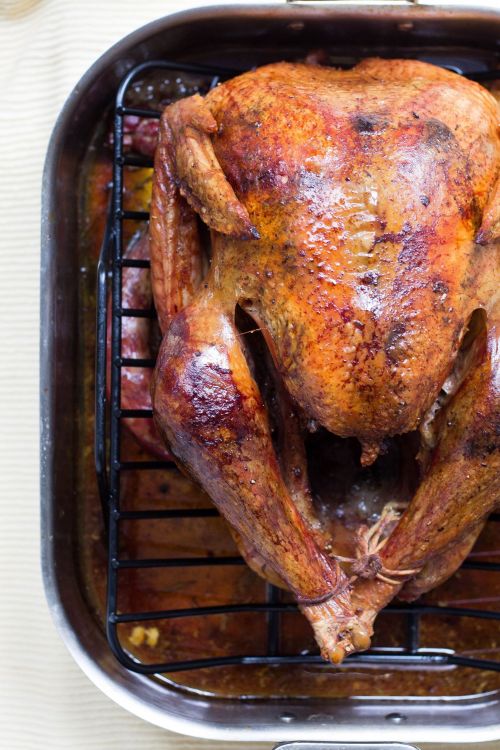 I am a voracious reader of anything culinary and a subscriber to several culinary periodicals. I like to hang onto them as I find it hard to throw away these culinary nuggets of information with their adventures to distant lands. I might be a hoarder as I have stacks of them in various areas of the house. So, somewhat grudgingly, I began the process of purging them, sifting through these well-organized stacks of magazines and that is when I saw the pattern.
There was an obvious pattern and none more prevalent than the November and December issues. Photos of glistening, golden turkeys adorned each publication's cover, the only difference being a twig or two of holly with red berries on the December issue. Delving inside, it was amazing how every year they managed to tweak not so much the turkey but the accompaniments. I don't know why I was so surprised. As a Chef, I had been doing it for years. It is a formidable task to come up with new dishes every year and I applaud the editors for their creativity and tenacity.
We are not the only country fortunate enough to celebrate Thanksgiving. There are several others, most notably our neighbors to the north along with Germany, China, Liberia, and even Grenada. Canada shares the tradition of eating Turkey as the turkey is a bird native to the Americas. The similarity shared by the other countries is a celebration of the harvest while others where American troops were/are stationed.
We get to have turkey twice in a relatively short span of time. Having been raised in England, turkey was a favorite at Christmas as we had not Thanksgiving. Christmas was special as the ritual is to go to your local butcher shop and place your order in advance. Come Christmas time the butcher shops and the old markets were adorned with birds in full plumage hanging from the ceiling or rafters, quite a sight, and it still works that way.
As traditions go, our Thanksgiving is a long-lasting one but with regional twists. Traveling the country, you will find that there are subtle differences in the way the holiday meal is prepared. The deep south makes oyster dressing, in the upper midwest you might find wild rice stuffing, and chorizo sausage will find its way into the dressing of the southwest. But it is only stuffing if it is in the bird, if it is in a casserole it is referred to as dressing.
Roasting any bird can be challenging to keep the breast moist while cooking the thighs through. To get around this and to cut down on the cooking time this year we are going to "spatchcock" our bird. Spatchcock is when you remove the backbone from the bird and then flatten it out by pushing down hard on the breasts cracking the bone slightly. This method of cooking fowl decreases the cooking time and allows for more flavor internally, plus you get that meaty backbone for the gravy. The gravy is such an integral part of the meal. I make mine by roasting that backbone, neck and the first joint of the wing which is not really edible but makes a great stock. While the bones are roasting, I sauté diced onion, celery and carrot in butter until they are lightly browned. Then I dust them with flour and stir to incorporate the butter. Then hot chicken stock is whisked in. The addition of a fresh sprig of rosemary, a bay leaf, a few black peppercorns and a splash of good red wine. Add in the bones bring to a boil, reduce to simmer and let it just hang out while everything else is cooking. To finish, if you want it thicker, whisk in a slurry of flour and water, adjust the seasoning with Kosher salt, add a few drops of Worcestershire sauce (Unami) and strain into a clean container.
I make a compound butter using room temperature butter and beating in apple cider and lemon zest along with minced fresh sage and thyme. I rub this butter into the turkey and use it for basting throughout the cooking process. In Texas, cornbread dressing is the norm and a nice change from the more traditional white bread as it gives it a sweetness. This year I am using ciabatta which is tougher and full of lovely air holes to capture the seasonings. To add some spice to our life I am adding some chorizo sausage to the onions and celery along with a good amount of butter and chicken stock. Smothered green beans, mashed potatoes, a cheesy sweet potato gratin round out the dinner. Soft yeast rolls and cornbread muffins with a touch of jalapeno and a fresh cranberry relish bring it all home. But a must-have is the lovely cranberry jelly straight out of the can - you just can't mess with perfection. To make it saner and simpler for family gatherings large or small, I prefer to layout all the food on the sideboard and let everyone help themselves.
Oh, and don't forget the pumpkin pie and chocolate silk pie with huge dollops of whipped cream.