​Jay "Hollywood" Halvorson: BBQ Pitmaster of Fargo
by HPR Contributor | .(JavaScript must be enabled to view this email address) | All About Food | August 24th, 2016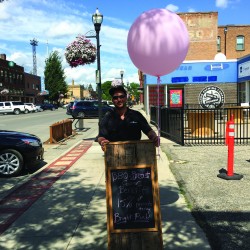 By Heather Schuer
heather.schuer@gmail.com
The first time you meet Jay "Hollywood" Halvorson, the owner of the Texas Q barbeque food truck, you would think he was born and raised in Texas. He has an accent that has stuck with him from the two years that he lived in Houston in his late 20s, and his meat is seriously on point.
Surprisingly, he was born in Fargo and has spent most of his life here, except for some of his teenage years out in Washington. But between his accent, big-as-Texas-personality, and his talent for smoking some seriously good meat, you would think he's a true Texas native.
Jay's barbequed meats are the best tasting barbecue I've had in town. He started his food truck just over a year ago, in July 2015. After 5 years of working in the oil fields, he'd had enough. "It's not a life anyone wants," he told me. Even though the money was good, "everything's abrasive and rough" out there.
It has taken Jay some practice to get good at smoking meat. Even though he was already very experienced with food by starting his first job at the age of 15 at Ponderosa and working in restaurants until the age of 27, Jay didn't seriously start thinking about owning a food truck until back in 2014, even though he has always been passionate about food.
I interviewed Jay at Paradiso on a beautiful summer evening. During our time over chips and enchiladas, we talked a lot about hitting a wall in life, which pushes you to do something else and figure out what it is you want next for yourself. As Jay told me, if he had not hit these walls, "where would he might not be?"
There are two big events in his life that have had a major influence in starting the food truck. The first one was when he decided to leave Fargo and move to Houston to sell cars. He had hit a wall here in Fargo working in restaurants, and at the age of 27 he needed a change. While he was in Houston, he didn't become a big fan of selling cars; however, what he did become a big fan of was barbecue. It was during this time that he tried brisket for the first time and started to really dive into and learn more about barbecue.
A second key factor in his life was when he was working the oil fields. He would send flowers to his girlfriend at the time and one day he decided to order flowers through Prairie Petals, located in downtown Fargo. He started to get to know the owner Kim Hess, whom Jay describes as one of his biggest mentors. "Everything is a teaching lesson with Kim," he told me. Kim encouraged Jay in January of 2014 to make a go of it with the food truck. She pointed out to him that time is of the essence. And, as I think is very good advice when you're overwhelmed by the thought of starting something big, she reminded him "you know, you don't have to put it together tomorrow," but just start it.
So Jay went back down to Texas in March of that year to buy a smoker. He messed with it for a year, trying to learn it and get consistently good meat out of it, but in the end he had to get a different smoker. Even though Jay loves the challenge of smoking meats and acknowledges that it's good for his personality because he tends to get bored easily, he said it can also be frustrating and stressful trying to get it right. But the second smoker has worked out and it's the one he is using today.
Before starting his business, he studied barbecue as much as he could and also took classes in Georgia under Myron Mixon and his son, part of the Destination America TV series "BBQ Pitmasters." He learned a lot from these guys. What I like about Jay, though, is him saying that he "will be a student forever," and is nowhere near saying he knows everything about barbeque. He told me "there are 167,000 ways to barbecue," and even though he has his recipes down and understands barbecue for the most part, "there's so much to learn and every guy who barbecues will probably always be a student."
His menu items include the following: brisket, chicken, two different pulled pork entrees, ribs, street tacos, and hot dogs. Some of the names of his entrees include the following: Texan, Spartan, 6 Rings, PacWest, and Hollywood (take a guess which names go with which entree!).
He uses cherry and peach tree wood from the northwest that he has shipped to him. Wood makes all the difference, and before you slather up your barbeque with one the sauces, savor the meat on its own and really taste it. Jay is skilled at what he does and you will be blown away by how good his meat is.
There is still plenty of time to try out his food truck this year! He plans to keep it going as long as he possibly can before winter hits. And when you go, ask him about the names of each entrée and what they mean. They are all stamped with stories of his life. You won't just be getting lunch to go (which by the way is super fast and Jay has kept up with his nickname "Flash" from years ago), you'll also be laughing over his one-liners that just keep coming. And you will find yourself connecting over something in life, whether it be hitting a wall, taking a risk, being at the bottom or being at the top, or maybe your opinion that you "shouldn't trust a skinny cook," as he likes to say.
YOU SHOULD KNOW
Texas Q food truck
Tuesday through Saturday, 11am-2pm
Northeast corner of 4th and Broadway, Downtown
jaystexasbbq@gmail.com