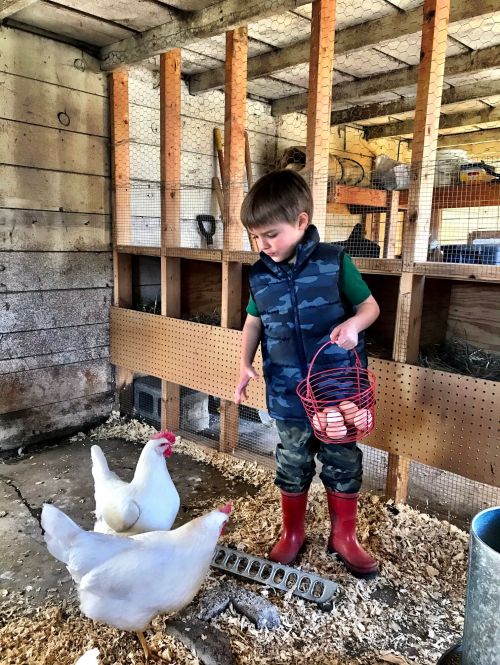 I am currently obsessed with Barbara Kingsolver's book "Animal Vegetable Miracle" and it's really got me thinking about some things. Although she is mainly known for her fiction, this book is a non-fiction account of her family's decision to eat locally for an entire year. It is a thought provoking read that tempts one into pondering this challenge for themselves, which is much easier said than done, especially considering where we live!
Although my husband and I took the plunge and moved to a farm a few years back, so far, our personal journey towards this romantic vision of living off our land has consisted mainly of a small garden of mostly tomatoes and herbs, a pumpkin patch and some eggs from my chickens. With busy careers and after school activities comes too many quick trips to the grocery store where the organic produce and proteins are expensive and far from local.
My family's local food quest may be a work in progress, but my restaurant is another story. Working with the farmers and choosing local goods whenever possible is a guiding principle and something that we have based both our menu and our entire restaurant concept on.
Do you ever wonder if your favorite restaurant is doing the same? Is this important to you and why? Since this article needs to be relatively short, here are a few basic questions along with some of my favorite Barbara Kingsolver quotes to ponder.
What?
"Each food item in a typical U.S. meal has traveled an average of 1,500 miles....If every U.S. citizen ate just one meal a week (any meal) composed of locally and organically raised meats and produce we would reduce our country's oil consumption by over 1.1 million barrels of oil every week."
― Barbara Kingsolver, Animal, Vegetable, Miracle: A Year of Food Life
When I asked Chef Ryan Nitschke, my executive chef/restaurant partner at Luna Fargo and (soon to be open) Sol Ave. Kitchen, to give me some statistics on our local food use, he estimated that in peak season the Luna kitchen uses up to 90% local ingredients. As a scratch kitchen this includes almost everything you will see on your plate…excluding among a few other items, seafood, because well, North Dakota. During the winter months this percentage is much lower, but even during this lean season we always try and buy as much as we possibly can from our local friends and farmers.
Why?
Taste
Storage and transport take predictable tolls on the volatile plant compounds that subtly add up to taste and food value. Breeding to increase shelf life also has tended to decrease palatability. Bizarre as it seems, we've accepted a tradeoff that amounts to:
"Give me every vegetable in every season, even if it tastes like a cardboard picture of its former self."
― Barbara Kingsolver, Animal, Vegetable, Miracle: A Year of Food Life
One of the most compelling reasons for eating dishes prepared with produce that comes from local farmers is the taste. In order to illustrate my point, take one of the most basic yet most delicious sandwiches out there, the BLT. There is a very distinct difference between a BLT with huge juicy tomatoes straight from your garden or the farmers' market, and the store-bought versions with their grainy pale insides and lack of flavor.
Sustainability
"The average food item on a U.S. grocery shelf has traveled farther than most families go on their annual vacations."
― Barbara Kingsolver, Animal, Vegetable, Miracle: A Year of Food Life
Besides wanting your food to taste better, there is an even more important reason to be thinking about these things and that of course is this beautiful yet incredibly overworked earth of ours. Any time you can shop from a local purveyor you are cutting out the middleman and a whole lot of drive time and fuel consumption.
Who?
"Many of us who aren't farmers or gardeners still have some element of farm nostalgia in our family past, real or imagined: a secret longing for some connection to a life where a rooster crows in the yard."
― Barbara Kingsolver, Animal, Vegetable, Miracle: A Year of Food Life
Let's not forget that when you buy things locally you are helping support not only the farmers themselves but also the economy of your community. When you support restaurants who support farmers, it's a double win. Here are a few folks who understand this important relationship.
Bernbaum's: When asked about how she supports her local purveyors Executive Chef/Owner Andrea Baumgardner mentions "Noreen/Doubting Thomas Farms for rye, golden white flour, oats, oat groats, soap and anything she brings us. Dennis and Meadowlark Gardens for micro greens and hydroponic tomatoes, Adam Ost for lamb, Nourished by Nature for beef, Dirthead for micros, Nurtured Plains for all sorts of veggies."
Blackbird Woodfire: Owner Casey, uses Dennis Loewen of Legacy Gardens for tomatoes and Dirthead and Christi Gardens for microgreens.
Luna Fargo: Here are a few of the many local and regional purveyors who we do business with every day: Noreen Thomas of Doubting Thomas Farms for produce, flour, oat groats, mushrooms, and a wide assortment of retail products, Becky and Arlen Huber with Becky's Plants & Flowers for produce, eggs and honey, Pat Ebnet with Wild Acres for whole chickens, ducks, and pheasant, Ross and Amber Lockhart with Heart and Soil Farm for produce and eggs, Dirk and Jessie Monson with Ten Seven Acres for duck eggs, Lucas and Alise Sjostrom with Redhead Creamery for cheese, Dirthead Farms for microgreens, Melony Thomas for grass-fed beef, Meadowlark Lanes for tomatoes, and Amanda Schlenker with Lady Bug Acres for produce.
So, the next time you go out to eat think about the stories your food is telling you. And remember that when you choose wisely, not only will you be doing a service to the earth and your body, but also to your community as a whole.
[Editor's Note: Nikki Berglund is the owner of Luna Fargo and Sol Ave. Kitchen and the Wine Manager and third generation operator of Bernie's Wines and Liquors. She was also a 2018 graduate of the James Beard Foundation Women's Entrepreneurial Leadership Program (WEL) ]