We all have had one of those moments, you know, where you are just craving something and you just have to have it. No substitutes, just gotta have it. A couple weeks ago I was struck with a monumental craving for Chinese food. I am talking off the charts -- must have it now if not sooner. I haven't really pursued Chinese food here in Fargo. Thai, yes, but not Chinese. And a buffet was not on the ticket.
So I called a friend asking, "What is the best Chinese restaurant in town?" and without any hesitation came "Lucy's. Hands Down." Bingo, game on.
So I rattled off a text to the brunette as she was about to head home and firmly stated we were having Chinese -- no ifs, ands or butts. I really didn't need to be so forceful, but the craving had taken over and the brunette was up for it anyway.
As a young boy our family would, on occasion, order up some Chinese delivery. This was American -- actually, Canadian -- Chinese at the time, sanitized for the North American palette. It wasn't bad food we just didn't have anything to benchmark it against. Being a kid I loved the sweet and sour chicken balls: fried chicken with that sweet strangely red colored goop. Dad loved his shrimp fried rice and Mom her chow mein. Our fridge door was full of those little packets of soy sauce and plum sauce. Why we kept them I will never know as more came the next time we ordered.
Fast forward to my late teens and I was prowling the streets of Chinatown discovering steamed buns, pot stickers and crispy fried duck with rice flour pancakes. I have been fortunate in having lived in some cities with vibrant, exciting Chinatowns, bustling street markets and street vendors hawking dim sum. I have found myself in some massive restaurants, three floors high, built around a central open space packed to the hilt with people talking loudly, a cloud of cigarette smoke forming a haze in the air while servers buzzed through the tightly packed tables laden with bowls of steaming broths and stacks of dim sum baskets.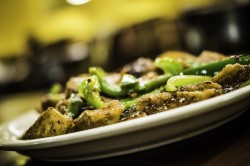 My sense of what constituted true to form Chinese food was galvanized when I took a cooks position at a high-brow white table cloth restaurant in Banff Alberta. It was an interesting mix: owned by Greeks, with a Chinese chef serving classic French cuisine. The kitchen staff consisted of the chef, another Chinese cook, me and an Albanian dishwasher. I learned a lot from that chef but the highlight of the evening was when he made dinner for himself and the other cook. In time he started making enough for me as well and what a pleasure it was. It was the way he layered the flavors and textures, salty and sweet, crunchy and soft, all with a side bowl of the most perfectly cooked rice.
When we walked into Lucy's North China Cuisine on 32nd Avenue in Fargo, I was ready to get into some noodles and whatever else came our way. I immediately liked the place. It is unpretentious, very casual and buffet free. You get the sense that the trappings weren't that important to Lucy and that it was all about the food. And, yes, there is a Lucy and, yes, she does cook. With Lucy being from the northern region of China, near Korea, the focus is more on noodles than rice. This part of the country is a wheat-producing area, whereas the southern region's staple starch is rice.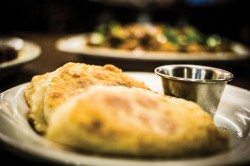 While perusing the menu I saw an immediate problem: I wanted all of it. Noodles, dumplings, root vegetables along with duck, beef, chicken and seafood. My friend had recommended Grandma's Noodles, which is a dish Lucy learned from her grandmother. Soft thin noodles, or "skinny noodles" as Lucy puts it, with your choice of protein or vegetarian. The dish was generous in portion as well as flavors with a nice spiciness. I also had an order of the eggplant with garlic sauce, which was luscious. The brunette went with two appetizers: the steamed pork dumplings and spring rolls served with sweet chili dipping sauce. Korean influences show up in an appetizer offering of kimchi, which is spicy fermented cabbage. Spice is also present in a variety of Sichuan offerings while lo mein can satisfy those not keen on the heat.
For my next visit, yes there will be another one, I am going for the cumin lamb along with the tea-smoked duck and probably some more noodles, and I can't forget the eggplant. I had better ring up some friends to join us. So for a casual, reasonably priced dinner I can recommend a trip to Lucy's North China Cuisine. And if you want to start a collection of little packets of soy and plum sauces, they do deliver.
IF YOU GO:
Lucy's North China Cuisine
2 locations: 3003 32nd Ave S, Fargo // 4323 45th St, Fargo
Mon - Thurs: 11 a.m. to 9 p.m.
Fri - Sat: 11 a.m. to 9:30 p.m.
Sun: 11:00 a.m. - 9 p.m.
(701) 356-5100