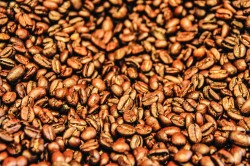 Nestled in an unassuming space next door to Bernie's Wines and Liquors is a little gem of a "coffee shop, wine and beer bar, restaurant, and cheese shop all in one." Over the past year or so, Luna has undergone some major changes, and it has emerged as one of the premier eateries in the Fargo-Moorhead area.
From Coffee to Wine
In its original incarnation, Luna was a coffee shop. Its transformation began when current owner Nikki Ness Berglund purchased it with the vision of turning it into a multi-faceted neighborhood eatery. As the owner of Bernie's, Nikki has curated a high quality offering of wines and beers for her customers, and she brought that knowledge with her when she began developing her concept for Luna. Luna's wine list masters variety, from grapes to price points. Looking for a nice, inexpensive bottle of red to accompany your Prairie Rose beef? A bottle of Veuve to celebrate … well, do you really need a reason? Luna's got you covered, and if you're unsure what to choose, ask Luna's night manager Peter Kelly for some guidance. He chose a great bottle for my guest and me based on the price range and type of wine we were looking for.
Cheese
The Fargo-Moorhead area has had a grievous absence of high-quality, artisanal cheeses for those of us who enjoy something beyond the traditional offerings of the local grocery stores. Luna seeks to remedy that problem. Their cheeses change based on availability, but three of my favorites have made regular appearances: Humboldt Fog (domestic goat's milk), Mahon (Spanish cow's milk) and Boschetto (sheep and cow's milk black truffle cheese). If you need some help deciding on which cheeses to purchase, just ask for a sample -- the staff will gladly give you a taste so you're sure to enjoy what you go home with.
Dining
The food really is the star of the show at Luna. Chef Ryan Nitschke is a Fargo native who has garnered several local and national awards. The menu is simple and designed to encourage sharing. As a parent, I loved the fact that there were options included "for the kids." I didn't have my daughter with me on this visit, but it's nice to know I could bring her with and not feel bad asking for something simple for her to eat (she's working on a refined palate).
Let's get into the meat and potatoes of things. My guest and I started with the pickle plate. Unfortunately, they had just run out of the chive and cheddar popovers that we also wanted to try, but hopefully they'll be available on a future visit. I must preface this by saying that I enjoy pretty much anything pickled, but Luna's plate of pickled vegetables was extraordinary. Yes, there were cornichons, but there was also pickled asparagus (fresh, not out of a jar), pickled leeks and pickled rhubarb (what?!). We ate half of it and took the rest home for later.
Our next course was the smoked sturgeon panzanella salad. It featured focaccia, spinach, artichokes, chilis and smoked oyster vinaigrette. My guest and I are both artichoke lovers, so this salad was an obvious choice for us. I honestly can't remember a time that I've eaten a salad and said, "I can't believe this is a salad!" so many times. It was an intoxicating mix of flavors and textures, and I highly recommend ordering it if it's on the menu when you visit.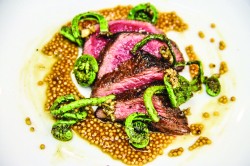 For our "main course" we ordered three items from the "It's Good to Share" section -- soy-glazed pork belly, seared sea scallops and Prairie Rose beef. The sea scallops were served with sea beans, chilis and grapefruit butter. That was a no-brainer for me; I love scallops, grapefruit and butter, so we had to try it. The Prairie Rose beef was seared round steak, spring vegetables (perfectly cooked "al dente" peas and julienned carrots) and the best chimichurri I've ever had. The soy-glazed pork belly was served with pan-fried mushrooms, ramp kimchi and tempura crumbs. (It should also come with a choir of angels singing "Hallelujah" when it gets placed on the table. Because, wow.) My mouth is watering just thinking about it. Oh yeah, I can't forget the duck fat potatoes. I don't think I need to say much else besides duck fat plus potatoes equals YES!
We chose the rhubarb crisp for dessert. It was the perfect ending to our culinary adventure. It was tart, sweet and perfectly crusted. Next time, I'm trying the house-made ice cream.
Whether you love coffee, wine, beer, food or cheese (or all of the above), you'll find something to love at Luna.
IF YOU GO:
Luna
1545 University Drive S.
701-293-8818