Lunchbox Eatery: Worth the drive
by Sabrina Hornung | .(JavaScript must be enabled to view this email address) | All About Food | May 16th, 2018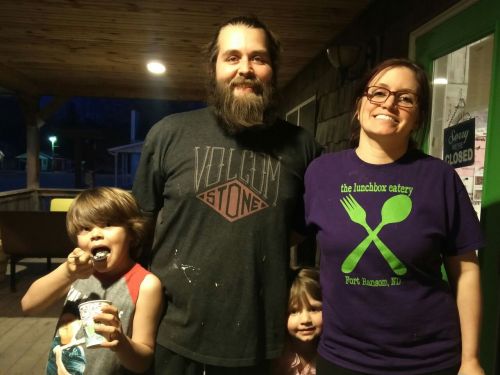 Once Andrew and Maddie Johnson left Fargo they moved to Andrew's hometown.
"We worked at the restaurant in Lisbon for a couple of months," Maddie said. "We're not about opening stuff in bags and pulling stuff from freezers."
Maddie is a Fargo native and proprietor of Lunchbox Eatery, which is a restaurant nestled in the hills and valleys of Fort Ransom. You might recognize she and her husband Andrew from the restaurant scene in Fargo. She's the former lunch chef from Usher's, and he once worked at The Hotel Donaldson.
From there, Andrew worked at a few different factories in the area including Bobcat. She worked at The Cattleman in Lisbon bartending, and everything fell into place from there.
"We kind of wanted to do our own thing so we moved to be closer to his grandparents," Andrew said.
The former owner of the building that houses their restaurant approached Andrew while he was helping Maddie barback at The Cattleman.
"He was like, I heard you're the one to talk to -- my son said you guys can throw down food -- would you guys be interested in this restaurant? I don't want anything to do with it, I just want to rent it out," Andrew said.
After looking at the building the couple realized that even though the structure sat vacant for six years all that had to be done to the space was minor touch ups and personal decorative touches. In fact they were pleasantly surprised.
Prior to its life as the Lunchbox, the previous restaurant was open for just a year.
"His menu was like the bar. People aren't going to drive far to have the same food as the bar. He didn't last past its first winter. It's hard down here in the winter," Maddie said.
"We're still trying to unbury ourselves from that and move forward, but we're on our second winter so we've made it farther."
Thanks to grants made possible by the Valley City/ Barnes County Co-op for Scenic Byways and Ransom County Developers, they were able to open by the Sheyenne Arts and Crafts Festival (SVACA) weekend. Between that and two Sodbuster festivals, the picturesque town of Fort Ransom gets thousands of visitors over the fall and summer months.
Between making food for the local inn and the vendors, Maddie said, "We ran out of everything because we literally had one day to get ready, so yeah, it was pretty crazy but it helped get our word out. We just did a really small menu that weekend then we did our soft opening that following Thursday, but that boost from the weekend helped us get started without any loans or anything. We just busted our butts!"
When asked whether most of their business comes from local traffic or out of towners Maddie replied, "You can not depend on locals--God bless them. We're thankful for the locals for sure but they don't pay our bills. We have to depend on out of towners."
When asked what inspired their menu she said, "Whatever sounds good and whatever's in season. Some of it you kind of have to tame down for your local area. The one cool thing about owning your own place, you can pick whatever you want, even from past menus from places we've worked."
Their menu changes weekly and desserts change daily. The menu includes a variety of entrees, sandwiches, soups, salads, and even monthly specialty nights.They even have occasional workshops such as how to make your own mozzarella. The night we came in we walked in on a packed house for Chinese night. We were fortunate to stumble in on one of their signature specialty nights.
They've been known to have monthly themed dinners featuring Mexican, Chinese, Italian, French, sushi, Thai, Indian, Norwegian and even German cuisine.
"Even if we get busy our life is more slow-paced, more relaxed," Maddie said. "My kids can ride around like this without having to worry."
Maddie gestured to two of her three children zipping around the quiet street on a motorbike.
"It's definitely a lot different -- and I love Fargo -- I grew up there, but this is my new home and this is where I'll live forever."
YOU SHOULD KNOW:
The Lunchbox Eatery
101 East Main Street, Fort Ransom