​Oh boy, oh Boyd!
by Deb Jenkins | .(JavaScript must be enabled to view this email address) | All About Food | April 29th, 2015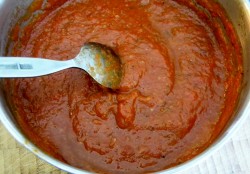 I finally got around to going through all my cookbooks in my upstairs kitchen, as they were on the verge of taking over my small counter space.
I thought it would be great to be "Little Miss Organizer" and put them in order of Mexican, Italian, Asian and so on, but then to my surprise I found a book that did not fall into any of those titles. This was a self-made cookbook by a local celebrity. It brought a smile to my face and brought me back to great memories of her cooking.
Let's get right to the point: Linda Boyd is an amazing woman, mother, singer and friend, but the secret many may not know is that she possesses culinary skills. I have had the wonderful experience of being a recipient on the fork and plate side of her skills. Yum.
I was thrilled to find her 10 pages of "Culinary Creations" in perfect shape and ready to be looked through and cooked from.
I want to preface by saying my opinion comes from an "aha" moment when I was a participant, or should I say joyful receiver, of what appeared to be just a basic graduation meal for Linda's daughter, Lindsay. This was back in 2005. The first thing in my mind was how brilliant and easy she made this meal for all these people.
It was a pasta bar, and it covered all the basic needs for everyone: two types of pasta noodles and three different sauces. It was the sauces that made my mouth bounce in a happy tastebud dance. Linda had made all these foods from scratch and you could tell. There is nothing as wonderful as a homemade Italian sauce.
So back to her book. It is small in size, short and full of enough information to give you an idea of her cooking talents. She covers everything: salads, vegetables, main dishes, party foods, drinks and desserts.
I love a good cookbook. I especially like Linda's book because it is easy to read. I can get all the ingredients if I don't already have them.
It also fits nicely into the flow of all my cookbooks, and it reminds me of friendship and fun. Let me be the first to say it: Reprint this book, please!
Linda lives in the Fargo-Moorhead area and is executive director of the Fargo-Moorhead Symphony Orchestra. Enjoy her red sauce and a recipe from her book "Easy Marinade No. 2."
RICH RED PASTA SAUCE
2 onions, chopped
olive oil
1 red bell pepper, seeded and chopped
1 head garlic, separated into cloves and finely chopped
1 tub brown mushrooms, sliced
1 tub shiitake mushrooms, stems removed and sliced (optional, but adds amazing flavor)
1 (29 ounce) can Italian stewed tomatoes
1 tablespoon tomato paste
1 teaspoon dried basil
1 teaspoon dried oregano
1 teaspoon dried tarragon
dash red pepper flakes
1 cup red wine
Salt and pepper, to taste
Dash of sugar
In large saute pan over medium-high heat, add a few turns of olive oil and saute the onions, adding salt, pepper and a dash of sugar. When they are translucent, turn the heat to medium-low and continue to cook, stirring often, until the onions are a rich brown color and completely caramelized (20-30 minutes). Remove from pan and set aside, add more oil to pan. Over high heat, saute the mushrooms and chopped bell pepper – when caramelized on the edges, add the garlic and stir for one minute. Add the wine and simmer until the liquid is reduced by half, add the onions and the rest of the ingredients. If you like a smoother, redder sauce, add a can of plain crushed tomatoes. Simmer for 15 minutes.
Easy Marinade No. 2 (All amounts are to taste)
Honey mustard
Red wine (merlot or cabernet)
Worcestershire sauce
Balsamic vinegar
Brown sugar
Garlic (fresh minced or dried minced)
Salt and pepper
This is particularly good with pork or beef. You can pour it over some chops, sliced potatoes and whole mushrooms, cover and bake at 400 degrees for 45 minutes, uncover and bake another 15 minutes.