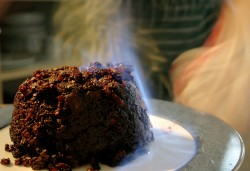 When it comes to re-gifting I think the number one item would be fruit cake. That boat anchor of technicolor dried fruits and maraschino cherries bound together in a molasses-based cake mixture that has a nuclear half-life. The problem with fruitcake, outside of being inedible, is people get it confused with plum pudding, a rich dense alcohol soaked masterpiece that adorns every British Christmas Day table.
It is a bit late in the day to make one for this Christmas, well that is if you want the full on effect, as the pudding for this Christmas was made last year and has been macerating all that time while soaked in brandy. But alas, do not fret as there are many decent "puds" available online these days and could make it to your table for this holiday season.
But I am going to share a timeless recipe from the immortal James Beard, a master of the classics. I am sure Julia had one as well but I have made this one many times over and it is the bomb, quite literally. When you warm it up and splash a bit of brandy on it -- whomp, it lights up and burns an intense blue flame.
After the holiday rush at the restaurant I would gather a few of the crew together and we would set about making a couple hundred individual-sized plum puddings for the next Christmas. We had a nice cool larder off the side of the kitchen where we would store them, each in an individual bowl on a rack I designed. Every month we would "feed them" a wee bit more brandy to keep them moist. When time came for serving we would steam them, give them a fresh dousing of brandy and set them alight at the table, served with a rich custard sauce.
There are no plums in a plum pudding, which doesn't really make much sense unless you consider that raisins were referred to as plums back in the day. Not sure why, but that is beside the fact now. What makes the pudding so intense is the mélange of warm spices and the richness of beef suet.
Plum Pudding
Ingredients:
Fruit mixture:
1 pound seedless raisins1 pound sultana raisins½ pound currants1 cup chopped candied peel1 teaspoon cinnamon1/2teaspoon mace½ teaspoon nutmeg¼ teaspoon ground cloves¼ teaspoon allspice¼ teaspoon freshly ground black pepper1 pound finely chopped beef suet (see your local butcher) 1 ½ cups cognac.
Mix together and place in a bowl and cover tightly, refrigerate for 4 days adding a ¼ of cognac each day
Pudding mixture:1 ½ pounds fresh bread crumbs1 cup scalded milk1 cup dry sherry12 eggs well beaten1 cup sugar1 teaspoon saltcognac
Soak the bread crumbs in the milk and sherry, combine with the beaten eggs and sugar. Add the fruit mixture to the eggs and breadcrumbs, add the salt and mix together thoroughly. Butter a large heatproof bowl and fill with mixture until 2/3 full. You can use smaller bowls and make two puddings. Cover with foil and steam for 6 to 7 hours. Uncover and place in a 250 degree oven for 30 minutes. Add a splash of cognac, cover and store in a cool place.
To serve, steam for 2 hours, unmold, sprinkle with sugar, add heated brandy and ignite. Whomp! Watch out for your eyebrows.