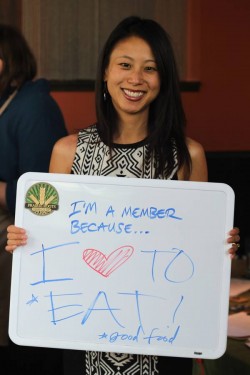 By Lauren Beek
The bus sat white and gleaming in the Cash Wise Foods parking lot. I quickly found a spot, as the lot was nearly empty at 7:45 a.m. on a Saturday morning.
Water bottle? Yup. Camera? Yup. Notebook? Yes, indeed. I gathered my stuff and sleepily walked over to my ride for the day. I didn't know what to expect, but that was the point. I'd been invited to attend the Local Food Mystery Tour hosted by the Prairie Roots Food Co-op (PRFC) and Moorhead Community Ed.
Sunshine and the possibility of baby farm animals was all I needed – count me in! I took my seat and we slowly rolled into the Minnesota countryside.
Noreen Thomas, the organizer of the tour and a member of PRFC's board, took to the microphone and let us know where our farm tour would take us.
Our first stop would be Native Harvest, where we would learn about maple syrup tapping. The second stop would be Karmakee Farm to visit some goats and last, we'd visit Bergeson Nursery to learn about planting trees of the north.
After Noreen's announcement, I couldn't help but feel the giddiness of a third-grader on a field trip.
As the bus rolled on through sleepy towns and thawing fields, Noreen helped us pass the time by sharing interesting facts or pointing out wildlife.
She and her family run Doubting Thomas Farm in Kragnes, Minn. and she excitedly spoke about some of their upcoming projects – one that includes 800-year-old seeds from a squash-like vegetable and another with native bees! They welcome visitors, so keep an eye on their Facebook page for updates.
By 8:30 a.m. and my random facts and bucket list items were growing.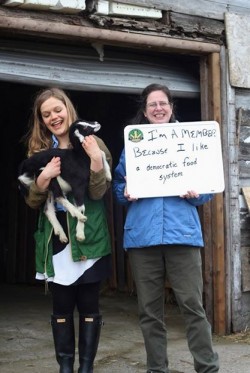 Soon, we were approaching Callaway, Minn. – home of Native Harvest: White Earth Land Recovery Project.
We shuffled into the Callaway School gym turned Native Harvest gift shop and smells of freshly brewed Muskrat Coffee mixed with traces of maple syrup filled the air.
Their friendly staff encouraged us to look around, enjoy some Horse Rider's Grog coffee and try some fresh maple sugar candy. They just pulled in a fresh batch of maple sap and were in the process of turning it into syrup.
On our way back to the bus, I was delighted to find one of my predictions had come true. There were two calves and baby chicks waiting for some attention in the parking lot.
Christina Traeger brought the animals from Rolling Hills Traeger Ranch, where they specialize in gourmet grass-fed beef.
Andre, a British White, won me over with his long eyelashes and eagerness to be scratched. He also made me think twice about the barbeque I would be attending later that evening.
We said our goodbyes and hit the road again bound for goats. I happily stared out the window and listed to conversations of brewing ginger beer and how to make kombucha.
As we pulled up to Karmakee Farm, the smiling faces of Bridget and Mike greeted us. They were happy to show us around their farm and share their animals with us. I was particularly fond of Jellybean the baby goat, while she was fond of eating my jacket.
As Bridget explained their operation, three baby goats jumped and hopped through the crowd. The two farm cats wove their way in between legs looking for cat lovers and chin scratches.
We sampled fresh goat cheese, sniffed homemade soap and tried goat's milk lotion. I can happily report I am now the proud owner of all three.
After Karmakee, the bus drove due north. We took in more prairie sights – a workhorse farm, a soaring bald eagle, Amish farmsteads and lots of high tunnels (big greenhouses).
During this drive, PRFC employee Kaye Kirsch took to the microphone and explained the benefits of food cooperatives and becoming a member. Not only are you supporting local and organic food, but you also get the benefit of PRFC's online marketplace.
Members can shop from a variety of local producers Sunday through Wednesday and pick up their order on Thursday at Gethsemane Episcopal Church. How great is that? Fresh, natural food from local farmers at your convenience!
If you're thinking about becoming a member, now is the time to do it. They're only about 100 members away from opening up a storefront! Check out www.prairie-roots.coop to sign up and learn more.
At Bergeson Nursery the sun was shining, the coffee was hot and there were free doughnuts. What more could you ask for? A lively seminar on bare-root planting from Joe Bergeson? Perfect. The group was enamored by Joe's enthusiasm for plants in the north region. His knowledge was expansive and his excitement was infectious. If I weren't renting a home, I would've left with 10 trees that day.
After Joe's seminar, we enjoyed a delicious lunch in the greenhouse surrounded by blooming flowers, green plants and heaps of dirt. It was perfect and just what I needed after a harsh winter.
Guest speakers Gary Kircher and Stephenie Anderson followed lunch.
Gary discussed the joys and perils of growing raspberries and strawberries at Garden Hills Farm. They're open seasonally and also have apples and pumpkins for picking in the fall. I'm particularly excited to try their fresh strawberries. Gary explained that a real strawberry, picked right from the plant, melts in your mouth!
Noreen suggested making a day of visiting Garden Hills Farm, eating lunch at the local café, La La Ice Cream & Grill, and then stopping at Bergeson's on your way out of town. This trip is definitely on my summer bucket list.
The other speaker was also a hit, Stephenie from Northern Woolen Mills brought her beautiful fibers and taught the group how to arm knit with yarn from an alpaca named Ruby.
After the guest speakers, I wandered around Bergeson's and took in the surroundings. There was marsh out back, the sun was warm above me and a sweet spring breeze carried the sounds of singing frogs. What a great day.
The bus ride home was much quieter. Some people were snoozing, while other chatted quietly about the day. I found myself staring out the window again, taking in the beautiful countryside of Minnesota. The land I've called home nearly all my life and the land where my great-grandparents started their American lives on a farm.
I would highly recommend attending a Local Food Mystery Tour with Prairie Roots. The people are friendly, the food is delicious and you will absolutely learn something you didn't know before. I promise. Best of all, riding on dirt roads through small-town Minnesota is a great reminder of where we come from what it really means to shop locally.
IF YOU GO:
WHAT: Prairie Roots Food Co-op Local Foods Mystery Tour
WHERE: Surrounding countryside
WHEN: No dates yet, but the next tour is planned for September
INFO: Visit www.prairie-roots.coop and click on "Events" or call Moorhead Community Education at (218) 284-3400