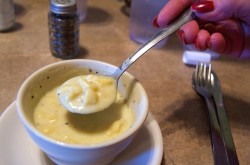 The fun about writing for the reader, for me, is finding these places I like to eat at and being able to brag about them to you.
I wanted to share with you a place in Bismarck that I was introduced to two years ago during their Street Fair. I was hungry for a really good salad and really nice, comfy soup, not street fair food. I have nothing against street fair food (I like a good hot dog and I will fight for the last cheese curd too) but because it was pouring rain and cold, I needed more homestyle food.
My husband, Mike, went to this wonderful place and came back with the best sandwich ever. It was a real turkey sandwich piled high on homemade sourdough bread, and there was also a wonderful yummy bowl of knoephla soup.
I was absolutely stunned. Even before saying thanks, I said "Where did he find this good food?"
Well, he found it at the Lucky Duck's Delicatessen and Catering Company at 307 Third St. N. in Bismarck. It was delicious, so this year when we drove back to Bismarck for another event, I actually brought my thermos specifically to fill it up with whatever they had for soup because I knew it would be good.
The first night, I only filled up my thermos with soup and headed back to our room. On Saturday night, Mike and I would join another couple and eat there. I can't express how good it is. I can't tell you how wonderful the atmosphere is and how much fun the people are who work there.
So Lucky Duck's has, of course, duck on its menu. There is, of course, a play on the feathered fowl with things on the menu like The French Duck (a thinly sliced roast beef sandwich), The Wood Duck (a vegetarian delight) and The Duck Call (with which you can build your own sandwich).
They also have interesting tacos: the cajun shrimp taco, the cage and lobster taco, and get this -- Greek-style lamb taco.
I also learned some wildlife lingo. When it was time to go to the restroom I was told by my husband, "Make sure you use the correct door, as it is labeled Drakes and Ducks." I am sure the look on my face said it all.
"What the hell does that mean?" I now know exactly what that meant.
Lucky Duck's had very recently open an addition to its place called The Pond. The fact is that it figured out it could expand business by opening a bar next-door and still have the restaurant be a place for families to come and eat sit-down. If you want a cocktail you can have it while eating or go directly into the bar. Priceless.
There were lots of laughs as we sat in this beautiful little café. It was happening, busy and our waitress, Hunter (the first female I have met with that name), got to deal with four loud and crazy old people. I'm sure we became a great conversation piece for her after we left. Anyway, I can't say enough about this place. It's just a great to place to converse and meet a friend.
I went back to Lucky Duck's in the beginning of December with the hopes to interview them directly after we were there. Unfortunately there had just been a break-in, and my request was buried. But that's OK, I understand it. I hope all is good for them now and I totally cannot wait to eat there again.
1. Location: Easy to find
2. Parking availability: Lots of places close-by
3. Variety of menu: Over 60 items. Outstanding.
4. Wait staff: Made me smile
5. Dining area: Clean
6. The food and presentation: With the open kitchen you could, if you wanted to, stand by the deli cart and watch, but that would be weird
7. The cost: $6.50 to $21 (December 2014 prices)
8. The bathroom: Cute and clean. Use the correct door
9. Would I go back and would I recommend it?: Absolutely!