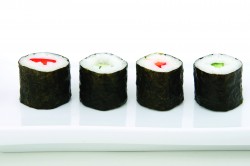 Welcome back, all you HPR readers, from the holidays. I hope you had a great holiday, as much as I did.
Over my next four articles I will talk about (1) All the food I surrounded myself by on my break, totally shameless (2) Some new people I met and that love they have for cooking so they shared their favorite items with me (3) The importance of feeding yourself through relaxing and (4) A very BIG lesson I learned in the world of catering.
"Road Trip with Lora"
I'm so excited to share with you my trip over the holidays to Winnipeg, Manitoba, with Lora B. in what is now becoming an annual event. We go there for the JP Hoe Hoe Hoe Christmas concert.
One of the things she and I love to do is eat. I am just sayin'. And it has to be really good eats for us! We're both in love with sushi, big-time.
We hit the sushi mother lode: a place called BluFish. It was located just two and half blocks from our hotel on Bannatyne Avenue in downtown Winnipeg. They even named a sushi roll after the street they're on. Lora tried that specific roll and loved it.
The size of the restaurant is small, we like small, and it's owned by a couple that the employees seem to like and respect. Our server Crystal, who already has a full-time job elsewhere, said she only worked there because she knew the owners and had a real respect for their food, so why not help them when they need it?
The menu is, of course, filled with all the usual classic items like miso soup, wakame salad and the regular rolls you see on every sushi menu (tuna, salmon and yellowtail), but it was the unfamiliar ones that we went for.
Our favorite sushi item was a roll that was recommended by a waitress from our hotel. She heard us talking about the BluFish Restaurant the night before, and the roll she suggested was called the Spicy Ben.
I simply can say, "Please do not talk to me while I am eating this. I only want to moan with joy through every bite." Seriously. It is listed on the menu as a customer favorite.
With salmon and avocado inside, the roll is topped with smoked salmon and fire-torched Japanese mayo mixed with tobiko and chopped scallops, then enhanced with a second sauce that entwined with the first for a fiery experience! I mean really delicious, or should I just say it is the "bomb."
The second time we went there (although we were only in town for a day and a half, we managed to eat at BluFish twice), we sat at the bar and met Yao, a woman who worked there.
I never established if she was related to the owners, only that she too thought highly of them. She explained to both Lora and me about traditions in eating in a Japanese restaurant, and she told us that if one wanted to give a huge compliment to the chef, one must slurp the soup. Although we were not having soup, we poured on as many sincere compliments as we could, truly. This action was rewarded by Yao serving us one of the most delicious desserts ever. It was tempura-fried banana with green tea ice cream and chocolate syrup drizzle. Simply yummy.
Each sushi restaurant I've visited has its own niche; the Spicy Ben was right on target for me at BluFish.
Below are some sites to check out: one about JP HOE and the other about BluFish Sushi (and yes, that is how they spell their name).
Here is how BluFish lies on my good/bad criteria list:
1. Location:Easy to find
2. Parking availability: Not a lot of places close by and confusing for us out-of-towners as to which spots were on or off limits.
3. Variety of menu (not too much, not too little): Outstanding
4. Wait staff:Made me smile
5. Dining area: Clean
6. The food and presentation: Like perfect artwork
7. The cost: Range from $3 to $80 (chef table)
8. The bathroom (very important):Cute and clean
9. Would I go back and would I recommend it?:Absolutely!