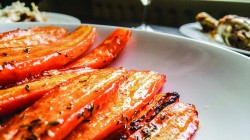 With the summer here and the vegetables growing and popping up out of our beautiful soil it makes me think that I should broaden my horizons and try some new veggies.
I say new because, believe it or not, I just don't have a hankering for one of them. People are totally surprised and shocked whenever I tell them I don't like carrots.
So I'm making it my goal to find recipes that include carrots, and which I think I would be OK with. Of course what I've come up with is the tiny, thin, individual baby carrots with a nice glaze on them, with, I don't know, butter and probably a little bit of sugar. I am going to search for something that sounds like that, but with a healthier twist.
So I looked to one of my favorite chefs, Ina Garten, The Barefoot Contessa. She has a recipe for roasted carrots.
They're nice and thick and plump and roasted to a beautiful color. No sugar is needed, as all carrots are sweet enough. You just add a little bit of dill, or a little bit of parsley, and roast them.
Below is the recipe that I took off of the Food Network. I know it might sound really simple, because not having to put the honey or the sugar on the carrots is probably hard for some people to imagine, but it works.
As I talk about this I'm surprised, because my mouth is watering. So maybe there is hope for me after all. I am looking forward to all the markets and the beautiful veggies. Enjoy.
Roasted Carrots
Ingredients
12 carrots
3 tablespoons good olive oil
1 1/4 teaspoons kosher salt
1/2 teaspoons freshly ground black pepper
2 tablespoons minced fresh dill or parsley
Directions
Preheat the oven to 400 F.
If the carrots are thick, cut them in half, lengthwise; if not, leave whole. Slice the carrots diagonally in 1 1/2-inch-thick slices. (The carrots will shrink while cooking so make the slices big.) Toss them in a bowl with the olive oil, salt and pepper. Transfer to a sheet pan in 1 layer and roast in the oven for 20 minutes, until browned and tender.
Toss the carrots with minced dill or parsley, season to taste and serve.
Copyright 1999, The Barefoot Contessa Cookbook, All Rights Reserved