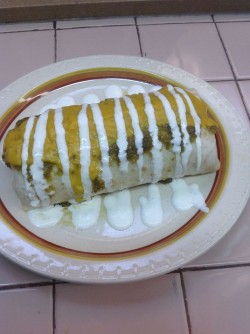 Those of you who have visited this page over the past year will have heard me whine about the lack of good Mexican food in Fargo. This might seem odd to some as there are several Mexican restaurants around town, but frankly, many miss the mark. That has changed with the addition of Romo's Tacos on 13th Avenue South.
The previous occupant touted Mexican food as well, but there really is no comparison. The most obvious difference is Romo's is busy, which is always a good sign for a restaurant. The place was buzzing and, instead of the guests staring at their cellphones, everyone was digging into plates of well-dressed nachos and super-sized burritos.
This is food-truck food in a brick-and-mortar setting. Co-owner Rodolfo Romo comes from a food truck background, formerly located at the Fort Noks parking lot downtown Fargo. For those who think that's romantic, forget about it — it's hard work. Jon Favreau (executive producer of the "Iron Man" movies) and food truck guru Roy Choi take you inside the food truck business in Favreaus' latest movie, "Chef," but you don't feel the heat and cramped quarters that you do in real life.
Romo and his sidekick Mando Iglesias have stretched out a bit in their new digs and they are knocking out some real tasty dishes. On our first visit for lunch the other day the brunette looked at me with a big smile and said — well, I won't tell you what she said, as it wouldn't be fair to other restaurants in the same genre, but I will say it was very complimentary to Romo.
And I concur, as this will be a place I drop into often. It is very casual and feels pretty close to a down-South taqueria. The menu is on a chalkboard hanging over the service area and the steaming aromas wafting up make it hard to decide what to order. Would I go with the juicy Barbacoa, the spicy carnitas or maybe a steaming hot pork or chicken tamale? Easy: I had one of each. And there's more to the menu: quesadillas, nachos, burritos and a variety of combination plates.
After making your selection, you get to dress up your taco or tamale with a variety of salsas and other toppings, like pico de gallo, corn salsa, cilantro, jalapenos and more. The flavor profiles of the salsas were right on the mark and the spicy one really hit it.
The Barbacoa braised, shredded beef (not the classic cow's head) was moist and flavorful. The spicy pork carnitas had some nice crunchy bits but were also moist, and the meat sported a nice heat. The tamales were good as well; the masa wasn't too dense or heavy and the pork filling had good flavor. The addition of some pico de gallo and green chile salsa lifted the whole plate up.
My only complaint, if this can be considered a complaint, is that there was too much meat on the tacos. I like to add things to my tacos and roll them up, but with all the delicious meat, that was impossible. From what I saw of the nachos and burritos, you could feed a family with one.
Price points are very reasonable, and at $2.50 each, the tacos are a steal, especially for the amount of meat you get. Plus, you get a basket of warm chips and well-made salsa with your order. When you put together the casual atmosphere, really good food and reasonable pricing, you have a winner. The brunette and I are already planning another visit in the very near future.