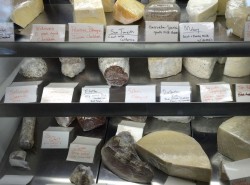 There is cheese and then there is cheese: hand-crafted and aged well to allow all the microbes to work their magic; or mass produced as a stodgy yellow substance stored as slices between sheets of plastic with a nuclear half-life.
Cheese is very much a part of the daily American diet and the economic darling of the National Dairy Management office.
America is ranked as the 11th largest cheese consumer on an international scale with the average personal consumption of around 30-plus pounds a year. That's a lot of cheese.
I know I don't consume that much, which means one of you is picking up my slack. As you probably have guessed, the French are the number one consumer with a staggering average consumption of 50 pounds per person per year. So why are we so much fatter than the French?
We have been stigmatized and mocked globally for our contribution to the world of fromage because of what we fondly refer to as American cheese, the aforementioned toxic yellow substance that comes in slices, blocks and even squeeze tubes.
And let's not forget those green tubes of dust generously labeled as "grated parmesan." The majority of American cheese is manufactured, not made. The difference being that artisan cheese is actually made by a person and farmstead cheese is made from the milk of the cheesemaker's own cows, goats or sheep.
Laura Chenel, a California goatherder and cheesemaker, was elevated into the national culinary dialogue with the help of iconic restaurateur Alice Waters, who openly promoted the use of Chenel's cheese on her Chez Panisse menus.
This was ground-breaking and inspired the likes of Paula Lambert in Dallas, Texas, with her cheese-making at the Mozzarella Company and on the East Coast Coach Farms in Hudson Valley, N.Y. Maytag Blue from Iowa had been producing their cave-aged cheese since 1941. Their cheese along with other artisan and farmstead cheeses were showing up on the menus of chefs driving the new American cuisine movement.
Since those early days, this cottage industry has blossomed with hundreds of cheesemakers across the country honing their craft. From farmers markets to fancy food shows, American cheesemakers, like American vintners, have changed their perception and established themselves in the global market as true craftsmen, winning medals in competition over the French and other European countries.
All of our cheesemakers are under threat of some bureaucrat at the Food and Drug Administration who declared that aging cheese on wooden boards is unsafe. Funny, as it has been done that way for centuries, and for many years in Wisconsin, America's largest cheese producing state since the 1800s.
In the rankings of countries and the amount of cheese they consume, it is not a surprise that China and other Asian countries are not even a blip on the radar.
But that is changing with the introduction of American fast food restaurants with pizza and burgers. Asians have just never had a taste for cheese and it doesn't show up in their cooking. Of the 30 pounds each of us consume a year, the majority is on pizza laden with that nasty, preservative-loaded, pre-shredded mozzarella.
Mozzarella is the number one cheese in America with cheddar a close number two, which might explain why we are so much fatter than the French.
Back in China, a cheese-making pioneer, Nu Yong, is emerging in an untapped marketplace of 1.3 billion people at his doorstep. Based on the outskirts of Beijing, he is making aged cow's milk cheese in classic French styles, slowly establishing himself and his cheeses with the young western influenced youth. Overcoming recent milk scandals that rocked China's dairy industry, Nu Yong uses milk from 22 different farms, which he has personally visited to ensure the integrity of the farm and their milk.
Meanwhile, Fargo has its own cheese pioneer; or perhaps guru is a better moniker for Peter Kelly at Luna Fargo on South University.
A cheese-obsessed "fromager" intent on sharing his knowledge with everyone around him, Kelly has stocked the cheese case at Luna with a worldly assortment of the best cheeses and cured meats. On a recent visit Kristen Rheault, a Kelly prodigy, led me a through a tasting so I could make an advised decision on what I wanted to take home.
Lots of local stores have cheese but not with this level of service and quality. Where else can you find a Rogue Smoked Blue, a rind-washed Taleggio, sheep's milk Ossau Iraty or (one of my favorites) Humboldt Fog? And you get to decide on the amount you want -- no pre-packaging here.
The American artisan cheese industry has never been stronger, and hopefully it can dodge any wayward challenges from uninformed FDA bureaucrats. Those changes to the making of cheese would greatly affect the quality of the cheese and our ability to compete on the global stage.
Good cheese, like anything quality-related, comes at a cost but is always worth it. Money spent on that silly green tube of so-called grated cheese is just a waste of money. Invest in a piece of well-aged pecorino or parmesan, grate it yourself and relish the aroma and taste of a well-crafted quality cheese. Well worth it at any price.