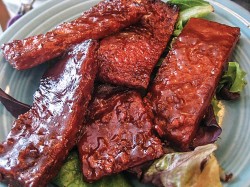 By Kathleen Keene
A lot of people who don't eat animal products find themselves in a quandary during holidays such as the 4th of July. Not wanting to feel left out, they often desire to join the festivities and merrymaking. When you bring this dish to your backyard barbecue, people will wonder what kind of meat you brought. You can tell them it's wheat meat! After all, meat doesn't own the flavors or textures people associate with it: smoky, chewy, savory, and of course, barbecued!
Vegan Barbecued Ribs
Stir together these dry ingredients in a large bowl:
1 cup vital wheat gluten flour (look in the baking section)
2 tablespoons nutritional yeast (optional)
1 tablespoon garbanzo bean flour (available at any of the Asian markets) - optional, makes the ribs more tender
1 teaspoon onion powder
1 teaspoon garlic powder
1/4 teaspoon ground ginger
1/4 teaspoon ground pepper
Mix the following ingredients together in another bowl:
2/3 water
1/4 cup shredded onion, with as much liquid from it as possible.
2 tablespoons soy sauce, or Bragg Liquid Aminos
1 tablespoon oil of your choice, plus more for brushing both sides of the dough
For basting/marinating: Your favorite vegan barbecue sauce, homemade or store bought
Preheat your oven to 350°F. Grease an 8x8-inch pan or similar baking pan with oil. You can also use parchment paper if you like, easing the removal of the ribs after baking.
Thoroughly mix the dry ingredients so there are no lumps.
Shred the onion with a grater, using the larger holes, or a food processor with the shredding attachment. It will be very wet. Shred just enough to make 1/4 shredded onion. Combine this with the wet ingredients. The shredded onion gives the ribs a pull apart texture!
Add the wet ingredients to the dry ingredients, and stir until it is combined, but do not knead it, or else it will become too tough to spread into the baking pan.
Place the dough into the the greased baking pan, and flatten it into a thin layer to fill out the pan somewhat evenly. Take a sharp knife and cut dough into 6 strips, then turn the pan and cut the entire layer in half to make 12 strips. No need to make them perfect or cut all the way through. Apply some oil to the top with fingers or brush. Place uncovered in the center rack of oven, and bake for about 20 minutes. They should be lightly browned.
After taking them out and cooling, score them again and pull them apart into strips, or leave them in slabs. Either way, you will want to score them again. They will still need a bit of cooking, and this is where the awesome sauce comes in. While you are getting your grill ready, go ahead and pour the bottle of barbecue sauce over the entire thing, adding about a 1/4 cup or more of water to the bottle, shaking it up, and adding that too. You want them to soak up the flavor.
To finish the cooking, you want to oil the grill rack a bit to prevent sticking. Over low to medium grill heat, let these babies slow cook for several minutes, preferably over some nice hickory chips. Check to see they aren't getting burned. Turn with tongs or spatula when you see they are getting nicely browned and caramelized.
You can pan glaze these on the stove too, just use a large pan to cook them in, on medium heat, turning when caramelized and nicely browned.
If you pulled them apart before, line them up nicely on a serving platter, or you can pull them apart at this point to serve.
This recipe, sans the barbecue sauce, makes wonderful strips for fajitas, stir fries, chunks for stew or tikka masala, and you can even make a satay or Thai barbecue with them. Just bake it in one or two large pieces, and cut into any shape you like!