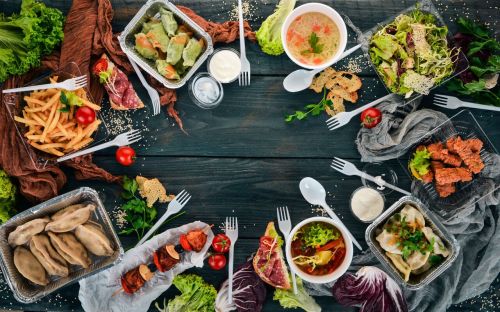 As winter approaches the yearning to leave your comfortably warm home and venture out into the Fargo frozen wasteland lessens. When you get hungry though, or even hangry, food must be readily available. Now if you're like me, heading to the grocery store or even a drive through at any hour seems like a chore. You have to brush off your car, scrape your windows, and by this point, your even hungrier. For those evenings when you're craving something different, exotic or new, wouldn't it be nice to have food delivery available that isn't just the average pizza, chinese or submarine sandwich? Luckily in the words of Bob Dylan: "The times they are a changing."
As of the last month the citizens of Fargo have had an influx of new food delivery services. With Food Dudes being the previous primary food delivery service, the increase of two newbies into the Fargo market more than doubles the options available. Let us not discredit the veterans in the market place though, these dudes deliver.
Uber Eats coming to town seemed inevitable, the number of Uber drivers in town has increased ten-fold in the two years they have been here, and with the introduction of Lyft to the community. Uber drivers have to share their marketplace, but now with Uber Eats, they don't have to share the same list of services -- primarily giving drunk people rides. Now they can deliver food to drunk and stoned people also. Uber Eats delivers food from places ranging from McDonalds to The Speak Easy. The service fee is on a sliding scale based on distance from restaurant etc. The highest fee I have seen is $6.49 and $2.99 on the opposite end. Which isn't terrible, depending on what you believe your time is worth.
Bite Squad, a stand alone delivery service much like Food Dudes, provides delivery from multiple sources, and their list of restaurants differs slightly from that of both others. As far as I can tell they have the largest number of restaurants of the three and offer a great variety of cuisine; ranging from Persian to soul food. The other benefit to this service is the cost of delivery. The highest service fee that I have found whilst pouring through their website was $3.99 which is more reasonable in some areas than Uber Eats, and Food Dudes. Also on their inaugural weekend they offered free delivery for a year to those who ordered. Bringing the cost and benefit to a new high.
Food Dudes, Fargo's first alternative food delivery service still stands as a beacon and a precursor to what was coming next. While their list of restaurants is a bit smaller than Bite Squad, they still offer some restaurants that others do not and at slightly lower delivery fees than Uber Eats for restaurants that are at a further distance. Making Food Dudes the best deal
if you're trying to order across town. Unless of course you signed up and ordered from Bite Squad on the first weekend. Then it's all about restaurant preference.
Whether you're snowed in, sick, playing video games, can't drive or just lazy, you now have more options and better price points for your food delivery needs. You now have more freedom Fargo! I can't wait to have new restaurants at my fingertips. I know this isn't meant for four course meals, but wouldn't it be great to be able to get Rustica, Toscana or Mezzaluna while you Netflix and chill on the couch? Let's hope for this in the future, and much more. For when the North Dakota winds blow, let someone else go outside, and brave the storm to support your culinary habits.