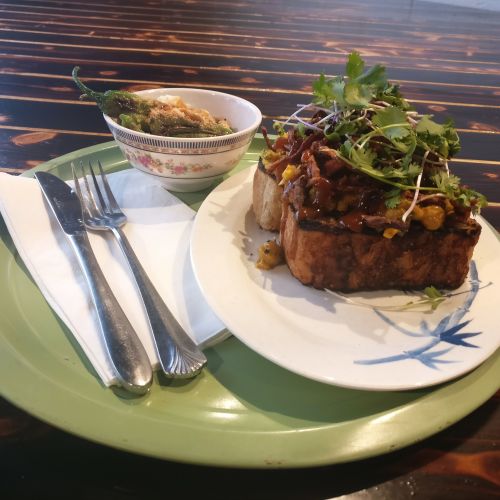 "The first day wasn't too bad. It was a slow start, then it picked up after a couple of hours, and it wound up being a fairly busy night, which was nice. We got a feel for the kitchen and how it's going to flow, so it's nice to get a feel for that so it went better than I imagined it would go." Shea Syverson, manager and Chef de cuisine at Sol Ave Kitchen, Moorhead's latest and much anticipated dining hotspot, said.
Though the restaurant has been open for a couple of weeks, they recently celebrated their grand opening last Thursday at 1408 1st Ave. N, Moorhead.
Shea is Luna's former sous chef, both he and Luna's head chef Ryan Nitschke created the Sol Ave. Kitchen's menu. When asked how he would describe Sol Ave. Kitchen's fare, Chef Shea replied, "It's more of an elevated street food or more of an elevated food truck... We've had food trucks over the years and we had an opportunity to open a restaurant with foods that we've wanted to do. It's more of a fusion between Asian and Mexican style flavors, the dumplings for example or the shrimp pastor tacos--so we're kind of all over the place with different styles of food."
The shrimp al pastor is served with a pineapple salsa, adobo sofrito, and cilantro. The pork and mushroom dumplings that he mentions are served with kimchi, Chef Ryan's signature "dirty sauce," scallion and radish.
Sol Ave. Kitchen is an offshoot of Luna and still features some of Luna's highlights such as their mouthwatering cheese plates as well as some favorite dishes such as kimchi salt and pepper wings. "We're doing wings still but we're doing two other sauces and the kimchi wings that we did at Luna, so it's kinda cool that we get to take a couple things over from there. Things that we've done in the past that we liked and got to actually keep doing but in a larger setting." added Chef Shea.
We couldn't help but ask what kind of flavors he gravitated to most while writing up Sol Ave. Kitchen's menu. "For this I don't know… I keep gravitating toward food that I've wanted in the area. It's hard to find. There's plenty of places to grab tacos and Asian style cuisine, I keep going toward the same flavors with this one. I maybe go too heavy on some of the spices, I just wanted it to be something different and something a little bit more fun for people to try and actually get people to open their eyes to something new." Chef Shea said.
When asked for recommendations, he said, "I really like the tamarind pork belly, it has this really nice tamarind sauce. That sweet and tart flavor with a crispy pork belly and a little bit of fresh corn on it is a really good combination and the Cubano--because I've always wanted a tasty Cubano in town and finally we just made our own. There's a lot more things we're going to add over time we're just starting things that we've known we've wanted to do and things we've already done and not try to overwhelm our staff with more items to start, so we'll eventually introduce more things."
With that being said, we couldn't help but ask how often Sol Ave. Kitchen's menu will be changed out. "Not as often as we do at Luna, it's going to be pretty consistent for the most part so people can kind of rely on getting the same thing. We'll add a couple specials here and there and we might add some extra fried rice dishes, for the most part we're going to keep it consistent and add things here and there--maybe add some chalkboard items." he said.
Sol Ave Kitchen also offers a variety of gluten free, vegetarian and vegan items. I tried the curried chickpea toast with a side of Shishito peppers, both of which were meat free options. The bread for the toast was baked locally over at Youngblood and the flavors were aromatic and complex. The thick slice of sourdough was piled high with curried chickpeas and was topped with crispy pakora, herbs and a sweet yet tart tamarind sauce. The side of peppers were mild yet flavorful, with toasted almonds goat cheese and black garlic.
Though I didn't stay for dessert I had to hear out my options. Sol Ave. Kitchen features housemade cakes and ice cream. Chef Shea added, "We don't make the base here, we make it at Luna and we just bring it over, eventually if we get enough people we're going to start making it here. The cakes are made here by our awesome pastry chef Amanda."
Sugar spice and everything nice. Needless to say Sol Ave. Kitchen was worth the wait. My only dining regret? I didn't save room for dessert.
YOU SHOULD KNOW:
Sol Ave. Kitchen
1408 1st Ave. N, Moorhead