​Take it easy: A fast and simple quiche recipe
by Sabrina Hornung | .(JavaScript must be enabled to view this email address) | All About Food | May 15th, 2019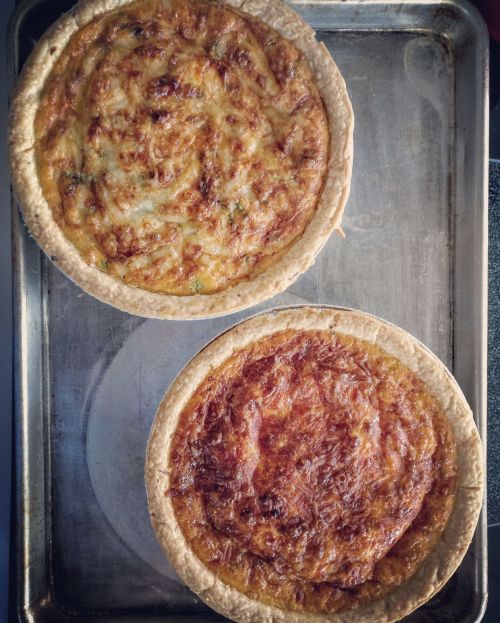 Quiche is a great addition to any brunch. It's almost like a wardrobe staple that you can dress up or dress down. I made one for my 90-year-old grandma for mother's day last weekend. She's a good critic when I try out a new recipe because she will tell me exactly how she feels about it. She attended a Swiss cooking school in her youth and is a wealth of knowledge when it comes to navigating one's way around the kitchen. I held my breath as she took her first bite. I would never hear the end of if it was a lousy recipe--or even worse…a poorly executed recipe. After trying her first piece she excitedly said, "This is how WE eat."
For the first quiche, I used muenster cheese and a life-changing smoked swiss. I lined the bottom of my pie shell with a fair layer of chopped artichoke hearts, broccoli and green onions but that's coming from a half-hearted vegetarian. I have another in the freezer made with smoked cheddar. Feel free to experiment, try some ham, salmon, bacon, asparagus or whatever you feel. The key here is versatility.
I was a little intimidated at the thought of rolling out my own pie crust but was relieved to find an inexpensive pre-made crust in the bakery section of my local grocery store that was worth the whiskey. I was pleasantly surprised by the simplicity of the recipe and how well received it was. Full prep and baking time was less than an hour. Fortunately a finished quiche can be frozen and eaten at another time.
Here is the basic recipe.
1 refrigerated pie crust
6 large eggs
¾ cup heavy whipping cream
¾ tsp salt
¼ tsp pepper
1 ½ cup shredded cheese
Preheat the oven to 375. Whisk eggs, milk, salt and pepper. Line the bottom of the pie crust with your filler ( aka meat and/or veggies), sprinkle one cup of shredded cheese. Pour your egg mixture over the top and then sprinkle ½ cup of cheese on it. Bake 35-40 minutes until the middle is set.
If you notice your crust getting too dark put tinfoil around it to keep it from burning. Serve with a side salad or fresh fruit.
Quiche can be eaten hot or cold. It may be best known as a French dish but initially originated in Germany. The word quiche is synonymous with the German word kuchen according to regionsoffrance.com. Quiche originated in the Alsace region of France which was and still is known to bear elements of both cultures.
Grandma can be one of my best baking/cooking critics, but when a recipe gets the gold seal of Grandma approval you know it's worth making, remaking and perfecting.