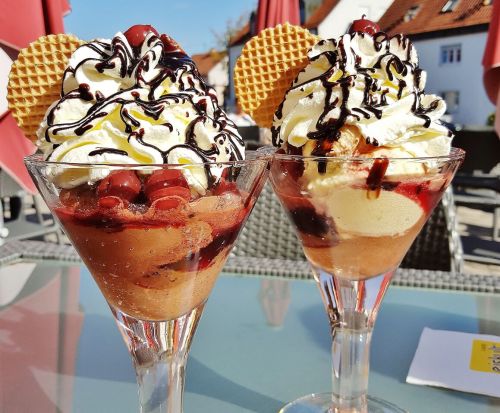 It's summer and nothing says summer in America more than ice cream. Watermelon is a close second followed by fresh sweet corn. But ice cream with booze is the new here and now.
There are never enough napkins for a good cone. That sweet goodness will just drip and find its way between your fingers, running off your chin and dripping onto your early summer tanned legs. Providing that you are wearing shorts. Regardless, there is no better adjective for summer than ice cream. I love ice cream as do most sensible people. Now when you add some interesting alcohol to the mix, summer gets a lot more interesting.
Clever bartenders and inspired mixologists from LA to Denver, Austin, New York, Chicago and Fargo. Yes Fargo, are firing up their blenders and shakers making cool ice cream-based cocktails. The True Blu Social Club on Veterans Blvd in West Fargo offers up three ice-cream-based cocktails. The original Red River Mudslide and their versions of a Root Beer Float and a modern take on the classic Grasshopper. These decadent, creamy and refreshing concoctions aren't your old run of the mill TGI Fridays frozen drinks. These are truly inspired and use top shelf ingredients.
Liberty Kitchen in Austin, TX makes a Velvet Elvis, a take on the decadent excesses of the late great King of Rock and The Sassafras American Eatery in Denver offers up a Blackberry, Lavender Gin milkshake made with organic blackberries, vanilla bean ice cream, house-made hibiscus syrup and lavender-infused gin.
The list goes on with some favorites being the return of the Grasshopper, and the soon-to-be-new legends. Like the Negroni Float at Chicago's 312 made with Campari-Infused Gelato, Aviation Gin, Carpano Attica and a float of Prosecco or Culver City's Hatchet Hall Root Beer Float. Made with Root Beer Gin, Tonic, Vanilla Bean and Angostura Caramel Swirl Ice Cream.
On our last trip to Cozumel the brunette and I found ourselves getting bored by the acidity of the margaritas. So, we swam up to the pool bar, literally in the pool and grabbed a stool. I asked the bartender if he could make a couple of White Russians and that tall, cool creamy drink went down like silk. Before you knew we had everyone at the bar drinking them and the call was put out for more cream. As fate would have it they ran out of cream as they weren't prepared for the tsunami of drink orders. Our bartender seized the moment and switched over to using ice cream instead and for the next few days cut loose preparing a variety of ice cream-based drinks, even a take on a margarita.
Savvy restaurateurs see the opportunity to increase dessert sales by offering these boozy concoctions as a substitute for labor intensive desserts. It only takes a couple of minutes to make a cocktail compared to hours to make a dessert and the expense of the ingredients and the talent to make them. Every good bar has the inventory already sitting on the shelf, all you need is some ice cream and good old fashioned American ingenuity.
Our favorite at home is an offshoot of a dessert I make with caramelized bananas, pound cake and chocolate sauce with vanilla bean ice cream. For the cocktail put two scoops of good vanilla bean ice cream in a blender with half a ripe banana, two shots of Cruzan Aged Rum, an ounce of banana liqueur and half a cup of milk. Blend until smooth. In two tall Collins glasses pour an ounce of Godiva Dark Chocolate liqueur, top with banana ice cream mixture, swirl in a tablespoon of Dulce de Leche or Baileys liqueur. Dust with cocoa powder and garnish with a chocolate covered biscotti across the top of the glass.
Kick back, enjoy, and watch out for brain freeze.