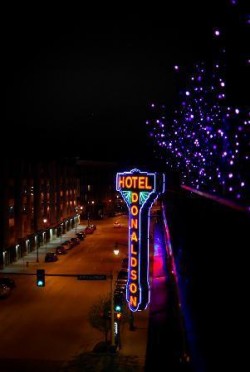 By J Earl Miller
Nearly 10 years ago I wrote a goodbye letter to Ralph's Corner that got published in the High Plains Reader. I talked about all the unique people that entered its doors and about the music. It was a very heartfelt letter about how I cared about a place.
This month, a downtown Fargo cornerstone is celebrating 10 years of being in business, and once again I am writing about a bar -- but don't forget about the restaurant and hotel. The main reason I brought up the goodbye letter is because of the emotion of the place I used to work, and the Hotel Donaldson captures that same emotion through its employees.
When you walk into the HoDo Lounge, you recognize faces that have been there for nearly 10 years -- and some have. When the bar first opened, there were a lot of fresh faces with employees from all over the F-M service industry scene and they were all good at their jobs, but the HoDo's business plan turned them into some of Fargo-Moorhead's best bartenders, servers and chefs.
In fact, the HoDo carries a number of awards locally and nationally. Its unique and incomparable staff provides some of the best customer service in town. Ask the bartenders for a drink and they'll know exactly how to make it, and they usually make it better due to the bar's top-shelf ingredients.
The chefs are always thinking outside the box while doing their best to source local ingredients. The menu is ever changing with its weekly specials but keeps its favorites such as "The Dirty," which I refuse to call it by its new given name; I just like saying "The Dirty."
The Dynamic Duo (chefs Ryan Nitschke and Nick Weinhandl) are folding up their aprons on Sept. 5 and have invited Andrea Baumgardner, who originally opened the kitchen, back to work her magic at the HoDo for one night only.
There are so many great things the HoDo has done over the years, including raising money for cancer research for men and women, giving musicians a truly intimate setting where they can really connect with the crowd, and providing artists a space to display their unique expression.
The High Plains Reader and I say thank you for 10 great years and for many, many more.