​The art of taste: Judd Eskildsen wants to expand your palette
by HPR Contributor | .(JavaScript must be enabled to view this email address) | All About Food | May 2nd, 2018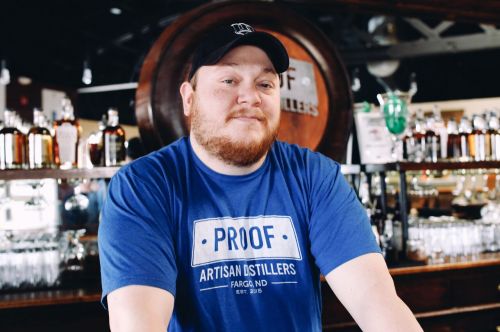 By Oscar Deleon
oscarldeleonjr@gmail.com
The rolling aroma of processed grains, malts, and yeast fill the dimly lit bar as Justin "Judd" Eskildsen walks his way through the distillation tanks. It is here where the spirits are churned to perfection. He jokes with a few of the handlers, moves with broad shoulders through a set of doors leading to his office behind the quaint kitchen. His office, a table surrounded by boxes of ingredients and spices, is as modest and as he is.
"Chances are I'll never be a Michelin chef, but striving to be like my inspirations is what I do regardless," Eskildsen said.
Despite his humble demeanor his culinary expertise has garnered him much acclaim around the Fargo-Moorhead area as he furthers his career as the executive chef at Proof Distillery.
Proof Distillery was started in 2014 by Joel Kath who, on the advice of his friends, decided to take his love for spirits and high proof alcohol and pursue the challenge of starting his own distillery. One thing that always lingered in his mind, however, was the need for food to accompany the high level of alcohol the patrons would be consuming.
"Joel always said it was irresponsible to serve spirits and high proof drinks without food so he had the idea he'd have little munchies here and there," Eskildsen said. "In the beginning, I think he thought he could do it all himself, but it ended up getting big and realized he needed more. He hired me before Proof opened and as soon as he did I had a vision of what I wanted to do."
Proof got so big, in fact, they have recently started distributing their alcohol in Arizona where some Fargo natives can seek it out comfortably in their flock, away from the bitter cold.
Eskildsen's vision is to expand the tastes of the typically Scandinavian-leaning public that walk in and out of the distillery's doors.
"Bridging the gap between what everyone is accustomed to here and fine food is tough; they need someone to ease them into it," Eskildsen said. "If I can change the way this area eats or thinks about food then I'll feel like I've won."
The first thing on his agenda was to remove any and all condiments that you typically find at chain restaurants across the country.
"No ketchup, no ranch...salt and pepper aren't on the tables...that was a huge problem right away. There were a lot of people asking for those things but I had to tell them we didn't have any." Eskildsen takes the responsibility of understanding what the consumer wants whether or not they are aware of it. It's with this understanding that he crafts his food to fit the atmosphere inside the distillery as well as the needs of the public.
"The reason people come here makes it easier for me to cook for them," Eskildsen said. "For example, in the summer I'll be moving down to sandwiches because that's when we slow down the most. People typically come in and buy bottles for the weekend and I don't think they want to sit down for a big hearty meal. I want to do a real Jewish deli style sandwich, something lighter for them."
It's the level of high wire balancing that makes Eskildsen's cooking especially tantalizing and inviting; he understands what you need.
Eskildsen grew up engrossed in his mother's cooking especially when she, in the late 80s, took a class from Phil Wong, a locally beloved Chinese chef who showed his mother how to experiment with herbs and spices. She also ended up with this cookbook called Yan Can Cook.
"I was 10 years old and there were pictures in that book full of ingredients I had never seen before and, back then, you couldn't get those ingredients in town, so that really opened my eyes to what else there was other than your typical Scandinavian cooking. That really piqued my interest and made me realize that there was more you can do than, you know, gravy and potatoes."
From that point on he grew curious and ventured to make his own meals starting at the age of 13 when he would ride his bike down to the local grocery store and pick out Italian sausages and pasta and try to make his own concoctions. He continued to follow his food passions until he took a detour as a unionized pipefitter and welder. For 12 years, the doldrums of the job wore on him and, by chance, he found himself on the path to regain his love for the culinary arts.
Eskildsen, who wears his Danish last name proudly, is determined. His presence is contradicting, at once passive and intensely passionate, the perfect balance someone of his profession has to maintain in any bustling kitchen.
"There are two main aspects to being a chef: preparing the food and the creativity of it. When I'm at home I'm constantly thinking about new dishes, new ways to do things, new ways to prepare things, what would go well with this or that...but in the actual act of cooking it's completely blank. We are focusing on the tickets and what's happening next."
When asked whether or not he thinks food is art his blue eyes glimmer with life.
"There are so many aspects to it," Eskildsen said. "It's a painting, it's a sculpture, and it's interactive art as well. One of the things that most people don't look at is the way they eat. The way I plate and craft the food is specifically set up for you to eat the way I want you to eat. So, not only am I crafting that flavor, color, and texture… there's also the art of making them eat it that way."
YOU SHOULD KNOW
Proof Distillery,
414 4th Ave N, Fargo,
Wed through Sat 5 p.m. - 12 a.m.; Sun Mon closed
(701) 353-5853