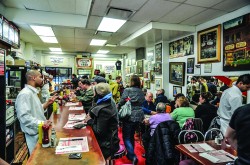 King Richard III made the phrase "My kingdom for a horse" a modern day euphemism for, "I want something right now that I probably can't get." Sheer utter frustration at the situation he finds himself in, alone on the battlefield, King Richard pleads to no one in particular for a horse.
So it should not be considered odd that I am craving a good deli to be right around the corner. And no, I am not yelling it out loud.
I want one of those noisy, loud and cramped deli's, where you pick a number at the counter or if you opt to sit down at a table you are inches away from the next one. A waitress named Madge, chewing gum and with a pencil stuck in her stack of teased up hair asks, "What can I get you hon?" The kind of place where Meg Ryan's character in "When Harry Met Sally" fakes a tremendous orgasm, which elicits the famous line "I'll have what she's having." Now that's a good deli.
Delicatessens haven't always been like that. In fact it is fair to say that the type of deli I am referring to is a manifestation of European, in particular those of the Jewish faith, immigrants only to be found in America. In Europe, delicatessen evokes a different image, one of fine food and delicacies. Refined shops in London such as Fortnum & Mason or Harrods and their food courts would fall into this category. Eatzi's, a Dallas-based company, would fall pretty close to this category but with a decidedly American twang.
When I think of a good deli, it's all about the food and the vibe. Good delis slice the meat to order, no piles of pre-sliced meats or cheeses, and they are incredibly busy. And the meats have to be top shelf, as does the bread, the sides and, let's not forget, the pickles. Delicatessens emanate comfort through the service and the food. How many restaurants can you go to and find a freshly baked mini-Danish waiting for you on the table at breakfast or homemade pickles at lunch?
Wolfie's, aka Wolfie Cohen's Rascal House on Collins Avenue in Miami Beach, was that type of deli. Everything was made in-house and the place was always packed. This was before South Beach took over and drove all the old Jewish snow birds out. This was the place for latkes (potato pancakes served with either applesauce or sour cream, depending on where you were from), blintzes, herring, smoked salmon and the best bagels and pastries all baked on-site. The place was huge. I got a tour of the back of the house back in the day, and I was awestruck by the sheer size of the operation.
If you are ever in New York City the iconic deli to visit is the Carnegie, but be warned -- bring your wallet and an appetite. Sandwiches run $20 or more, and they are massive. The Carnegie cures and smokes all of their own meats. The quality control is there and there is nothing better: pastrami that would make a grown person weep, and the bread, well the bread is more of a garnish to the stack of beautiful, lush, tender, flavorful brisket, cured just right. I haven't been there yet, but Cecil's Deli in St. Paul has been dishing out traditional deli fare since 1949. And after looking over their menu the drive seems worthwhile.
Lucky me, as I am heading down to Florida today, and one of my first stops will be TooJay's Deli. Started 20-plus years ago by two friends named Jay and three seasoned deli brothers out of Philly. I'm looking forward to being decadent, having an extra smear of chicken liver on my pastrami sandwich and probably sticking in some crisp coleslaw for good measure. Let's face it: Delis are throwbacks to the carefree days of good living and I like that. No gluten-free this and no vegan that, just damn good eating. No offense to gluten-free, vegetarian or vegan persons -- just do me a favor and leave delis alone.