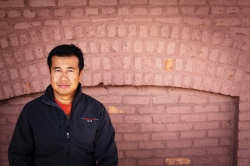 You know that feeling when you think, "I've just met somebody pretty special"? Well I have always felt that way about Thamrong "Keng" Dechawuth, owner/co-owner of many, many restaurants in Fargo-Moorhead and Grand Forks. Without even knowing it, his restaurant ventures with his father-in-law, Dave, have changed the Fargo-Moorhead area -- all to the positive.
In our interview, Keng talks about his future plans in the local restaurant business, including the selling of a number of his restaurants to their managers and head cooks.
I hope you enjoy this interview as much as I did, because after reading his answers one can realize, he's right, we all need to take time for ourselves and enjoy the food! Here is Keng in his own words.
HPR: Can you give our readers some background on yourself before you moved to Fargo? How long have you been in Fargo and why did you move here?
Keng: I graduated from military academy in Thailand. In 1998, I came to the U.S. to earn a masters degree in electrical engineering and finished in 2000 from University of Southern California, then went back to Thailand. In 2004, I came to Fargo to attend a PhD program at NDSU. We started restaurant business in 2005. I quit school and I've been here for 10 years now.
HPR: Did you grow up wanting to cook? If not, what changed in your life to do this?
Keng: Not really. I remembered when I was a little boy, I had to help my aunt (she's the best cook in family) preparing meals for family. It's our culture to eat together with the whole family. I would prefer playing with other kids than cooking but that was how I first learned about spices, ingredients and methods. When I was studying abroad, I couldn't afford to eat out everyday nor a have hamburger everyday as well. I started cooking on my own. I called home when I needed some directions. After cooking a lot of terrible foods, I got better and better. I dated my wife and she got a chance to try my food and I then knew how it felt like when people appreciate your cooking.
HPR: Culturally, what has been the biggest changes in food that you have noticed in the F-M area?
Keng: I have seen more ethnic foods from many countries. I have seen more chefs from everywhere as well as talented local chefs who gained their knowledge and experience (outside of Fargo) then returned home to pursue their career in F-M.
HPR: Are any of your places chains and could you please list the places you are owner/co-owner of? What was your first and last?
Keng: We are not chains. David Scheer, my partner and father-in-law, opened Thai Orchid with his partner in 2005. His partner left, and I took over and have been Dave's partner since then. That was our first restaurant. In 2007, we opened Leela Thai. In 2009, Drunken Noodle opened, and that same year we opened the sushi bar, Wasabi, sharing the same building and the second Drunken Noodle opened on 32nd Ave. In 2010, Little Bangkok opened and has been very successful in East Grand Forks followed by Drunken Noodle in 2012. Late in 2012, we open The Beefsteak Club in downtown Fargo then Cafe 21 at the old Yukihana on 25th Street South. We have one of my managers as partner and she wanted to change Cafe 21 to Bangkok Corner, doing Thai and sushi, in 2013. In 2014, with my sister-in-law, Adi, we opened a small Asian bakery called Bun Appetit right next to Drunken Noodle and Wasabi.
HPR: Why did you think the F-M area was ready for sushi?
Keng: I didn't really know back then but I believed if we made good food, there would be at least somebody who would eat it. I liked the vibe in downtown and I thought a sushi bar would be a good fit.
HPR: Are these all family-run?
Keng: Yes, they are all independent and run by families.
HPR: Of all the places you have, which one really has the food signature on it that represents Keng?
Keng: I would say Drunken Noodle. I personally like something not complicated. You can have all the nutrition you need in one bowl of noodles. There are varieties and flavors from many countries of origins. Stir-fry noodles are well known here but there are still a lot more noodle soups to try such as Pho, Udon or Thai boat noodles. So many to explore.
HPR: So you have decided to take a little break. Can you share with our readers why and if you want, can you tell us what you're going to do and where you plan on doing it?
Keng: I can't create something new unless I empty myself. I have spent quality time with my wife without working. Having time with myself and thinking. For the past 10 years I was like a young boxer. I launched my fists for every opportunity I got. But as an older fighter I will wait and see, so you won't see me expanding business like before.
Many restaurants will be transferred to our managers or cooks. They can start their new chapters and you will be surprised how good they can do. I dream of opening a small restaurant in Japan or Thailand; then I can exchange my cooks. I want them to gain experience and bring them back to the F-M area.
HPR: This life you have chosen is so hard; we all know the statistics on how restaurants fail, and yet, from all that I see, your ventures have all succeeded. What do you feel are the reasons for this?
Keng: First, we didn't know this business when we started. When we realized it's so hard, we worked harder. The success is defined in different ways. Financially, not all of my restaurants are moneymakers. I have a chance to learn and change. For example, Drunken Noodle on 32nd Avenue was sold and the one in East Grand Forks was merged to Little Bangkok. Being independent, you traded with the fact that each place has its own characteristics. I can never make them the same so we decided to have only one Drunken Noodle.
HPR: You mentioned to me that your staff at all the restaurants were family. Is this both figuratively and literally?
Keng: None of them are our actual family members but many employees have been with us for a long time and I truly feel like we are family.
HPR: If you want to share with us, can you talk a little about who you are selling all your business to and why? Will you keep any of them?
Keng: It's been planned since the beginning that we want to groom people and then they will start their journeys. You already see them in my restaurants even more than me. I cannot cook and manage all by myself. I'll probably be in Drunken Noodle and cooking for you more than before.
HPR: Can you please share with our readers two of your favorite dishes on your menu: one from Drunken Noodle/Wasabi downtown Fargo and also one from Bangkok Corner and tell us why?
Keng: I love Ahi poke that TJ makes at Wasabi. From Bangkok Corner, my favorite is papaya salad. Both dishes are made by people who originate from Hawaii and Bangkok so they make it the way I like.
HPR: Is there anything I have not asked or addressed that you would like to share with us?
Keng: Life is short, spend your quality time with friends and family. Sleep early and eat healthy.