The Mainline is no Downer
by Sabrina Hornung | .(JavaScript must be enabled to view this email address) | All About Food | September 3rd, 2015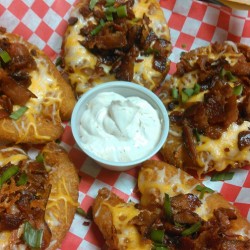 Rainy Days and Mondays tend to bring me to Downer...but really so have sunny days and any other day of the week. Why Downer you may ask? The town itself has a population of less than 100 and is located between Barnesville and Moorhead and is home to The Mainline Bar and Grill.
The Mainline is housed in a repurposed potato warehouse formerly known as the "Mainline Potato Co.". Lew and Theresa Henderson purchased the building in 2005 after they were hit by lightning while on their motorcycle. This near death experience made Lew reassess his "bucketlist" just in case he "got smited again".
That chance involved opening a bar with the best food in town which also doubled as a killer venue for travelling acts such as White Lion, Jackal, Blackberry Smoke and even comedy acts. With enough notice the event center is available free of charge to anyone.
The menu features an array of burgers, sandwiches, appetizers and pizzas.
The pizzas are made on site. Though traditional toppings are available, there is an interesting array of alternative sauces that include horseradish, ranch, BBQ, buffalo sauce and alfredo sauces.
The Mainline is also famous for their burgers whether you crave a traditional cheeseburger or opt for something a little more unconventional such as "The Paulie" which includes PB&J plus bacon, lettuce, and tomato.
Appetizers include not only some of your favorite fried munchies such as jalapeno poppers, mozzarella sticks, fried pickles etc. but also a bacon basket. Specialty items include nachos with house made chips and the "Mainline Pile Up" which are essentially nachos made with fresh cut fries. Which is fitting fare while dining in a former potato warehouse.
The Mainline also features its own challenge known as "The Iron Horse" .
"The Iron Horse" consists of two pounds of Angus beef (3 patties), six strips of bacon, six slices of cheese served up on a brioche bun, plus 1 ½ pounds of fresh cut fries and a slice of pie. If you can finish it in 30 minutes or less it's on the Mainline, if not it's $29.95.
Happy hour runs Mon. to Fri. 5-7 p.m with two for one rail drinks and domestic 16 oz.tap beers. Also on Mon. to Fri. from 11 a.m. to 2 p.m. patrons can enjoy $2.50 22 oz. mugs of domestic tap beer.
YOU SHOULD KNOW:
The Mainline Bar and Grill
Downer Minn. Hwy 9 S.
Mon.-Tues. 11-10 p.m.
Wed. - Thurs. 11-11 p.m. Bar open to 1 a.m.
Fri - Sat. 11-1 a.m. Bar open to 2 a.m.
Sun. 12 p.m. - 10 p.m.