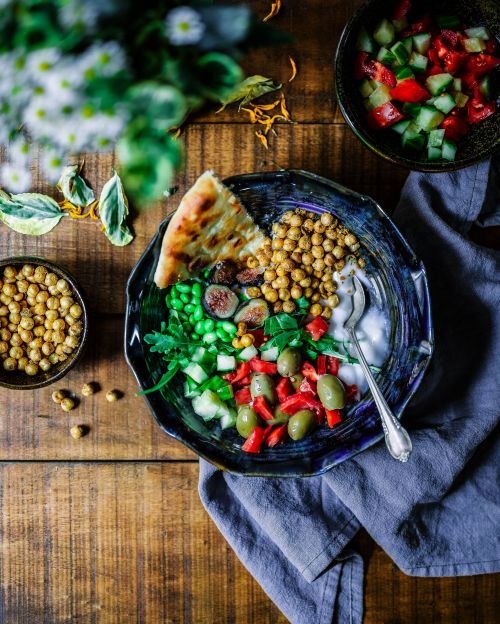 By Megan Myrdal
meganmyrdal@gmail.com
Throughout your life someone has likely told you to eat your vegetables, but has anyone ever told you to eat more plants? If not, you heard it here -- EAT MORE PLANTS. A diet rich in plant-based foods, including fruit and vegetables (produce), as well as whole grains, beans and other legumes, nuts and seeds and plant oils, is decisively associated with good health for ourselves and good health for the planet.
Nutritionally, eating more plants provides more unsaturated than saturated fat, which can lower the risk of heart disease and improve cholesterol levels. Diets rich in plants are also higher in fiber, which helps with digestion and weight maintenance and can lower your risk for some diseases, such as heart disease, diabetes and certain forms of cancer.
Environmentally, a diet higher in plant-based foods is linked to reduced greenhouse gas emissions as well as lower energy, land and total water use.
It seems like a no-brainer, right? We all want to live longer and be healthier and enjoy a healthy planet, but some people are apprehensive about following a plant-forward diet. Why? As a dietitian, these are a couple of the main concerns I hear.
Concern #1: I love meat. I don't want to follow a plant-forward diet, because I'll never be able to enjoy a good steak again.
Not true. Plant-forward eating does not mean omitting meat or excluding any food groups. It simply encourages less meat (i.e. smaller portions), choosing certain days of the week to not eat meat (i.e. Meatless Mondays), or saving meat for special occasions. There are many foods we love, but know we should only enjoy on occasion -- things like ice cream, cookies, and candy. When I talk to kids about nutrition, I call these "sometimes foods."
Start to think of meat as a sometimes food. It's not about eliminating meat or any food, but rethinking how much and how often we actually need it. It's about making small changes. Even choosing one day or one meal a week to go plant-forward can make a big difference.
Concern #2: How will I get enough protein if I eat less meat?
Protein is one of three macronutrients we get from food, the others being fat and carbohydrates, and a lot of today's food conversations revolve around protein. People look for good sources of protein for many reasons: to support muscle building, appetite control, and weight management, to name a few. The average American consumes approximately 111 grams of protein per day, while the Recommended Dietary Allowance (RDA) of protein for adults is 46 grams per day for women and 58 grams per day for men. Since we're already consuming nearly twice as much protein as our bodies need, it's likely that concerns about getting enough protein are unnecessary. And while meat is an excellent source of protein, there are also plant-based sources of protein, including beans, peas, nuts, seeds, tofu and tempeh.
Plant-forward eating is not about elimination or deprivation. It's about celebrating and enjoying the abundance of nutritious and delicious foods that support our human health, and the health of our planet. Here are five simple ways to make plant-forward eating part of your everyday life.
Enjoy One Plant-Forward Day - Meatless Monday is a popular activity where families chose to make Mondays meat free. Instead of thinking of this day as a day of deprivation, think of it as a day to be adventurous and try something new. Check out www.meatlessmonday.com for recipes and inspiration.
#EatMoreBeans - Beans are a simply delicious, naturally nutritious food that are uniquely healthy and sustainable. They have protein that's similar to meat, as well as nutrients similar to vegetables. Because of this unique combination of nutrients, beans count as both a vegetable and protein food. In addition to being super healthy, beans have a positive environmental story to tell. Bean plants contain rhizomes, or nodules with bacteria that convert nitrogen (a greenhouse gas) from the air into a form plants can use. This is called nitrogen fixation, and it adds nitrogen back to the soil, thereby improving soil health.
Make Half Your Plate Fruits & Vegetables - This message is from the United States Department of Agriculture, and it's an easy way to increase healthful, plant foods in your diet. Commit to making half your plate fruits and vegetables at least one meal a day and try to increase from there. Also, remember to be adventurous and try new fruits and vegetables to get a variety of nutrients and flavors.
Base Meals With Grains & Beans - Beans and whole grains are plant-based sources of protein and key components of a healthy diet. Proteins are created from twenty different amino acid building blocks, nine of which cannot be produced by the body and are called "essential." Most plant-based proteins lack one or more of the essential amino acids, but when two or more plant-based proteins are combined, each food can provide the essential amino acid(s) that the complementary food is missing. Grains and beans are complementary proteins. Therefore when you eat the two together, you get a complete protein or all nine essential amino acids.
Eat Seasonally - Is there anything better than a juicy peach, new potatoes, or sweet, tender corn on the cob? The flavors of seasonal fruits and vegetables are a joy to savor, and makes plant-forward eating easy and delicious. Eating in the season not only provides exceptional flavor, it also makes incredible flavors more affordable.
Look for more ways to enjoy plant-forward eating by visiting www.beaninstitute.com.
[Editor's note: Megan Myrdal, MS, RD - Director of Domestic Marketing & Communications for the Northarvest Bean Growers Association.]
About Northarvest: Northarvest Bean Growers Association (NBGA) represents over 2,000 dry-edible bean growers from North Dakota and Minnesota, and between the two states, we are the largest producers of dry-edible beans in the country. Our beans include black, pinto, kidney (dark and light red), navy, cranberry, red, pink, Great Northern, and white kidney. NBGA works to better the bean industry through promotion, research, education, market development and communications. To learn more, visit www.northarvestbean.org.