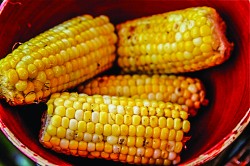 June 21, the official start of summer. The longest day of the year. The day Druid types gather at Stonehenge and celebrate the day reenacting whatever it was those wacky Druids did back in the day. The original Renaissance Festival. Even though our summer might have just begun it's been in full bloom south of here.
When I saw that heaping pile of fresh corn at the market I knew it was on. There is nothing better than fresh, buttery, sweet corn on the cob to bring on that summertime feeling. Outside of vine-ripe tomatoes, corn would be my second favorite food of summer with watermelon tagging in at third. And corn is probably the best deal at the grocery store right now.
Corn is a staple of our diet showing up in many guises from cereals, in various ground forms, breads, oils, popcorn and in 40 percent of all processed foods. Unfortunately most of that 40 percent is in the form high fructose corn syrup, a lead player in why obesity is such a factor in our country. But for right now let's just focus on the better side of corn.
We could talk about the long history of corn, which traces back to 4000 BC according to some stealthy archeologists who poked around ancient Mayan and Incan ruins. It was in Mesoamerica (Mexico and Central America, for those not in the know) that corn took root and was widely incorporated into the daily diet. And it didn't take long for Native Americans north of the border to embrace corn as a staple in their diet.
It took European settlers some time to catch the corn wave but when they did, corn or maize as it was known as, spread across the Midwest and found its way into the new American diet as well. So it is no surprise that America, with its "corn belt," is one of the world's leading suppliers of corn and corn related products. And North Dakota is part of that corn belt and our neighbor Minnesota is one of the top four corn producing states, collectively growing 50 percent of the corn consumed in the USA.
This is where I should weigh in on genetically modified corn and the wide use of pesticides and insecticides used to commercially grow corn. Not listed as one of the "Dirty Dozen" fruits and vegetables that are doused with chemicals (you might be surprised by what is on that list, let's just say the phrase "an apple a day keeps the doctor away" went right out the window) corn gets its fair share. These days you might be hard pressed to find any large commercial producer who is not using GMO seed. Obviously home-grown pesticide free or organic is best, but you won't find 10 ears for two bucks.
Best cooked as close to harvest as possible, it will still provide great taste after a few days of being off the stalk. Popular ways of cooking are steaming, boiling or grilling. Either way, don't over-cook it. Slice the kernels off the cob and give them a quick sauté with chopped red onion, green chilies and tomato with a squirt of lime juice and chopped cilantro for a great salsa for chicken or fish.
I like to carefully pull back the husk to remove the silk and then rub the cob all over with a compound butter made of whole sweet butter, chili powder, smoked paprika, salt and a pinch of cayenne before wrapping the husk back over the cob. Place on a moderately hot part of the grill and slowly roast the cobs, an awesome flavor outcome.
Coming from the south where corn is a year-round item, corn rules. You become used to consuming it in various forms, from tortillas to corn bread, chowders to chutneys to foods as savory corn pudding. Superbly versatile, corn pairs well with many foods; fresh salmon, scallops, chicken, in soups and salads.
I am so excited to have it back in the store and when our local corn comes available I will be canning chutneys and salsas to have that farm fresh goodness year round. The first round of fresh corn is like foreplay for tomato season. That's when I get really excited.