What is in a name? Curious as it may seem there is no back-story to the name of Fargo's latest hotspot, The Toasted Frog, or at least one not readily available for our consumption. No worries, there are a lot more tasty consumables awaiting you there. Originally based in Grand Forks, this hip bar and restaurant serving intoxicatingly well-crafted cocktails along with diverse culinary offerings is a welcome addition to downtown Fargo's dining scene.
While chatting with Sarah Erikson, general manager and six-year veteran of the company who recently relocated from Grand Forks (The Toasted Frog's original home) to Fargo, I was struck by a thought about where the restaurant might have evolved from, conceptually.
It is a bit of a stretch, but when exactly did bars go upscale and start serving casual, yet well-prepared food? Believe it or not, back in New York City in 1965 with the birth of a small neighborhood bar and restaurant that would change the bar scene of the '70s, in ways no one could have ever imagined. And TGTD: "Thank goodness they did."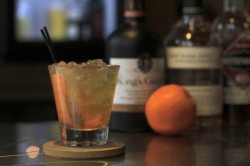 Back in its day TGIF launched bartenders to star status (the Tom Cruise character in the movie "Cocktail" was based on TGIF founder Alan Stillman) juggling bottles and being extremely entertaining. Bartenders have evolved into more sober "mixologists" taking the level of cocktail making to a new level and bar manager James Hein is no exception. Heading up the beverage side of The Frog, Hein crafts his own bitters to be used in intoxicating cocktails like the John Chapman (aka Johnny Appleseed). He utilizes warm spices, a mix of dry whiskey, ginger liqueur, apple whiskey and one of his house-made bitters in this playful nod to Johnny Appleseed.
This is sophisticated cocktail making, a far cry from the Harvey Wallbanger days of the '80s, so Hein joins the small legion of Fargo's stylized cocktail makers. Along with the cool cocktails Hein has put together an impressive back bar and relatively well-rounded wine list that compliments the food, even colluding with Chef Steven Schulz on flavor profiles for food and beverage pairings. Not so much your typical wine and food match ups, he likes to explore the opportunities of craft beer and food pairings.
With three Toasted Frog locations, including Bismarck, it leads some to wonder: "Is it chef-driven or is it a corporate outpost?" Now for those who might be confused by the phrase "chef-driven" it is nothing more than an saying of sorts for "chef at the helm." Either way the answer was appropriate, if not a wee bit muddled. In a nutshell there is a corporate air of consistency, which frankly there should be if it's a multi-unit operation. But here the chef gets to play with daily specials and influence the menus and how they need to evolve by the tastes and desires of the local clientele.
With 100 seats, including an envious chefs' counter where half dozen patrons get a front row seat for the action in the kitchen, there can be a wait on prime nights. Reservations are accepted for parties of eight or more. The front half of the restaurant is made up of bar-high tables able to accommodate four to six people, which makes for a more casual party atmosphere with an unobstructed view of the iconic Fargo Theatre. The back half of the restaurant has a more typical restaurant seating area.
Chef Schulz oversees a menu that is made up of company staples, like its number one selling appetizer: fried cheesy pickles, made with Havarti cheese and deep fried to a crisp. Buffalo wings and sweet potato fries, typical bar food, join the appetizer list; and then it veers off course with the scallops with deconstructed pistachio pesto, shaved parmesan and roast garlic puree.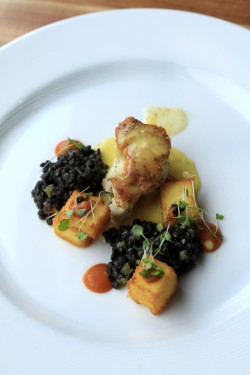 The menu is a high-wire balancing act jumping around from burgers and wood-fired pizza to head-on Hawaiian blue prawns with house-made fettuccine. I was fortunate to try one the chef's specials which reads like a fine dining restaurant item and had wonderful flavors and a myriad of textures; monkfish with black beluga lentils, fried polenta, roasted red pepper and truffle hollandaise. It was a far cry from deep-fried pickles.
The braised pork belly appetizer was tender and lush with a piquant balsamic blueberry vinaigrette -- it just missed a crunchy element. The Moroccan lamb burger was highly seasoned and cooked as requested. The brunette had a pepperoni pizza. The pepperoni is cut thick and the crust is thin with the appropriate crispness you would expect from a wood-fired oven.
I convinced our server to bring me two desserts: the lemon cake with raspberry-infused chevre and the flourless chocolate pudding cake (molten lava cake) with vanilla ice cream, caramel and hazelnut sauces. I say "convinced" as she did try to save me from myself by not having the lemon cake. Let's just say it should be re-thought at the corporate level. The chocolate cake was well-done, a perfect sharing portion and a fitting end to dinner.
The Toasted Frog is a great place to go and hang out, meet friends, have great cocktails, a really good burger or pizza and some top-shelf chef specials. Erikson has laced together a professional team that promotes a good-time vibe, from the welcoming smile at the front door to the enthusiastic bartenders and servers. It will be interesting to watch it settle in and develop its own Fargo persona. After all, we are unlike Bismarck and Grand Forks, in so many ways.
IF YOU GO:
The Toasted Frog
305 Broadway N, Fargo
4 to 11 p.m., Monday to Thursday
4 p.m. to midnight, Friday and Saturday