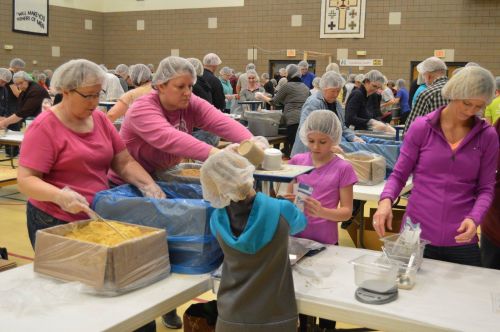 Until all are fed. For Amy Okeson, it isn't just an email tagline or a feel-good saying. It is a mission that has been in her heart since she participated in an event at her church where people came together to pack meals that would be sent to feed kids in the world's poorest countries.
The event was a mobile pack through Feed My Starving Children (FMSC). FMSC is a Christian non-profit organization based out of the Twin Cities that works with volunteers to pack meals for starving and malnourished children in 70 countries around the world.
In 2015, they brought their mobile pack unit to Atonement Lutheran Church in Fargo where they packed 200,000 meals on a Saturday afternoon. Since then, it has grown into a community-wide, weekend-long event that had to move to Scheels Arena in order to accommodate the men, women, and children who packed meals last year.
"This is our second year at Scheels Arena where we're packing over 2 million meals for the second year in a row," Amy said. "The first four years, we really grew; we held it at the gym at Atonement. The very first year was 200,000 meals, and we have since then grown to over 2 million. It's kind of fun to think, in one shift now we pack as many meals as we did in an entire mobile pack that first year."
The first year, Amy was one of 250 people who volunteered. After the event, she knew she wanted to have a deeper involvement the next time the mobile pack came to town.
"I chose to become more involved through [Atonement] where we held it here in our building those first four years," Amy said. "In that second year, I joined the committee and by the third year, I was the volunteer coordinator."
The rest is history, as they say. Amy was all-in with FMSC and the local event which would eventually be called Fargo MobilePack.
She works with a leadership team of people who all work tirelessly together to coordinate the event.
"There are approximately 16 people on our team," Amy said. "We have seven different areas that people focus on to make the event happen, from volunteers, fundraising, promotions, hospitality - we make sure that we take care of the Feed My Starving Children staff when they come and are here for those three days."
Amy said the most important team is the one that prays over the entire event.
"We cover all of this in prayer," Amy said. "There's a group that's praying for us as we're working, they're praying for those that need the food around the world, they're praying while the event is going on - that everything will be safe and go well."
Amy expects over 10,000 volunteers to help work this year's Fargo MobilePack. She said one shift requires 1,000 people to fill the bags that hold the food - called MannaPacks.
"Anybody can help as long as they are 5 years old or older," Amy said. "We say anyone from 5 to 105 (years old) can come pack. There's jobs for people that may need to sit down. There's very physical jobs moving ingredients around that is great fun for the kids - being able to scoop the rice, and the soy, and the vitamins, and the veggies into the funnel. There's opportunities for people to be greeters, to put labels on bags. It's a great time - high energy for that two hours. So, anybody of any ability over the age of 5 can join us."
Amy said even though soy is used, there are volunteer opportunities for people with allergies to soy or dust.
"The rice and the soy can be a little dusty, but there are jobs away from the dust - for example, putting the date label on the bags before we pack that might work for some of those individuals," Amy said.
Amy said the Fargo-West Fargo-Moorhead community has been very involved, particularly through organizations around the metro area.
"We have a lot of businesses, churches, civic organizations, and several schools that come together to work together to make this happen," Amy said. "Churches say, 'hey, we can recruit 200 people, or 600 people, from our church to come pack in a shift.' Chris Haugen really went to a lot of work over the last few years to reach out to every school in the Fargo-West Fargo-Moorhead metro area to try to get every middle school and high school to be able to send somebody."
Haugen is a member of the leadership team for Fargo MobilePack.
"That has just really blossomed," Amy said of the help they receive from the school kids. "We have three entire packing shifts full of school kids, plus countless others that come after school and on Saturday. By our best numbers right now, we have between 5,000 and 6,000 middle school and high school kids that come and join."
For an event that will have over 10,000 volunteers, that means students in the metro will make up half and that sits very well with Amy.
"That's part of our mission," Amy said. "When we say feeding kids hungry in body and spirit, not only are we feeding hungry kids around the world, we are feeding the spirit of these local kids where they learn that they can help someone else. They learn they can make a difference no matter how crazy things may be at home. Whether they maybe don't have much, or maybe they have a lot, but life is very stressful. They can learn, 'I can take two hours and I can make a difference with my time.' Some of them, that's life-changing. They're learning empathy and caring, and those are things and characteristics we want in children as we move forward."
Another part of the mission is seeing the food in action. Amy has been to the Dominican Republic twice and seen the hope the MannaPacks bring to the people who so desperately need them.
She said the MannaPacks packed in Fargo will go to help people who can focus on things like education and finding work rather than where their next meal will come from.
"Ron Stensgard, one of the original team members here in Fargo for FMSC, that is how he originally got the idea to come back and have a mobile pack was when he saw it being used in the Philippines, especially with street kids there and the things that they would do," Amy said. "When you don't have food, you do some unspeakable things. To know that this is providing [food] and helping them have hope."
Amy said one great thing about working with an organization like FMSC is that they work with and vet non-governmental organizations around the world to make sure the meals get to their intended locations. She said 99.8 percent of the meals get to their intended location, a number she said is unbelievable.
"We say it only happens because of God's protection," Amy said. "There's no way that that percentage would happen if there wasn't a divine hand in this."
Amy said Fargo MobilePack is 100 percent volunteer lead and funded. For those interested in helping out, she said there are three ways - pray, pay, and pack.
"So, first, everyone can pray to help those that need the food, to help guide those with the donations, and to help provide the volunteers," Amy said. "You can make a donation to help pay the grocery bill. Each meal costs $0.24. For 2 million meals, that's $480,000 that we're working to raise locally to pay that grocery bill."
Of course, there is also still a need for people to volunteer at the event, but if that isn't possible, there are other opportunities as well.
"Even if you can't volunteer that day, sometimes there's other things that we might need in advance, things to prepare in advance - donations like bottled water and things like that for the staff," Amy said. "You can always reach out for that by calling me or sending me an email."
Amy and the others involved with Fargo MobilePack work nonstop to make it all happen, but Amy will tell you it is for a bigger cause and ultimately run by a higher power.
"I say it's God's doing," Amy said. "People ask, 'how do you gain 10,000 volunteers and how do you raise this money in our community?' It's because God is at work doing it. God makes all of that happen."
Those wishing to donate to Fargo MobilePack or learn more about the event can do so online at fmsc.org/fargo.
IF YOU GO:
Fargo MobilePack
Jan. 30 - Feb. 1
Scheels Arena, Fargo