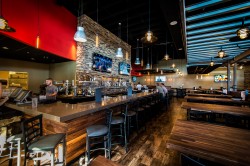 By Shelly Smithson
Located next to the new Bottle Barn in the flourishing city of West Fargo, The District Waterhouse & Kitchen is a distinct addition to the city's thriving restaurant scene.
What sets it apart? The District is the first and only bar in the area to feature the hottest new trend in wine: wines on tap.
Before you turn your nose up at the very thought of wine flowing from a tap, allow me to put your mind at ease. This isn't Franzia; these are premium wines that are guaranteed to be fresh from the first pour to the last. Owner Tina Berger, along with partners Cliff and Adam Tornell, wanted to do something different, and the trend of keg wines presented the perfect opportunity.
Waterhouse
While most restaurants and bars have only a few wines on tap, The District offers 16 (eight red, eight white). "I don't do things small," Berger said.
She first saw wines on tap in California about four years ago, and the concept stuck with her. She already had a plan to open a bar and kitchen, and she knew that being one of the first establishments in the area to offer something different and new would help her stand out.
Eight of the 16 wines on tap at The District are not available in local liquor stores, but if you fall in love with one of those keg exclusive wines, you can walk next door to the Bottle Barn and they will assist you in finding a comparable bottle selection.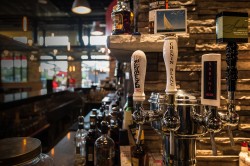 Of the three wines on tap at The District that I tried, my favorite was the Artezin Zinfandel. I'm a red Zin lover, and Artezin has all the qualities I look for in a Zinfandel: full-bodied, fruit forward (but not too jammy) and velvety with a little hint of spice. I also tried the Sabine Rose and Stemmari Pinot Grigio. The Rose was a little more floral than what I'm used to, but I enjoyed it. The Pinot Grigio was crisp and fresh. I'm anxious to get back and work my way through more of the wines on tap. The Faienza Sangiovese, Katas Tempranillo and El Rede Malbec are calling my name.
The District has a full bar, with bottled wines too, and a signature drink menu that features several interesting cocktails.
Kitchen
Owner Tina Berger describes The District's menu as, "Urban American, things you grew up with, but with a cultural twist." She emphasizes that everything is made fresh daily, which allows them to modify dishes for people who have special dietary needs. The carefully curated menu features small plates, sandwiches, flatbread pizzas and burgers.
The half-pound burgers are served on fresh-made buns that are a marriage of brioche and pretzel buns. The burgers are made of a "secret" beef mixture that will have burger lovers addicted from the first bite. I tried the Barracuda Bacon Blue burger, which is topped with bacon, Gorgonzola cheese and their signature Barracuda Sauce. It was divine.
I ordered the District Tots as my side, and I would highly recommend them. These out-of-the-ordinary tots, which are handmade fresh daily, mean business. They are magnificent orbs of starchy goodness that shouldn't be missed. My guest and I also tried the Mediterranean Plate, and while everything on the plate was delicious, the artichoke & garlic hummus was the standout for us.
The main thing I took away from speaking with Berger, The District's owner, is that she really wants the restaurant to be an integral part of the community. "It's not just a bar or kitchen," she said. "It's a part of the community and an extension of friends."
The acoustics were designed to allow people to carry on conversations. There are many tables that seat six, with the thought that it may help put together people who don't know each other. You could end up eating dinner with the neighbors you haven't met, and that's what Tina and her partners want.
When we first met, I went to shake Berger's hand, and she said, "I hug!" The District Waterhouse & Kitchen is just as welcoming as its friendly owner.
IF YOU GO:
The District Waterhouse & Kitchen
3179 Bluestem Drive, West Fargo, ND 58078
701-412-5867 (reservations accepted)