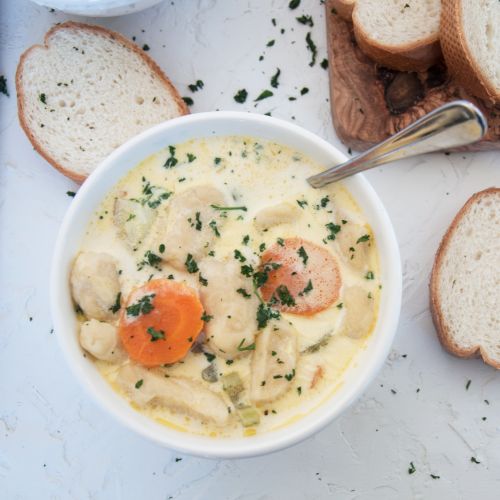 by Ben Myhre
benmyhre35@gmail.com
Us North Dakotans love our Knoephla soup. I am no exception. I have fond childhood memories of sitting in my grandmother's kitchen making this dumpling soup. From then until today, my taste buds go into overdrive whenever I even think about the delicious soup. And for a dish that is so good, you would be surprised that it is almost unknown outside of our area. Today, I am going to talk about Knoephla soup. Specifically, I am going to share some history of the soup and give a recipe so you can start making this wonderful dish today.
Don't Know What Knoephla Soup is?
Maybe you just moved to North Dakota or for whatever reason; just haven't heard of, or tried, this soup. Knoephla soup is a dumpling soup that is German in origin. It is served in a chicken stock and usually contains celery, carrots, and potatoes. Some people, however, are fervent advocates of either including or excluding certain ingredients.
If you want to give Knoephla soup a test run, get on down to Wurst Beer Hall, Kroll's Diner, or ask your local diner if they serve it. There are great places all across North Dakota that serve excellent Knoephla soup.
Am I spelling Knoephla Wrong?
I have performed extensive research from very authoritative sources (church cookbooks) and I have come to the conclusion that there is no right way to spell Knoephla. Knefla, Knephla, Knoephla, and Knopfle are all legitimate ways to spell the word. I can tell you that the origin of the word is German and it was originally Knöpfle, but it seems rare to find that spelling in any English cookbook. Knöpfle literally means "little button" and is closely related to the German Späetzle dumpling.
Knoephla Dumplings and Knophla Soup Are Separate
Growing up, I only knew the idea of Knoephla as something that goes in soup. Some of you, I am sure, already know this, but this just isn't the only way these dumplings are served. You will find people that serve the dumplings alone with butter or even as a skillet dish with German Sausage and Sauerkraut. Knoephla is the dumpling, but North Dakotans have seemed to most embrace this German dumpling in a soup.
Knöpfle Migration from Germany To North Dakota
Traditions and tastes tend to migrate with people and that is why we have embraced the dumpling. While many Germans have found their way to North Dakota through various important and interesting stories, I am going to talk about the German-Russian migration that many North Dakotans have a commonality with.
As of 2009, almost 50% of North Dakota had German ancestry (me included) and 30% have Norweigan ancestry (me too). While there are other Germans that found their way to North Dakota, a considerable influx of the German population into this state came via Russia.Catherine the Great had tracts of land along a river that she sought to make productive. To help cultivate this land into production, in the late 1700s she wooed Germans to the area with promises of religious freedom, free land, and they would avoid Russian conscription. Not only was all of this promised to them, but all of their heirs, so their kids could not be drafted either.
Many of these families were of a German region called Swabia. Swabians had experience of working land near the Rhine river, so it seemed like a natural fit. Over time, many Germans immigrated to Russia with these promises of freedom.As time went on, the promises started being broken and their lives became more difficult. They were becoming peasants, exclusions were being removed, and their sons were being drafted into the military. By the late 1800s, America had offers of free land and religious freedom, as well. The same people decided to pick up and move in search of freedom and to homestead places like North Dakota.Since tastes and traditions tend to migrate with people, the Knöpfle dumpling moved along with them. And our region was perfect for cultivating the soup we know today. All of the ingredients in a modern Knoephla soup are things that would have been available to our settlers and crops that could have been stored in the cellar for winter food.
While Knoephla is German in origin, I think this soup has evolved to being one of the few true North Dakota dishes. It is served across North Dakota and is only marginally known outside of our region. If you want to make your own Knoephla Soup, I have just the recipe for you!
Ingredients
4 Tablespoons Butter

4 Celery Stocks, chopped

4 Carrots, Chopped
1/4 Cup flour
4 Medium Potatoes, Chopped
8 Cups Chicken Stock
Salt to taste
1 Cup Heavy Whipping Cream
For Dumplings:
2 Cups flour
2 eggs
1/2 Cup milk
1 Teaspoon salt
Instructions
In large pot, add butter and put on low to allow butter to melt
Once melted, add carrots and celery
Cook on low for 5 minutes
Stir in 1/4 cup flour
Add 1 cup of Chicken Stock to the soup and mix to incorporate the flour
Add rest of stock
Add potatoes
Turn to medium-high and cook until potatoes are tender (about 30-40 minutes)
While potatoes are cooking make dumplings
Mix all dumpling ingredients in a bowl and combine well
Divide into two pieces just to make easier to work with
Roll each piece out with your hand so it is a rope approximately 1 inch in diameter
If needed sprinkle with flour to make easier to work with
Cut into 1-inch dumpling pieces and set aside
Add additional salt to the soup as needed
Once potatoes are tender, add dumplings to soup
Cook for 5 minutes
Remove from heat
Add cream and stir
Serve
[Ben is the mind and the taste buds behid the food blog "Ramshackle Pantry," https://ramshacklepantry.com/knoephla-soup-recipe/...