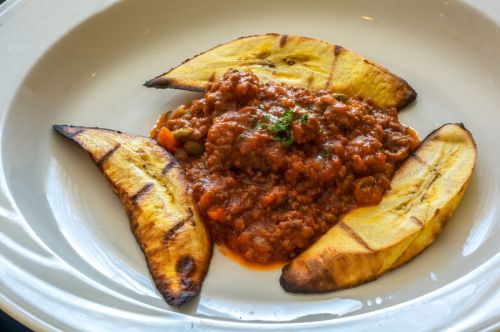 Tucked away in the Moorhead Center Mall north sits a newly emerging cultural experience. A place for exploration of flavors and a wonderful environment for learning about spice, and deliciousness.
A young couple from Atlanta decided to give it a go in the FM area about six months ago. The previous tenants of this location didn't find success, but I am optimistic that this establishment will survive and thrive in the newly emerging Moorhead.
Previous to my dinner meeting with this enthusiastic couple, I stopped in and discussed their food and their vision. It was refreshing to speak to two business owners so full of life, and full of love for what they are doing. I immediately felt welcome in their restaurant and what you could also consider their home.
Tony and Akua are amazing people. Kindness and care radiate from their being and this goes into the food also. I was invited after my initial meeting to return for a meal that they would prepare for myself, and my friend Travis Rosenbluth, who is a chef and hails from Philadelphia, Pennsylvania. Travis has worked in multiple kitchens across the east coast, and also worked alongside famed chef Dan Barber at Blue Hill Farms in NY. He knows his sh*t.
We sat down at the table, and the first question asked us of was "Can you drink?" Our response, "Oh, hell yeah!" About five minutes later our server returned to our table with a large margarita glass with a bottle of Corona partially submerged, this drink was called a "Cororita." The couple doesn't feel that it's necessary to serve liquor in their establishment, so they have come up with creative cocktails that only include beer or wine. The Cororita in particular was delicious, and the liquor missing was not evident. It was refreshing and delicious and quenched the summer thirst that we are all so familiar with.
A few minutes later came a second cocktail. A whole pineapple had been cored, and inside a Bahama Mama resided, but instead of the rum that we're used to, it was replaced by a variety of Mike's hard lemonade. The second cocktail gave the first a challenge, but both were up for the battle.
While we sipped on what had been prepared, our server returned and took our order. For starters we wanted to try the wings. They are a dry wing with jerk spices. I personally prefer dry wings. They aren't so messy, you don't use a hundred napkins to eat them, and the flavor can usually be a bit more complicated as each one of the spices used on the rub can put itself out there. You get more diverse flavor with half the mess. These wings didn't disappoint. They were hot and fresh. The seasoning was adequately spicy without frying our taste buds that we so desperately needed to enjoy the rest of the meal.
The second dish was a recommendation from the chef, and one we couldn't easily ignore. The peanut butter soup which I imagined to be a bowl of peanut butter with a few spices in it, turned out to amass a larger flavor spectrum than I could have imagined. Tomato was the actual base of the soup, and peanut paste was added accompanied by a whole host of other spices that gave a warming feeling and was a true comfort food. Floating in the soup were three pieces of goat that were immensely tender and delicious.
Our server returned at this point and asked if we would like to try the grilled plantains with minced meat. Our reply, "of course!" The best way I can describe this dish is the meat from a sloppy joe with peas and diced carrots interjected here and there, with more complex flavor. This was then served paired with grilled slices of plantains that had a nice chew on the exterior and a subtle buttery softness on the interior. When the meat was laid atop the plantain. It was a sweet and salty match made in heaven.
The final course of the visit was the Jollof rice with chicken and fried plantains. It also came with a side of coleslaw. The rice was well-spiced, and delicious. It came in the form of a pressed cake but crumbled apart readily and allowed for the mix of it and the fried plantains. I don't know if this is what was intended, but I honestly didn't care. The fried plantains were a little sweet and a little savory and had been perfectly caramelized to a beautiful dark brown color. The chicken thigh was my absolute favorite. It had a lightly spicy tomato-based sauce brushed on it, but the skin of the chicken was still crispy. I love this combination of textures, and fried chicken of any kind is my favorite food. The interior of the meat was juicy and well cooked. Tender and fantastic. My mouth is watering now. I want more!
The Spice Grille is a treat, and once again a point of optimism in what will come to the FM area in the years to come. I have touched on this before in previous pieces. I have pressed the citizens of this area to try new things, because if we do not support the evolution of our food culture in this area, we will be telling the Applebee's, and Buffalo Wild Wings that that is what we want more of. More monotony, more corporate feeding of the masses, and a lack of care for the food, and what is coming out of the kitchen. Tony and Akua care. They care about their food, where it comes from, how it's prepared, and most of all the customers and the community they wish to build. Look off the beaten path, drive by corporations, and look for the different, the new and support the little guy with values.