​(WOOD + MAN X FIRE) = GOOD FOOD
by Granville Wood | .(JavaScript must be enabled to view this email address) | All About Food | May 13th, 2015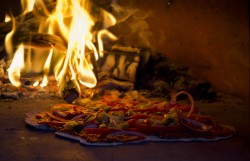 It is no big secret that food cooked over a wood-burning fire is monumentally tastier than when it is cooked over propane gas and even charcoal. Granted, charcoal is better than gas but still not as good as that aroma and flavor of wood-grilled food.
I wonder what is was like way back in time when lighting struck a tree and started it on fire. Man, or man at the time, must have freaked out completely. But still had the sense to grab the flame and take fire burning for warmth and light. Then there was that fateful day when man dropped meat into the fire. Eureka! Life would never be the same again, cooking was born into the world of eating. Ironic that certain people today are struggling to get back to the day before cooking happened.
But enough of that lets get back to wood-fired cooking and all the great things about it. For me it's the flavor and the way I smell after spending time over a fire. People notice, they want to lick you, or so I have been told. Spend some time over a wood-fired grill and then drop by your local grocery store. Strangers will look at you with admiration, some with envy and some will even tell you "you smell good."
Walk into Doolittle's Bar & Grill and take in the aroma, definitely wood-fired. We now have three downtown restaurants with wood-fired ovens used mainly for pizza. Blackbird Wood Fire Pizza is not new, and were the first one on Broadway to offer unique pizzas from a wood-fired oven. Just a few blocks down on Broadway, The Toasted Frog offers wood-fired pizza and now The Tavern, an extension of Rustica in Moorhead, is spinning out wood-fired pizzas as well. With all this wood-fired pizza I feel like I am in rural Italy.
What makes a wood-fired pizza better than say one cooked in conventional oven? Heat. Immediate over-the-top heat, like as high as 1,000 degrees F. Most run below that but still way higher than your conventional 550 degrees. Stone, the inside of a good "black oven" conducts the heat from the fire and holds that heat for a very long time. The term "black oven" refers to an oven where the fire is in the cooking space and the coals are racked and fed more wood as needed. A "white oven" is where the heat source is connected and indirect.
We are focusing on pizzas, but these ovens are wonderful for cooking a variety of items: quick roasted fish and seafood, poultry and braises but it gets tricky doing both pizza and other items as you want the oven "hell fired" hot as Blackbird says for the pizza. Take your eye off the pie and you're cleaning out ashes. When the oven cools over-night its perfect for a slow braise and as it is stoked for service in the morning a good time for a roast chicken of two.
All three of these excellent restaurants offer more than just pizza. Blackbird has tapas and salads while The Toasted Frog has a complete dinner menu, The Tavern has its big sister Rustica right next door with a complete menu but pizza is the focal point at this newer establishment. All have craft beers ideally suited for satisfying that craving that accompanies a slice so well.
Each has the usual pepperoni pie or build your own but the ones that garner my attention and reveal the creativity of the chef / restaurant are the crazy concocted ones. The BLT (when tomatoes are in season please) at Woodfire is a fave as is the Brussel Sprout. The Toasted Frog answers with Vietnamese Shrimp or Pork Belly and Egg. Eric Watson owner and chef of The Tavern is using duck confit, chorizo and beef tongue in a variety of unique combinations. I have eaten at each location and plead the fifth about which one is best. I would suggest you try all three and decide yourself. It is amazing that flour, yeast and water mixed with some very hot fire and creativity can produce such a culinary pleasure.