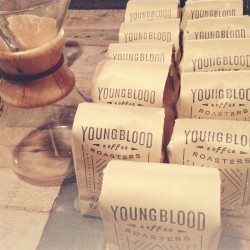 By Liz Rahn
For Ian Johnson and the rest of the team at Young Blood Coffee Roasters, making really good coffee means doing it slowly. From roasting their own beans to preparing slow-drip coffee by hand, Young Blood coffee is entirely hand-made and de-automated.
The inspiration for the company came from Johnson's childhood memories of his parents sharing conversation early on Saturday mornings over a cup of joe. There was nothing fancy about it, but the mug in their hands at 4:30 a.m. facilitated conversation and strengthened their relationship as far back as Johnson can remember.
About a year ago, after Johnson's mother was diagnosed with cancer, he began to reflect on his life and what really matters in the grand scheme of things.
"I started thinking about how many things in my life, how many firsts, you know first dates or first conversations, how many intellectual conversations, how many hopeful idealistic conversations I've had over coffee," Johnson said.
YBCR is not just about the dark liquid it produces. Rather, it's focused on the opportunity for conversation, the interaction between the customer and the barista. Johnson explained that at a regular coffee shop, you place your order, stand back and wait, then receive your product and leave. YBCR brews every cup with a Chemex coffeemaker, forcing a slow-drip brew which produces a "very clean, very light cup of coffee." This enables the Young Blood baristas to take their time making a cup of coffee and engage with their customer.
It's this personal exchange that Johnson hopes to curate through YBCR. "[The barista is] not a vessel that takes money and gives a product, they're someone who is exchanging something on an emotional level and that's cool."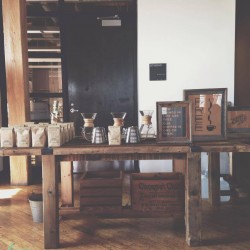 The name for Johnson's company comes from the attitude of youth that allows people to take risks. He explained that its moments when you're confronted with mortality that you really start to realize what matters in your life and how little time you may have to pursue those things.
"I don't want to lose that component of my youth that got me to take risk to start my own business … Those characteristics of being full of young blood that keeps you from taking no for an answer, that doesn't allow you to be intimidated by doing something that you want to do," Johnson said.
Inspired by Johnson's mother and his family of entrepreneurs, YBCR has grown into a caffeinated conversation starter to truly engage with customers and facilitate those great conversations that happen over a cup of coffee. In order to maintain quality and a strong sense of compassion with each brew, YBCR only does private events currently.
For the future, Johnson is hoping for continued interest and maybe someday a Young Blood coffee bar. However, for now they are focused on maintaining quality and the fun of brewing great coffee.
"It sounds like a really formal thing, but I just don't treat it as such, and maybe that's what's kept it fun … I'm at this really great place where if people like it, great. If they don't, I really don't care because I like it."
YOU SHOULD KNOW:
Young Blood Coffee is available at Unglued (408 Broadway N, Fargo) and at
youngbloodcoffee.com