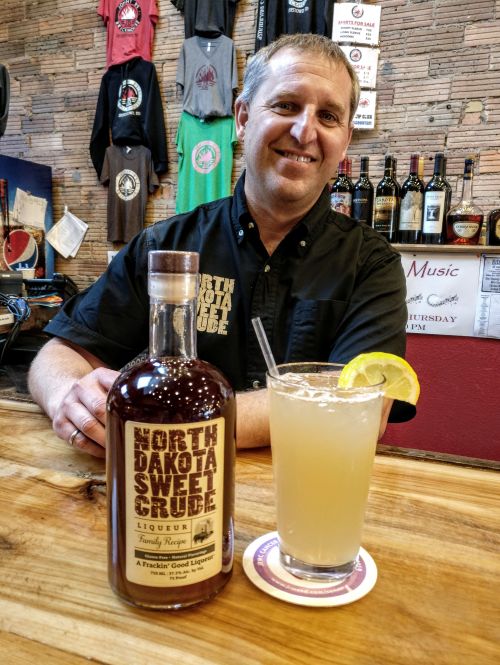 If you're from the region you may have sipped, sampled or caught word of a libation often referred to as "red eye" or "wedding whiskey" at some point. In fact some of our friends of German Russia descent swear by it. If you can get your hands on a bottle it's often homemade and usually comes out during holidays or during times of celebration. Thanks to Arthur Weidner owner of Doodlebug Beverages based out of West Fargo. He and his family are sharing their family recipe with the public and it's called North Dakota Sweet Crude.
High Plains Reader: Can you tell us a bit about Sweet Crude?
Arthur Weidner: It was a family recipe that started over 100 years ago with his great grandpa Martin, living out on the farm in Zap when North Dakota was a dry state. North Dakota was dry for 45 years and all the Germans from Russia that live out there didn't see anything wrong with a little drink here or there so they made their own because they couldn't buy it. So there's lots of family recipes out there known by "Red Eye" or "Wedding Whiskey." Grandpa sometimes referred to it as "Smokehouse moonshine." They just wanted to be able to have something to drink for themselves or for celebrating so everybody was making their own. It's not like they were bootlegging or anything. They weren't selling it.
HPR: How did you get from Grandpa's Red Eye to the production of Sweet Crude?
AW: We added a little bit to it. Obviously great-grandpa Martin wasn't putting lemongrass into his drink back then. We needed something to round it out and to give it more depth of flavor so it wasn't just all about the cinnamon and ginger. So when we decided to go commercial the biggest thing was--how do we caramelize the sugar because the sugar is real white crystal sugar that we use to caramelize, because what's available out on the market is caramelized high fructose corn syrup and when you caramelize that it has a different flavor profile. The syrups that are out there are meant as colorants--not for flavor. They taste like junk really. So the problem there was how do you come up with a process and a machine that can do this continuously and precisely and consistently all the time.
My brother and I are engineers and we came up with a couple ideas. We went to NDSU and we employed some of the students at the center for excellence there to help us refine the process. Now that we have that we're able to process all of the sugar we need and I'm able to bring that to the distillers and I make sure that we're doing it according to old grandpa's recipe. Part of the flavor is brewed like an herbal tea and so when we mix everything together we need a way to properly filter the tea. When you're talking about 100s or 1000s of gallons of tea it's a very different filtering process than the filter you're seeing as your teabag.
HPR: The Redeye that I'm familiar with involved a fair amount of everclear and caramelized sugar..
AW: There was a period of time that they would do that.when we came out of prohibition it was like--do we want to bother with making our own alcohol anymore when we can buy pure grain alcohol from the local store and just add a little flavor to it? There was a period of time where the family was doing that too, it wasn't always Smokehouse Moonshine but that's the way it started.
HPR: Where is it distilled?
AW: Du Nord craft Spirits down in Minneapolis, the proprietor over there is Chris Montana, he's actually the president of the American Craft Spirit association. He's really good at what he does.
HPR: What inspired you to take the family recipe and spread the love?
AW: My dad showed us how to do it on the kitchen stove. We'd make up bottles and we would take them to various locales because my brother and I were both distant living at the time. We'd always meet back up out in western North Dakota. We started handing bottles out to landowners as we would ask them to hunt their land.then we'd call them up the next year to ask if we could come back out, and they'd say ...yeah… but you'll have to bring five bottles next time! So we looked at each other and said… we might have something here!
HPR: Is it called"Sweet Crude" in reference to western ND oil country?
AW: To some extent, it so happened that when I was searching for a name I wanted something "North Dakota" and there was a news story going on. I think it had something to do with the oil car derailment near Casselton. The news crew actually held up a couple of small cups one of North Dakota sweet crude and I don't know what other state's oil it was but they held up the ND sweet crude and I thought to myself... 'Wow. That looks a LOT like our stuff.' So I just ran the name past my relatives and they thought it was a great name.
For more information and recipes check out: https://www.crudespirits.com/