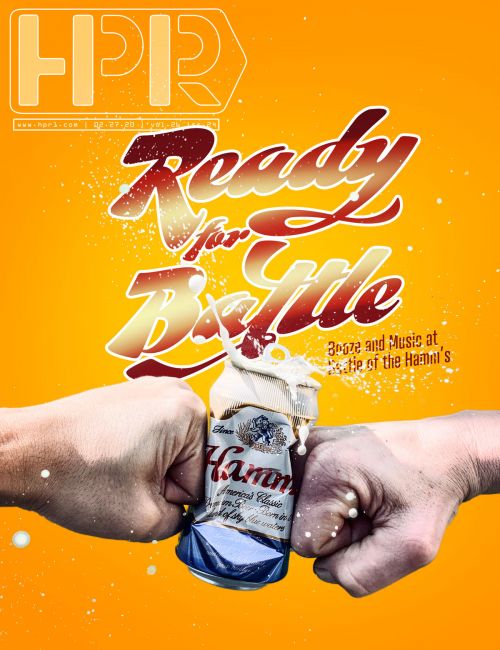 At the end of November, The Aquarium was slated to host an illustrious event called "Battle of the Hamm's." However, in a turn of events that seems all too familiar this winter, inclement weather got in the way. "Much like many winter months the snow got the best of us that day," said Ryan Hoffart, longtime booker in the Fargo-Moorhead area who as of last summer took over booking and overall directing of the Aquarium. The night did not end up going to waste, though.
"Some of the bands still wanted to play and the night was still a great time." Fortunately, that was not the last to be heard of Battle of the Hamm's, as a new date was lined up near the end of February. "I'm super thankful that it could get rescheduled as a whole," said Hoffart.
What is Battle of the Hamm's? "The general concept is a battle of the bands between ten artists, but each performer's entry fee is a 30 pack of delightful Hamm's beer," said Hoffart. Each artist will perform and then the winner will be voted on by the crowd. The winner will win the illustrious Hamm's championship belt and 300 cans of Hamm's beer." So what are the origins of this contest of champions?
Therein lies a tale. In the early 2000s, Chris Lindstrom and Chris Moore came up with the idea. Both were involved in the local music scene at the time. In the eighteen years he lived in Fargo, Lindstrom played in We $ell 2 Minors, North to Emerson, What Kingswood Needs, and KumnCyde before eventually moving to Oxford, Ohio. Lindstrom gives the brunt of the credit for Battle's creation to Moore, who was his former college roommate.
"We were living together when he came up with it," said Lindstrom. It really started because it was just a reason for a bunch of friends to play a show together. I think at the first one we had like ten bands? And it was Hamm's beer because it was just a play on words, and we knew it was cheap. Plus it's just funny. That's a big part of it, too. Dumb senses of humor. The idea of a band receiving 300 cans of Hamm's beer as a prize is hilarious. And usually that just means that whatever band wins has a party that night with a shitload of free beer." Lindstrom played in Battle of the Hamm's each of the four times it has occurred: once in We $ell 2 Minors, twice in North to Emerson (which won once), and once in What Kingswood Needs.
After that, the Battle stopped for several years. "Chris Moore moved away, the scene in Fargo/Moorhead seemed to change where it seemed tough to pull it together with different bands and different genres and shit," said Lindstrom. "But we'd talked about it for a while, and then one summer I was like, 'F*ck it. I'm going to see if I can pull it off.' And I ended up giving all the proceeds to the Rape and Abuse Crisis Center."
"It's been almost five years since the last one happened," said Hoffart, "and hopefully if Lindstrom is alright with it at the very least Fargo will keep doing it bi-annually. The event is too fun to go another five years without it."
This incarnation of Battle of the Hamms sees local hardcore favorites Swing Low returning to defend their title. The rest of the lineup is one of the most diverse that the Aquarium has had in some time, according to Hoffart, featuring a range from hardcore punk to blues to metal. The lineup includes: the aforementioned Swing Low, Pass the Flask (punk), Stovepipes (blues), Jantzonia (rap), Bottle Wound (punk), Disappear Forever (indie/shoegaze), Walker Rider (alt country), Wastelord, Shrug (newer indie), and Widow (new death metal).
Besides a diverse lineup of local musicians and a hell of a lot of Hamm's beer, the Aquarium will have door prizes of random Hamm's swag available to attendees and specials on Hamm's pounders. It is bound to be a night of partying, fun, and music. And, depending on how well this one goes off, it sounds like there is hope for more in the future. "I'm glad Ryan is doing another one," said Lindstrom. "And it was never about winning. It was just about getting together with your friends and playing music. And I hope it continues as that."
IF YOU GO:
Battle of the Hamm's
Friday, February 28, 7pm-howling
The Aquarium, 226 N Broadway, Fargo