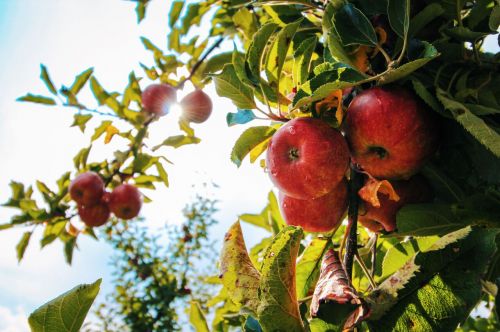 By Ben Myhre
benmyhre35@gmail.com
How lucky we are in the FM area that we have so many craft breweries, but did you know that we also have two cider houses? Cottonwood Cider House is one of those cider houses and is just a short drive from Fargo outside of Ayr, North Dakota. While you can find their delicious ciders on tap in several Fargo venues, the Ayr cider house also gives an opportunity to get out of the town and see a unique area attraction. Today, we are going explore Cottonwood Cider House, the apple orchard behind it, and the people who operate it.
There are a few really unique things about Cottonwood Cider House that make it worth a taste and drive out to the Ayr location. A short walk from the cider house is Cottonwood Farm, which houses North Dakota's largest commercial apple orchard and provides apples for the cider. Dan Heising and Stacy Nelson-Heising, the brains behind Cottonwood Cider House, planted their first apple trees in 2012 and now have over 2,000 trees growing at Cottonwood Farm. While we are a state that is not particularly known for our apples, Dan and Stacy have managed to plant 40 different apple varieties on the farm with the specific purpose of making craft cider.
Cottonwood Cider House HistoryCottonwood Farm also has an interesting story that I think many North Dakotans can relate to. On the same plot of land where the apple orchard sits, Stacy's great grandfather first worked the soil in the early 1900s. She is now the fourth generation to farm this land, but things have changed for them over the years. Originally, the farm was a grain farm like many others. Stacy's father (Chuck Nelson) and grandfather (Norman Nelson) transitioned the farm from traditional farming techniques to become the county's first certified organic farm.
Stacy's father helped Stacy and Dan carry on their family tradition by transitioning the farm to become an apple orchard and cidery. The cider is delicious and I think that Cottonwood Farm and the cider house have such a great story. A story that both honors North Dakota heritage and shows their ability to adapt in a way that works for them.
I have a bit of a disclosure. I know Dan and Stacy. I have shared an interest in brewing with Dan for quite some time. Also, I keep honey bees at Cottonwood Farm. Beekeeping is only a hobby for me, but they were excited to have my bees out on the orchard. It has been a great pleasure to work in partnership with them. I can get a little bit of honey and be a part of helping my friends pollinate their trees. Oh, and I get to hang out at Cottonwood Cider House once a week or so.
The Cider
They have a wide variety of ciders. I have tasted sweet ciders, dry ciders, and some excellent ciders infused with other fruits. Last time I was out there, they were talking about planting a ridiculous number of rhubarb plants for next year. I am guessing rhubarb will be on the menu soon enough. While my wife and I tend to have different tastes in ciders, we both can find something we enjoy when we are at a Cottonwood Cider House tasting.
Where can you find them?
Depending on availability, you can find them at various locations in Fargo including Front Street Tap Room, Blackbird Woodfire, JL Beers, Happy Harry's (by the bomber), Wild Terra, and other places throughout the state. You can stop by the Red River Market this summer where they will be selling by the bottle and glass. Finally, they have a physical cider house at the working cidery that you can visit or schedule an event at. Cottonwood Cider House is a place where you can see all the going on's of North Dakota's first cidery and largest commercial apple orchard. They have a website http://cottonwoodciderhouse.com/, you can reach them at Facebook, or the old fashioned method of giving them call at (701) 866-9913.
Cottonwood Cider House is a unique North Dakota product and destination. If cider is your thing or if you want to get out of town and see a unique offering to our area, I would recommend checking out Cottonwood Cider House.