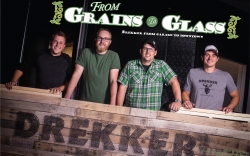 Fargo's newest brewery will open its doors to the public in early October, and many of you may be curious about the men behind the (Viking) mask.
Mark Bjornstad, co-founder and President, is from Moorhead. He practices anesthesia and has a heavy background in science, which he uses to develop recipes and focus on the science behind brewing. Mark also handles the company's PR and marketing and helps unify the image and direction of Drekker Brewing.
Darin Montplaisir, co-founder and head brewer, is also from Moorhead. He has a background in construction management and experience in project management and process development, which is crucial for organizing and enacting brewing operations. Darin has experience in long-term projects, which is essential to the brewing process. He completed an apprenticeship with an allied brewery in Colorado and has worked tirelessly to design the recipes and to establish the brewery procedure and operating process.
Jesse Feigum, co-founder and head of "nerdery," hails from Barnesville. He is a business manager for a print and graphic design company and he also has experience in business financials and accounting. Feigum is the bean counter and head of anything that goes "beep-boop."
Mason Montplaisir, co-founder, taproom manager and head of hipster relations, is also from Moorhead. He and Darin are cousins. Mason is an engineer; he has experience in project design and engineering. Mason has been essential to the taproom design and will oversee it once the brewery is open.
"Beer is our craft, but Drekker is about much more than the contents of a glass. Drekker is about what happens when a few of those pints get raised together," Bjornstad said.
The men behind Drekker Brewing Company have been brewing together for seven years with dreams of eventually starting their own business. The brewing process at one point took over Bjornstad's garage, and then eventually piles of forms, logos ideas, model layouts and others beer-related matter spilled into his house and consumed his home life.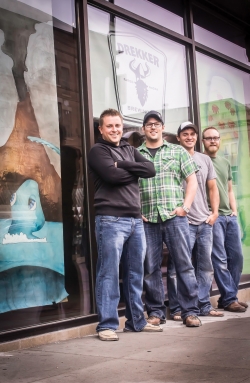 Today, Drekker has found a perfect new home in beautiful Cityscapes Plaza, located in the heart of Downtown Fargo, where it hopes to build on the area's support of good art, business and community.
The design for its taproom and brewery stems from many different styles that are melding together beautifully. With a vintage industrial feel, most if not all of the reclaimed wood and metal has been salvaged from family farms in the area, and used as a reminder of the area farming community with the industrial feel of a brewery. The stools used along the bar rail may seem familiar if you ever took a science lab in school. They add a great touch to this amazing taproom.
Drekker Brewing Company is different by design and focused on a "grains to glass" mentality.
"We wanted to do the type of brewing where we turn every valve by hand," Bjornstad said. "It's hands-on, labor intensive. It'shard work, and I think you can see that passion come through in the product."
When you walk in you will see the tap room and immediately behind it is the tap lines and the "Christopher Walk-in" beer cooler, where you can look through the windows and see all the bright beer tanks/serving tanks, where the conditioning and carbonating happen. As you continue to walk toward the back of the room, you will see the fermentors, where the beer and yeast are mixed. Continuing your way back you will see the HLT (hot liquor talk), the mash tun and, finally, the boil kettle. The tap room will be set up so that patrons will be able to watch the brewers, ask questions and have a deeper connection with the brewing process during any visit.
Drekker Brewing Company will open up with five distinct beers: a porter, black IPA, American IPA, Irish red and pale ale. These beers, names yet to be revealed, will be in the taproom and can be ordered in flights, pints and growlers. Drekker will have its own special "Two-Pint Flight." Yes you read that right; each glass in the flight will be 8 oz. of goodness so you have a little more beer to better understand the smell, taste and finish of every style.
With the exception of specialty brews, all of its beer will be right around 5% ABV and will have a crisp non-lingering finish. This was specifically planned, as Bjornstad said, "We don't want you to have to think twice about whether you'd like another beer."
Drekker Brewing Company will also be setting up a volunteer program; sorry, it does not involve drinking beer – exactly. The Drekker Unpillage Team, as it is so appropriately named, will ask volunteers to lend a helping hand to our community by doing various pre-organized tasks, and those who do so will be rewarded.
Drekker is about more than just beer; they want to stay connected to the community as much as possible by working with local restaurants and food carts, rather than competing with them. Bjornstad says, "We are in the business of beer, and they are in the business of food. Why would we try and compete when we could work together?"
Other events planned around the taproom include art shows, private events and finishing meetings for group bike rides.
"What better way to celebrate then in a brewery with a cold pint of local craft beer?" Bjornstad said.
Keep your eyes and ears open for this new addition to Downtown Fargo.
A final thought from the men behind Drekker Brewing Company: "Beer is fun, act accordingly." And so they will.