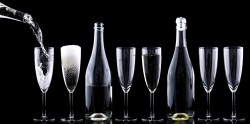 Daou Vineyards: First appearance in North Dakota
As our days get shorter and the evenings longer, thoughts of fall and the upcoming holiday season are not far behind; and of course, for many, that means wine season and entertaining indoors.
It also means that one of the best wine events of the year is right around the corner. The 2017 Festival of Wines at the Sanctuary Event Center is the perfect event for many different types of wine drinkers, and with it coming almost a month earlier this year, it means an even better opportunity to find just the right wines for your party needs.
From $10 to over $50 a bottle and with options that include reds, whites, rosés, ports and sparkling wines, there is bound to be something there for every wine drinker's tastes.
With 100 different wines at 20 tables throughout two levels at the beautiful Sanctuary Event Center, this night is not only an opportunity to party a bit, but also to educate your palate.
I suggest you make a plan of attack when the full wine list is released and focus on wines you are interested in so as not to get overwhelmed.
In this, the second year of this wine tasting extravaganza, there are some minor changes that will mean major tasting opportunities for all.
Unlike last year, where VIP tickets were sold that allowed access to sample the finest of wines, ALL of the wines available for sampling will be available for everyone who purchases a $25 ticket.
That means you don't need to pay twice the price to get a taste of the wines that consistently get rave reviews and 90+ point ratings from all the reputable sources. Wines like Rutherford's Round Pond ($60), Emmolo Merlot ($60), The Prisoner Red Blend ($45), and one of my personal favorites, the Belle Glos Clark & Telephone ($59) will all be ready to drink and opened early so that they have some time to breathe.
If you have never experienced a high quality wine like these, an opportunity to taste several in one night is an experience that is without a doubt worth the price of a $25 ticket.
One special treat this year is that this event will also serve as a launch into the North Dakota market for DAOU Vineyards, a highly acclaimed winery near Paso Robles, California.
Being that the wines have never been to our market yet, all I know of DAOU are the stories of how Daniel and Georges Daou wandered a large swath of California in search of just the right land to build a showcase or destination winery.
After checking out all the "hotspots" like Napa Valley, and Knights Valley as well as entertaining the idea of starting out in France, they settled on a ranch in Paso Robles near a mountain that has since taken on the name Daou mountain.
What really made their decision was not only a belief that this particular area of California was prime real estate to grow incredible Bordeaux-style wines but a sense of something special in the terroir and soil.
The Daou family must really be onto something because wines from both their Estate and Reserve collections have received 90+ ratings with their 2013 "Soul of a Lion" blend boasting a huge 96 point rating from both Robert Parker and Wine Enthusiast. Seek out these new-to-our-market wines and be one of the first in town to experience the best Paso Robles has to offer.
Every ticket purchased includes a Riedel wine glass with a commemorative Festival of Wines charm as well as some light food like meats and cheeses from Chef's Table Catering.
Tickets are available at the tickets300 box office, 306 University Dr N, 866-300-8300, or online at tickets300.com.
And with over 100 wines to sample, I really urge you to plan ahead with a designated driver or be prepared to call a ride service to get home safely.
IF YOU GO
2017 Festival of Wines
Thursday, October 19, 6-8pm
Sanctuary Events Center, 670 4th Ave N
$25, 21+, 701-404-9006