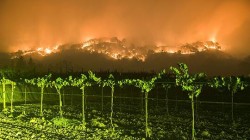 As a wine pro, I've been getting a LOT of questions about the effects of the fires in California wine country, so I wanted to lay out some facts and talk a little bit about what it actually means for the counties affected by the fires, and to us as wine lovers.
I lived in California for several years, so I understand how scary and awful wildfires are. Plus, I deal with Napa and Sonoma wineries on a daily basis, so this has been personally heartbreaking for me.
In fact, this past week I was supposed to host a five-course wine dinner at Maxwell's in West Fargo featuring Douglas Danielak, the winemaker from Knights Bridge Winery in Sonoma.
While both Knights Bridge and their sister property Huge Bear remain safe, as of last week they were still awaiting access to their vineyard, as well as having a portion of fruit still on the vine that needed immediate attention. In addition, their custom crush facility was in a heavily smoke-filled area, and overall conditions were challenging at best.
Needless to say, Douglas had to indefinitely postpone his trip. As a side note, it will be an AMAZING wine dinner, so when we do reschedule, get your tickets early!
What actually happened out there? Here are some quick facts about what went down:
There were actually about 15 different fires happening in a huge chunk of Northern California, burning more than 182,000 acres throughout Napa, Sonoma, Mendocino and Lake Counties.
The fires are known as: Tubbs Fire, Atlas Fire, Mendocino Lake Complex Fire, Pocket Fire, Sulphur Fire, Nuns Fire (which was initially several separate fires), Long Fire and Oakmont Fire.
More than 5,700 homes and businesses have been destroyed or damaged.
There have been 40 confirmed deaths, making them some of the deadliest fires in California's history.
The actual devastation
One of the other big questions on everyone's mind is, how will the fires affect wine production and sales in the future? It seems a little selfish, sure. But in truth, many of us have come to love and cherish our prized American wine regions, so it's only natural that we care what happens to the grapes and the people who make it into wine.
The short answer is there will probably be very little effect on wine production and sales. Seems a little shocking, right? How is that even possible? Well, the truth is that before the fires hit, about 80-85% of the harvest in Napa had been completed, and about 90% of Sonoma had been harvested. So those grapes were well off the vines by the time the fires ripped through.
And, as it turns out, grapevines naturally hold a lot of moisture, so many of the vines were able to stave off total destruction. Plus, the majority of vineyards that were hit especially hard were very expensive and upper tier vintners, and everyday wine drinkers probably aren't chugging $100+ bottles of wine on your average Tuesday anyway.
So, what about the 10-20% of grapes that hadn't been harvested yet? Didn't they suffer from smoke damage? Well, it's actually called smoke taint, and although grapes are very susceptible to this, the majority of grapes left to be harvested were cabernet sauvignon, which has a very thick skin and is NOT as likely to suffer smoke taint as many other varietals. So as long as the smoke and ash came off the grapes pretty quickly, the superstar grape that Napa and Sonoma are known for might actually make it into the bottle relatively unscathed.
People have also expressed concern about smoke taint to wines that are already aging in barrels or tanks, which was one of my concerns, but apparently thanks to science, those wines may have been spared as well. See, when wine ferments, it creates CO2 (that's Carbon Dioxide, btw), which essentially throws an invisibility cloak over the wine. As a result, oxygen and smoke are unable to permeate the solution, thereby leaving it unaffected.
How you can help
There are a variety of ways to help the victims of these devastating fires. Some come with some personal benefits, to be sure, and some are simply relief efforts. Here are some ideas:
Donate to the Northern California Coastal Region Red Cross. There are more than 1,100 Red Cross disaster workers are in California, providing shelter, food and comfort for thousands of people coping with the deadly wildfires, and they need help and funds.
Donate to the Napa Valley Community Disaster Relief Fund, which was started in 2014 after the Napa Earthquake. Funds will be put immediately to use for local nonprofits to help fire victims with temporary shelter, meals, medical care, child care, animal care and mental health services.
Plan a trip to Napa or Sonoma. Seriously. These people have rebounded very quickly and one of the best ways to show NoCal some love is to go spend your money there. The closest airports to fly into are Sacramento, San Francisco and Oakland (each about an hour's drive away), or if you're feeling particularly adventurous (and have the time), fly into Los Angeles, rent a car and drive the Pacific Coast Highway up to wine country. It takes between 10-12 hours, but it's some of the most beautiful coastline you'll ever see.
Join a wine club from one of the wineries in those areas. Wine clubs vary in price substantially, but find one that fits your budget, and throw a few bucks their way. And hey, you'll probably discover some wines you can't get around these parts.
Head to your nearest liquor store or favorite restaurant and stock up on anything from Napa, Sonoma and Mendocino Counties. Here's a list of some of those who are near and dear to my heart: Alpha Omega, Atlas Peak, Aviary, Baldacci, Continuum, Croze, Ghost Block, Howell at the Moon, Huge Bear, Jarvis, Keenan, Knights Bridge, Kokomo, Larkmead, Malk, Miner, Mounts, Oakville, Rudd, Smith Wooton, Spring Mountain, 32 Winds, Titus and Varozza.