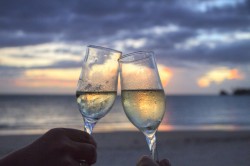 Up here where it's north of normal, we can pretty much count on our first cold snap to hit right about now, and the 90 degree day we JUST HAD seems like a distant memory.
Goodbye pool parties, BBQs and the patio hang sesh. Hello pumpkin spice, infinity scarves and football games.
Guys, fall is here and our wine drinking habits tend to shift from crisp whites to rich reds. Listen, I promise it's okay to drink rosé in the winter. I won't judge you. In fact, I'll probably be across the bar from you doing the same, but here are a few varietals to cozy up to once the first leaves fall and we can see our breath on the way to work.
Dolcetto
This fruit-forward Italian gem literally translates to "little sweet one," but it's not sweet by any means. Typically, Italian wines tend to be more earthy and barnyard-y, so by Italian standards, dolcetto is much more fruit-forward than other Italian varietals.
And Italian wines can be a little confusing: is it named for the grape or for the region? The answer is generally just as confusing: It depends. In this case, dolcetto is the grape. I like to describe it as a more intense and earthy pinot noir with a touch of tobacco and sometimes a bitter acidity.
But don't be turned off by that, it's the reason this wine, also grown in California and Oregon, pairs with great casual food like a wild mushroom pizza or a spinach lasagna. Plus, dolcetto offers a lot of what there is to love about Italian wines, but usually at a much lower price point.
My pick: Franco Serra Dolcetto d'Alba, Italy ($12.99)
Grenache
I feel like little is known about this underrated varietal, but it actually appears in some of the most expensive wines in the world and can rival cabernet in its complexity (and it's actually the most widely planted grape!). It varies in flavor depending on where it's grown and is known under the names garnacha or garnatxa (Spain) and cannonau (Italy). It also has a deceptively light coloring, similar to a pinot noir, but offers a much more robust structure.
This dry, medium-bodied red wine is super easy to drink, with bright aromatics, supple red fruit flavors, hints of vanilla and a soft, smooth texture with balanced acidity. Head over to your local cheese shop and try it with a chunk of Manchego, or sip it with a spoonful of fall beef stew.
My pick: Don Ramon Tinto, Spain ($11.99)
Zinfandel
You'll rarely hear me be snobby about wine. In fact, the Court of Master Sommeliers (who I studied with) is staunchly anti-wine snobbery, and I always want wine to be approachable and fun.
I can't remember who said it, but the way they summarized wine was to say, "It's not art, it's groceries." In a way they're right, but I think it can be both.
But back to the wine snob thing for a second because it might seem like I'm being one here. One thing people say that makes me want to spit is, "I didn't know zinfandel was red!" Sigh. Yes, it's red and, in my opinion, it should only be consumed red. There. I said it.
Sorry, white zin. You are neither white nor zin (nor rosé for that matter). Please get off my planet. Look, if it works for you, great, but also know that zinfandel is traditionally a red wine.
Here's the deal with zinfandel (aka primitivo in Italy): it's delicious. The end. Seriously though, you'll get a lot of structure with its jamminess, blue fruits and black pepper. Try it with perfect end-of-summer dishes like BBQ ribs and a good old fashioned cheeseburger.
My picks: H. Mynors Old Vine Cuvée Zinfandel, Sonoma, Amador and Lodi Counties, California ($17.99) and Big Smooth Old Vine Zinfandel, Lodi County, California ($19.99)
Rosé
Ok, I went there, but only because I genuinely believe all wines transcend seasons. I personally don't subscribe to drinking certain varietals at certain times of the year. The only wine "rules" I abide by are pairing rules, and those I pretty fiercely observe.
If you don't, you can get some pretty nasty flavor combos; think the worst Lay's potato chip concoctions: Haggis and watermelon? Orange juice and mint? Pepperoni dogfart? I'll pass.
Here's the thing about rosé, just because it's pink, doesn't mean it's going to be sweet. And rosés have a bad rap, thanks to jerks like white zinfandel (see above).
The rosés that are trendy, hot and inspiring blogs and hashtags are typically drier and crisper than their sugary counterparts. But often they'll be composed of very different varietals, ranging from grenache, syrah, cabernet, carignan and a handful of others, so you don't always know what you're getting.
As we move into fall, you can be sure these rosés will pair with an array of items from the sea, like some curried mussels or salmon, and even holiday favorites like a big ol' turkey.
My picks: Summer Water, Central Coast, California ($18.99) and Haut Vol, Languedoc-Roussillon, France ($15.99)
Hey! I'm always curious about your wine questions. What would you like to hear about or see covered in the wine world? Hit me up at megan.bartholomay@gmail.com. Until next time, salut!