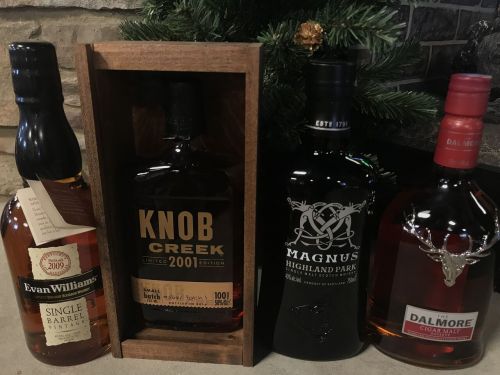 "What are some of your favorite bottles of whiskey?" is a question I get asked quite frequently and is often harder to answer than one might think. One of the great rewards of my profession is getting to sample some of the finest whiskeys the world has to offer and while I could talk nonstop about some of the best I have ever had, if it's ultra rare and you will probably never have an opportunity to drink it, what's the point?
Therefore, for a year-end review of some of the best whiskeys I've tasted in 2017, I will be presenting only whiskeys that you have a very good chance of purchasing for yourself. Currently, all of these whiskeys are available at the Bottle Barn in West Fargo and they are not in danger of running out of stock anytime soon.
At the beginning of April, I attended a master class at the Whiskey on Ice Minnesota where the topic was "age and American whiskey," and boy was it an eye opener.
Probably the most significant thing I took away from that class was a newfound appreciation for Evan Williams Single Barrel. Not many are aware, but after it has been aged another eleven years beyond this single barrel expression, Evan Williams Single Barrel becomes one of the more coveted and rare bourbons: Elijah Craig 18 year. Even when tasted side by side against the EC18, I had to return to the Evan Williams to give it another taste because I was blown away by how great the 7 year Evan Williams was.
With plenty of oak-driven caramel and vanilla on both the nose and the first sip, this beauty has touches of cinnamon, butterscotch, and very light hints of orange that come through in the pleasant finish. The relatively simple flavor profile is quite approachable and pleasing.
Another incredible whiskey that caused me to recoil in surprise was also something I tasted for the first time at the Whiskey on Ice master class. Knob Creek 2001 Limited Edition 14 year is a masterpiece that began with the late, great Booker Noe and was finished by his son, Fred Noe just a couple years ago. While it was intended as an extremely limited release, they ended up doing 4 separate batches and you can surprisingly still find some of the first batch at retail stores in our local market. The wooden box this whiskey comes in would look great on any bar but it is the liquid inside that really impressed me. Bottled at 100 proof, this special Knob Creek is bursting with a much fuller flavor than I am used to seeing in bourbon that isn't bottled at full cask strength.
To my nose, this bourbon greets you with just the right amount of oak that fades in and out of an abundance of caramel and vanilla. Light hints of banana also come through the nose. The oak comes through very well throughout the tasting and blends with heavy vanilla, caramel and some nice spice notes of cinnamon. While I could use more of the banana and caramel, to find a 14 year old bourbon that isn't overwhelmed by oak or diluted to remove all the character is a rare treat.

While bourbon is usually my "go to" pour, I will mention a couple of Scotch whisky releases this year that I was quite fond of. First is the new addition to the distillery lineup, Highland Park Magnus. Priced at a very approachable $40, the liquid in the bottle is equally approachable and well suited for those who wish to dip their toes into the world of Scotch whisky without fully submerging themselves into a whiskey culture known for aggressive and sometimes polarizing flavors.
Hardcore fans of Highland Park might be disappointed by this newest line extension; but with its subdued peat on the nose and palate and abundance of pleasant floral and grain in the nose and mouth, it really is meant as more of an introduction to the lineup. The more floral and vegetal notes conceal a bit of the smoke and peat that the rest of the Highland Park lineup is usually known for and the heavy amounts of sweet cereal grain on the palate disguise some of the sherry cask influence that becomes more apparent in other releases from Highland Park. It is also a bit thin at only 40% abv but again, the low proof might make it much more approachable for the novice Scotch drinker.
The final whisky I will mention is a re-release in the Dalmore line of Scotch whisky. Originally blended to be an ideal complement to a fine hand-rolled cigar, The Dalmore Cigar Malt was retired briefly after customers found the name confusing. When they re-released it as the Dalmore Cigar Malt Reserve, it had been a couple years since I tried this one; but recently we did a tasting of it at the Bottle Barn in West Fargo and I was reminded of why this one was so confusing for the customers.
Part of what makes this so great when paired with a cigar is the lack of smoke but this is also perhaps where any misconceptions lie regarding what exactly is in this bottle. Made with around 70% of the blend being finished in oloroso sherry casks, this whisky is loaded with oaky old sherry which always makes me think of luxury and at $130 a bottle, luxury is definitely part of this whisky experience.
The nose is full of orange blossom, honey, dried cherries, red wine, honeycomb and maybe even a bit of rich cream butter. The first sip reveals a very round and robust whisky with all that is in the nose coming through in the glass with some dried fruit, nuts, and stone fruit punching through a bit more of an alcohol bite than I was expecting.
While it is a bit "hot" in the mid-palate when not paired with a cigar, it was a welcome respite from the abundance of sweet, almost syrupy decadence. When paired with a nice strong cigar, this special whisky really begins to make its intentions known, although it could easily be enjoyed by anyone looking for a wonderfully crafted single malt whisky.