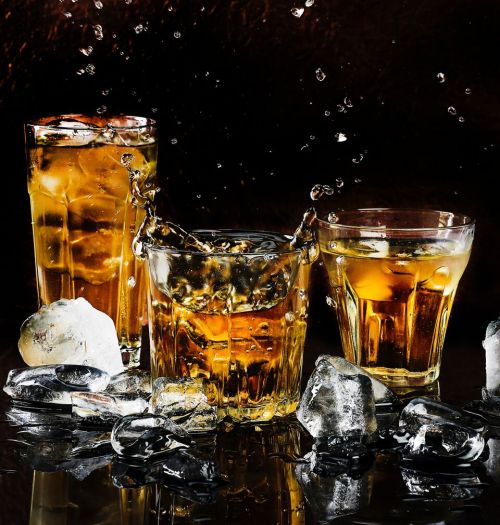 The area's premiere whiskey sampling event, Fargo Whiskey Fest, is right around the corner and a sneak peek at the list of products being poured has me salivating and working on my plan of attack for the evening. Before I give you just a tiny taste of what on this year's product lineup, I'd like to give just a bit more information about the event and exactly what your $35 ticket gets you.
First, let's talk about the fact that it is a charity event that benefits "A Christmas Wish", a great local nonprofit that distributes gifts to make the holiday season a bit brighter for those families who have fallen on hard times due to illness, layoffs, financial difficulties or other trying circumstances. These gifts are anything from goods, services, and sometimes even monetary gifts to assist with everyday living.
Now that we know that our sampling goes to a good cause, let's dig deeper into the wide array of samples that will be offered throughout nineteen different tables. Aside from the "neat" samples of the spirits themselves, almost all of the tables will feature the best mixologists in town. Brianna Smith, of Republic National Distributing Company, is especially excited about the amount of talent that will be on hand to deliver some incredible cocktails that will really make the spirits shine. "I am very excited to fill all but two tables this year with amazing mixologists! We have 6 finalists from the Bartenders battle and two previous winners, so the cocktails should be outstanding and I always look forward to what they come up with."
She was also looking forward to getting to introduce the local whiskey fans to a brand portfolio that is new to this year's fest and is set to tease your tastebuds. According to Smith, " I am very excited to include Hotaling & Co(formerly Anchor Distilling) this year as this is their first year at Whiskey Fest, they have such a unique portfolio."
As a whiskey aficionado, I too am quite interested in this new lineup that includes Old Potrero. I had read about this unique "18th century style" San Francisco whiskey a couple of years ago but until recently, it was not available in the local market. Made of 100% malted rye, which itself is fairly rare, this special whiskey is further set apart by being finished in toasted barrels as opposed to the usual charred barrels more commonly used in whiskey aging. The story is that in the 18th century, they weren't yet fully charring the barrels but rather just toasting them the way a cooper normally would have had to heat the staves to bend them into shape because steam was not yet readily available for such purposes.
Also part of the Hotaling & Co portfolio is another American Whiskey producer that specializes in small batch offerings. Those who are seeking out unique, small batch bourbon and rye might want to stop by these tables to also check out the FEW Bourbon and FEW Rye. While I have sampled these at other events, I have yet to sit down and really experience them so I will most certainly be hitting up that table for a refresher.
Also on my list, and hopefully on yours, is the much acclaimed Elijah Craig Barrel Proof. Recent years have seen four different releases of this twelve year old barrel proof gem and each release is number and letter coded for those who wish to collect and compare. Every single sip that I have ever had of this beauty was bursting with flavor and I will rarely pass up an opportunity to try the latest release.
"Alabama style" whiskey is something that, until last year, was new to me. Clyde May's was my introduction to this interesting and extremely smooth style of finishing that includes the aging the whiskey with just enough apple to impart a very noticable amount of smooth fruit finish without taking this whiskey fully into the fruit whiskey category. I have been experimenting a lot with adding a touch of Clyde May's Alabama Style Special Reserve 110 proof to my tiki drinks to add some nice apple, vanilla, and caramel notes and have been quite happy with the results. I suggest you give this special whiskey a sample sip to experience something new.
Irish whiskey drinkers that are looking to experience the trend of barrel finishing that has started to weave its way through Ireland should make a stop at the Jameson table to try their newest addition to the Caskmates lineup, Jameson Caskmates IPA edition. Slightly hoppy but mostly citrusy in nature, this ridiculously smooth version of Jameson is great for sipping neat but try it in a Big Ginger to add subtle citrus and floral notes.
Glenfiddich XX was yet another that jumped out at me as something unique. So unique, that I had to do some searching for more info. Uniquely created in conjunction with twenty of Glenfiddich's brand ambassadors, the master blender used a special combination of twenty different casks that were hand selected by the ambassadors and bottled as the new and very limited XX. Sitting next to it on that same table will be last year's addition to the Glenfiddich line, their own IPA cask finish.
Those looking for some highly acclaimed and more expensive whiskeys that are always extremely pleasing should seek out Aberlour A'bunadh, Kavalan Sherry Cask, and the $250+ Macallan Rare Cask before the night is done. Those in the know would suggest you think about hitting those up first, before your taste buds are burnt out from spicy ryes or high proof bourbons.
As I continued on down the list of whiskeys at all nineteen of the tables I quickly realized that once again, I must be very careful with my consumption and plan on using a ride service there and back. I am also going to make the Chef's Table catering table one of my first stops to grab some free food and make sure I am not sampling on an empty stomach. I encourage you all to plan ahead, drink responsibly, and explore the world of whiskey with Republic National Distributing Company and the Sanctuary Events Center.
IF YOU GO:
April 11th 6-8pm
Sanctuary Events Center
Tickets: $35 at www.tickets300.com